Broadtail shortfin squid (Illex coindetii)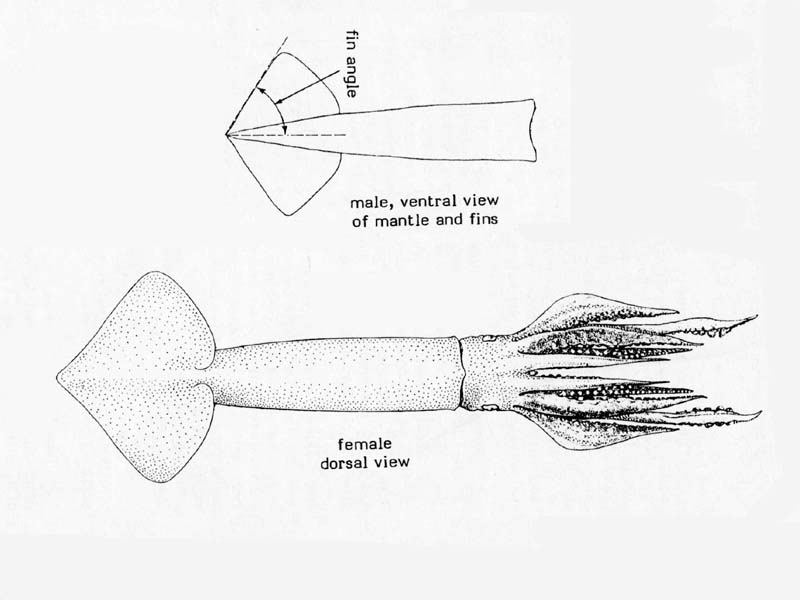 Researched by
Emily Wilson
Refereed by
Admin
Authority
(Vérany, 1839)
Other common names
-
Synonyms
-
Summary
Description
A moderately long and narrow squid up to 38 cm long, with a pointed tail and large robust head.
Recorded distribution in Britain and Ireland
All British and Irish coasts.
Global distribution
Eastern Atlantic: 15 degrees south to 60 degrees north, Mediterranean and Black Sea. Western Atlantic: Caribbean Sea, Gulf of Mexico and southeast Florida; 10 degrees north to 27 degrees north.
Habitat
Associated with muddy bottoms
Identifying features
Mantle moderately long and narrow, tail pointed and moderately drawn out.
Fin angle broad, fin width greater than length.
Head large and robust, especially in males.
Tentacular club with 8 longitudinal rows of small suckers.
Arms very long.
Additional information
No text entered
Bibliography
Boyle, P.R. & Pierce, G.J., 1994. Fishery biology of northeast Atlantic squid: an overview. Fisheries Research, 21(Special Issue), 1-15.

Clarke, M. R., 1966. A review of the systematics and ecology of oceanic squids. Advanced Marine Biology, 4, 91-300.

Gonzalez, A. F. & Guerra, A., 1996. Reproductive biology of the short-finned squid Illex coindetii (Cephalopoda, Ommastrephidae) of the Northeastern Atlantic. Sarsia, 81, 107-118.

Howson, C.M. & Picton, B.E., 1997. The species directory of the marine fauna and flora of the British Isles and surrounding seas. Belfast: Ulster Museum. [Ulster Museum publication, no. 276.]

ICES, 1994. Report of the study group on the life history assessment of Cephalopods. Copenhagen-Denmark ICES, K:7, 32.

Roper, C. F. E., Lu, C. C. & Vecchione, M., 1998. A revision of the systematics and distribution of Illex species (Cephalopoda: Ommastrephidae). In Systematics and Biogeography of Cephalopods, vol. 2, (ed. N.A. Voss, M. Vecchione, R.B. Toll & M.J. Sweeney), Smithsonian Contributions to Zoology, 586, pp405-423. Smithsonian Institution Press.

Roper, C.F.E., Sweeney, M.J. & Nauen, C.E., 1984. FAO species catalogue. Vol. 3. Cephalopods of the world. An annotated and illustrated catalogue of species of interest to fisheries. FAO Fisheries Synopsis, 125, 3, 277. Avaliable: http://www.fao.org/docrep/009/ac479e/ac479e00.htm
Datasets
NBN (National Biodiversity Network) Atlas. Available from: https://www.nbnatlas.org.

OBIS (Ocean Biodiversity Information System), 2023. Global map of species distribution using gridded data. Available from: Ocean Biogeographic Information System. www.iobis.org. Accessed: 2023-09-27
Citation
This review can be cited as:
Wilson, E. 2006. Illex coindetii Broadtail shortfin squid. In Tyler-Walters H. and Hiscock K. Marine Life Information Network: Biology and Sensitivity Key Information Reviews, [on-line]. Plymouth: Marine Biological Association of the United Kingdom. [cited 27-09-2023]. Available from: https://www.marlin.ac.uk/species/detail/1114
---
Last Updated: 06/11/2006