Common sun star (Crossaster papposus)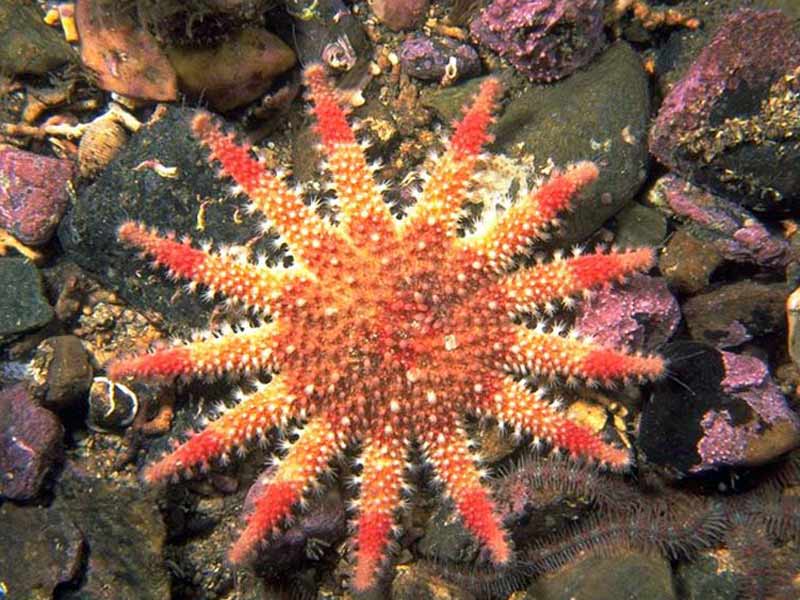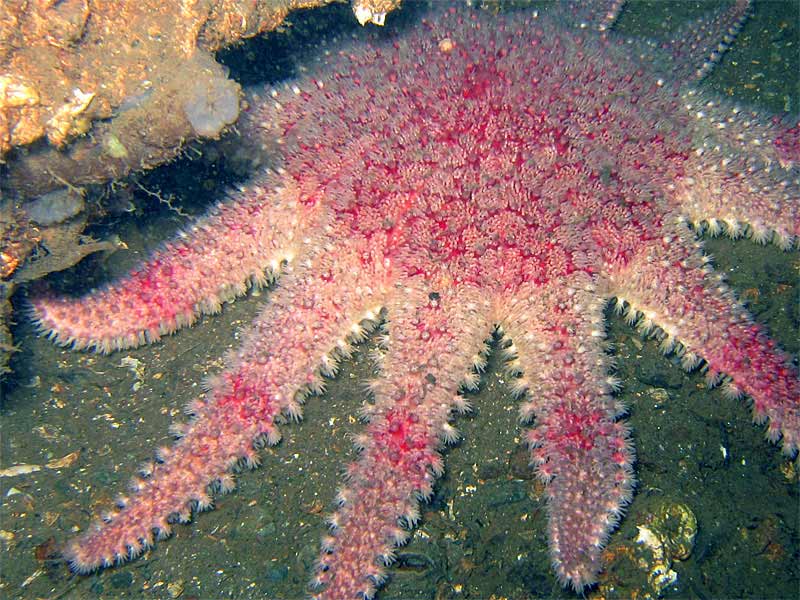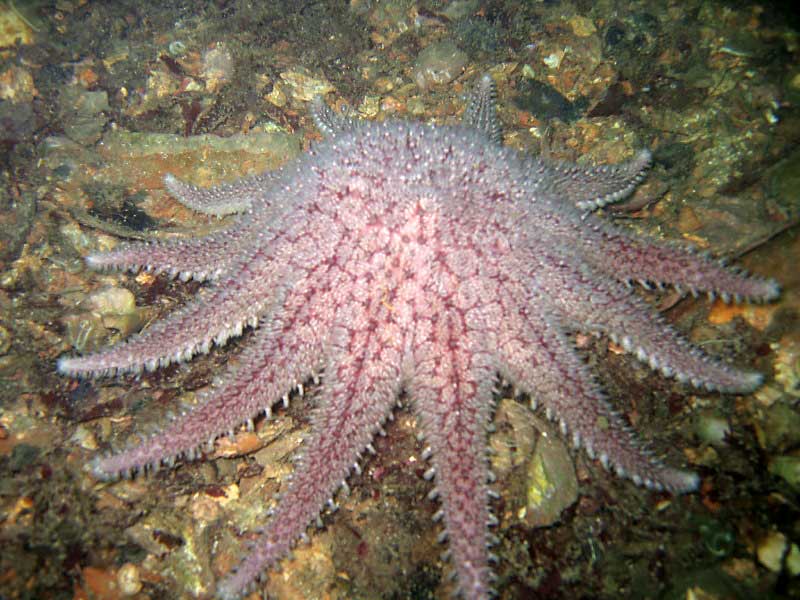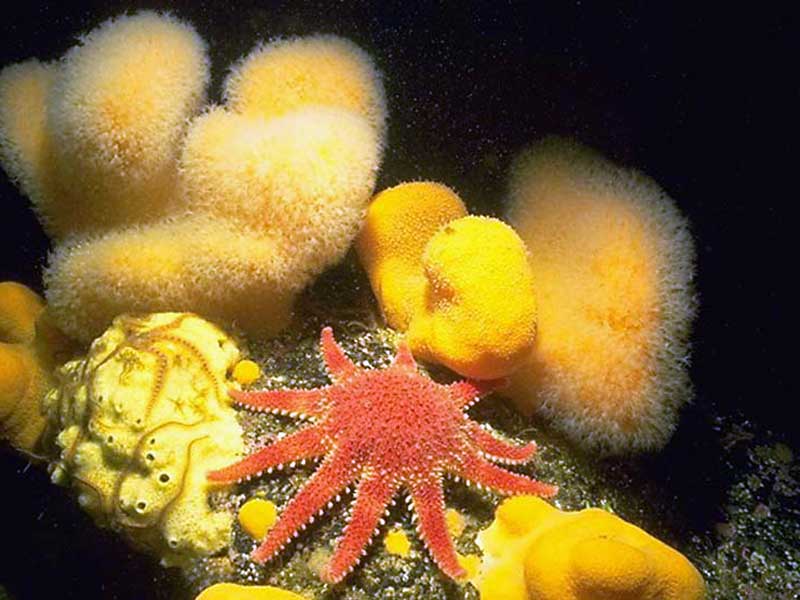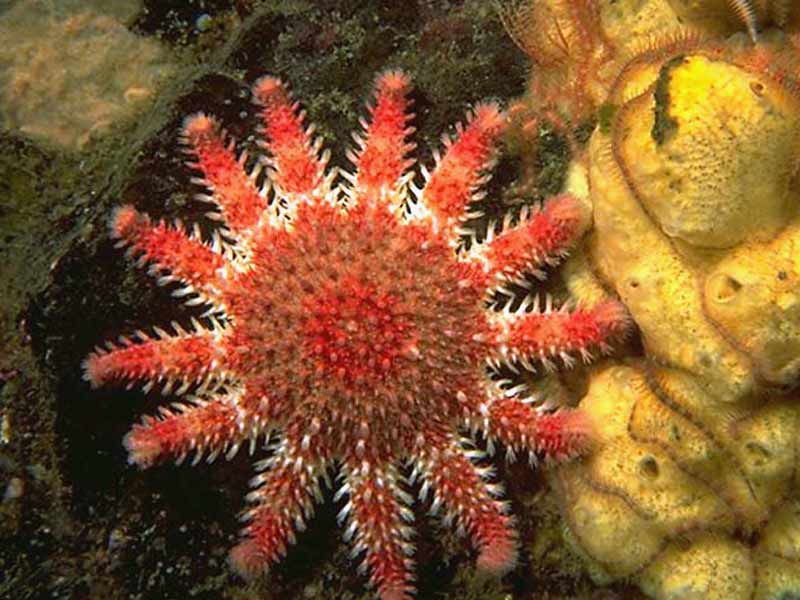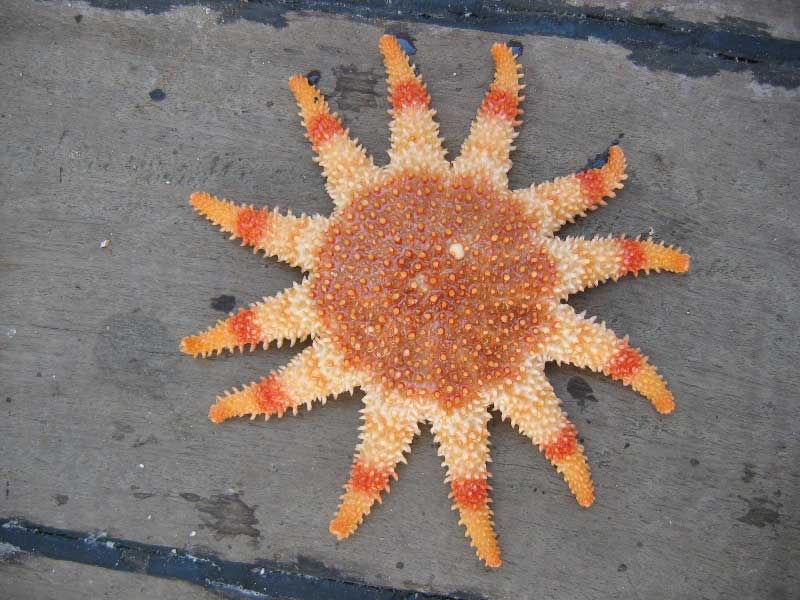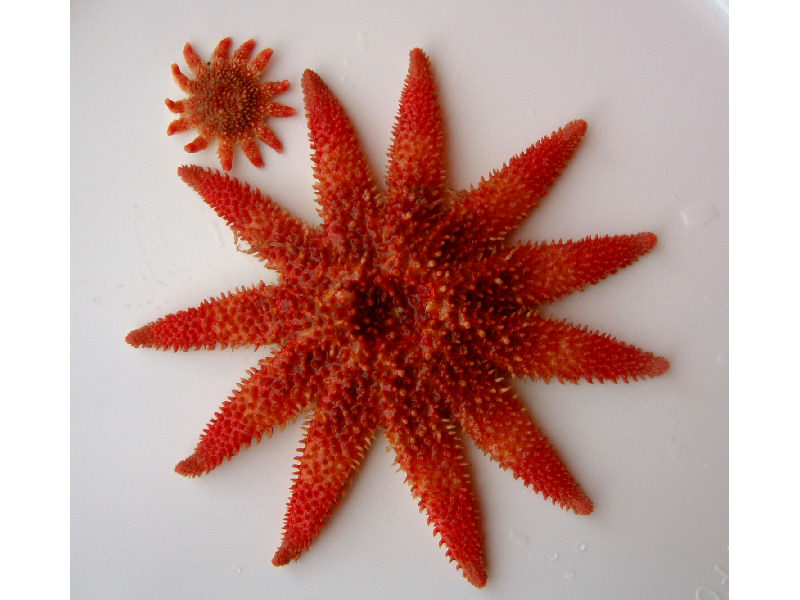 Researched by
Emily Wilson
Refereed by
Admin
Authority
(Linnaeus, 1767)
Other common names
-
Synonyms
-
Summary
Description
A very distinctive sun star that grows up to 34 cm in diameter. The colour varies but is usually red, brown-red with white markings above, yellow-white below, often with beautiful patterns. It has 10-12 arms (rarely 8-16) and the whole surface of the animal is covered with small but distinct spines.
Recorded distribution in Britain and Ireland
All British and Irish coasts.
Habitat
Found on sand, stones, mussel and oyster beds from the infralittoral fringe to 50 m.
Identifying features
Disc large, red, 10-12 tapering arms.
Marginal paxillae large, arranged in a single row.
Three to five furrow spines, adambulacral plates with series of 5-9 larger spines.
No pedicellariae.
Additional information
No text entered
Bibliography
Campbell, A., 1994. Seashores and shallow seas of Britain and Europe. London: Hamlyn.

Hayward, P.J. & Ryland, J.S. (ed.) 1995b. Handbook of the marine fauna of North-West Europe. Oxford: Oxford University Press.

Howson, C.M. & Picton, B.E., 1997. The species directory of the marine fauna and flora of the British Isles and surrounding seas. Belfast: Ulster Museum. [Ulster Museum publication, no. 276.]

JNCC (Joint Nature Conservation Committee), 1999. Marine Environment Resource Mapping And Information Database (MERMAID): Marine Nature Conservation Review Survey Database. [on-line] http://www.jncc.gov.uk/mermaid

Picton, B.E. & Costello, M.J., 1998. BioMar biotope viewer: a guide to marine habitats, fauna and flora of Britain and Ireland. [CD-ROM] Environmental Sciences Unit, Trinity College, Dublin.
Datasets
Citation
This review can be cited as:
Wilson, E. 2008. Crossaster papposus Common sun star. In Tyler-Walters H. and Hiscock K. Marine Life Information Network: Biology and Sensitivity Key Information Reviews, [on-line]. Plymouth: Marine Biological Association of the United Kingdom. [cited 11-12-2023]. Available from: https://www.marlin.ac.uk/species/detail/1192
---
Last Updated: 17/04/2008