Serpent's table brittlestar (Ophiura albida)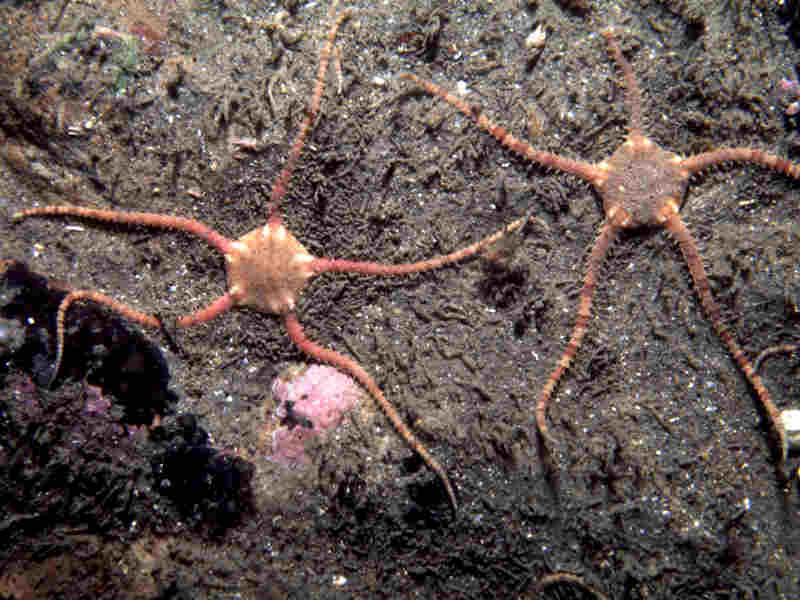 Researched by
Emily Wilson
Refereed by
Admin
Authority
Forbes, 1839
Other common names
-
Synonyms
-
Summary
Description
A red-brown brittlestar with a disc up to 15 mm in diameter, smaller than
Ophiura ophiura
. The arms are about four times the diameter of the disc which is covered, on the upper surface, with coarse scales. The arm spines lie almost flat against the arms.
Recorded distribution in Britain and Ireland
All British and Irish coasts.
Habitat
Found sublittorally on a variety of soft substrata but mainly fine muddy sands.
Identifying features
Disk up to 15 mm diameter.
Primary plates not distinct.
Radial shields small.
Innermost dorsal arm plates heart-shaped.
Outer arm comb of 10-12 short, stout spines; inner comb indistinct.
Dorsal and ventral arm plates with convex outer edge.
Three arm spines equidistant from each other.
Three to five simple mouth papillae.
Additional information
No text entered
Bibliography
Bradshaw, C., Veale, L.O., Hill, A.S. & Brand, A.R., 2002. The role of scallop-dredge disturbance in long-term changes in Irish Sea benthic communities: a re-analysis of an historical dataset. Journal of Sea Research, 47, 161-184. DOI https://doi.org/10.1016/S1385-1101(02)00096-5

Fish, J.D. & Fish, S., 1996. A student's guide to the seashore. Cambridge: Cambridge University Press.

Hayward, P., Nelson-Smith, T. & Shields, C. 1996. Collins pocket guide. Sea shore of Britain and northern Europe. London: HarperCollins.

Hayward, P.J. & Ryland, J.S. (ed.) 1995b. Handbook of the marine fauna of North-West Europe. Oxford: Oxford University Press.

Howson, C.M. & Picton, B.E., 1997. The species directory of the marine fauna and flora of the British Isles and surrounding seas. Belfast: Ulster Museum. [Ulster Museum publication, no. 276.]
Datasets
Citation
This review can be cited as:
Wilson, E. 1999. Ophiura albida Serpent's table brittlestar. In Tyler-Walters H. and Hiscock K. Marine Life Information Network: Biology and Sensitivity Key Information Reviews, [on-line]. Plymouth: Marine Biological Association of the United Kingdom. [cited 22-09-2023]. Available from: https://www.marlin.ac.uk/species/detail/1196
---
Last Updated: 27/08/1999