Worm anemone (Scolanthus callimorphus)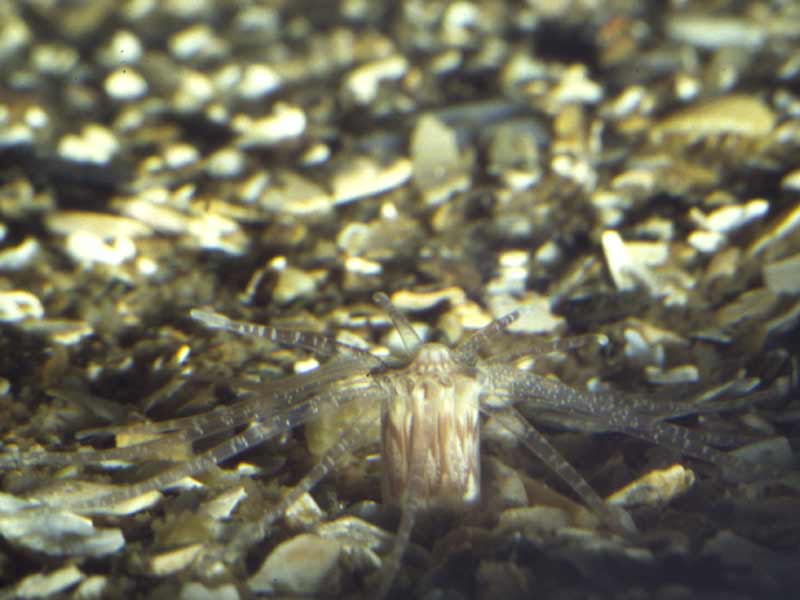 Researched by
Emily Wilson
Refereed by
Admin
Authority
Gosse, 1853
Other common names
-
Synonyms
-
Summary
Description
The worm anemone has an elongated column measuring up to 14 cm in length and 12 mm in diameter. The tentacles are relatively stout, very long and up to 16 in number. Tentacles are transparent becoming strongly tinted with brown in the outer half, spotted with opaque white or cream, the spots becoming larger towards the tips where they tend to form transverse bars. The disc is pale buff or cream, with a well-defined pattern of rich, often purplish-brown.
Recorded distribution in Britain and Ireland
Weymouth Bay and western Ireland.
Habitat
Burrows in sand or gravel, often in the vicinity of Zostera beds, from around low water mark on the shore to shallow water.
Identifying features
Elongated column.
Scapus small, surface and periderm permanently creased or wrinkled, even in extension.
Tentacles 16, arranged in two cycles, 5 + 11, those of the inner cycle being distinctly shorter.
Scapulus rich purplish-brown, variably patterned with opaque white or cream, periderm earthy or rusty brown.
Additional information
Previously been confused with Edwardsia claparedii but the characters of both species have recently been redefined (Manuel, 1981).
Bibliography
Howson, C.M. & Picton, B.E., 1997. The species directory of the marine fauna and flora of the British Isles and surrounding seas. Belfast: Ulster Museum. [Ulster Museum publication, no. 276.]

Manuel, R.L., 1988. British Anthozoa. Synopses of the British Fauna (New Series) (ed. D.M. Kermack & R.S.K. Barnes). The Linnean Society of London [Synopses of the British Fauna No. 18.]. DOI https://doi.org/10.1002/iroh.19810660505
Datasets
NBN (National Biodiversity Network) Atlas. Available from: https://www.nbnatlas.org.

OBIS (Ocean Biodiversity Information System), 2023. Global map of species distribution using gridded data. Available from: Ocean Biogeographic Information System. www.iobis.org. Accessed: 2023-11-28
Citation
This review can be cited as:
Wilson, E. 2005. Scolanthus callimorphus Worm anemone. In Tyler-Walters H. and Hiscock K. Marine Life Information Network: Biology and Sensitivity Key Information Reviews, [on-line]. Plymouth: Marine Biological Association of the United Kingdom. [cited 28-11-2023]. Available from: https://www.marlin.ac.uk/species/detail/1226
---
Last Updated: 27/05/2005