Yellow skirt slug (Okenia elegans)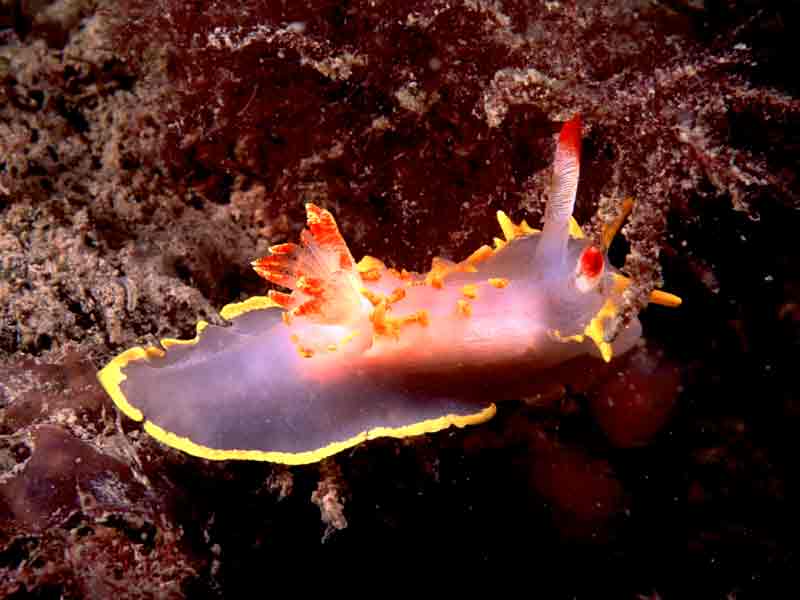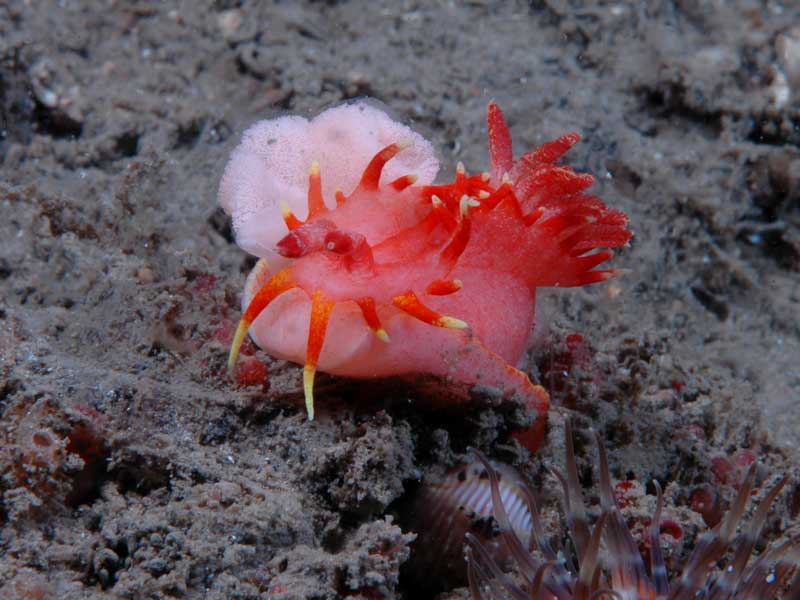 Researched by
Emily Wilson
Refereed by
Admin
Authority
(Leuckart, 1828)
Other common names
-
Synonyms
-
Summary
Description
A large, brilliantly coloured slug that grows up to 8 cm long. The body is white, suffused with pink in parts, varying to red in some individuals. There is a yellow band that runs around the edge of the foot. The head has two slender tentacles at the front, the body has a row of shorter tentacles on each side which extend to a circle of 21 gills at the back of the body. These are white at the base with orange or yellow tips.
Recorded distribution in Britain and Ireland
Scattered localities in SW England, Skomer Isles, the Saltees in Co. Wexford and the Skerries, Portrush, Co. Antrim.
Habitat
It is often found burrowed inside the test of the sea squirt Polycarpa scuba, on which it feeds.
Identifying features
Mantle much reduced, but with tentacles around whole of margin.
Mid-dorsal row of processes posterior to rhinophores, terminating with a pair anterior to gills.
Rhinophores just proximal to lamellae.
Additional information
No text entered
Bibliography
Hayward, P., Nelson-Smith, T. & Shields, C. 1996. Collins pocket guide. Sea shore of Britain and northern Europe. London: HarperCollins.

Hayward, P.J. & Ryland, J.S. (ed.) 1995b. Handbook of the marine fauna of North-West Europe. Oxford: Oxford University Press.

Howson, C.M. & Picton, B.E., 1997. The species directory of the marine fauna and flora of the British Isles and surrounding seas. Belfast: Ulster Museum. [Ulster Museum publication, no. 276.]

JNCC (Joint Nature Conservation Committee), 1999. Marine Environment Resource Mapping And Information Database (MERMAID): Marine Nature Conservation Review Survey Database. [on-line] http://www.jncc.gov.uk/mermaid

Moore, J., 2002. An atlas of marine Biodiversity Action Plan species and habitats and Species of Conservation Concern in Wales, 2nd edn. Report to the Countryside Council for Wales, CCW Contract Science Report no. 509.

Picton, B. E. & Morrow, C.C., 1994. A Field Guide to the Nudibranchs of the British Isles. London: Immel Publishing Ltd.

Thompson, T. E. & Brown, G. H., 1976. British Opisthobranch Molluscs. London: Academic Press. [Synopses of the British Fauna, no. 8.]
Datasets
Citation
This review can be cited as:
Wilson, E. 2006. Okenia elegans Yellow skirt slug. In Tyler-Walters H. and Hiscock K. Marine Life Information Network: Biology and Sensitivity Key Information Reviews, [on-line]. Plymouth: Marine Biological Association of the United Kingdom. [cited 29-11-2023]. Available from: https://www.marlin.ac.uk/species/detail/1242
---
Last Updated: 01/11/2006