A sea slug (Trapania maculata)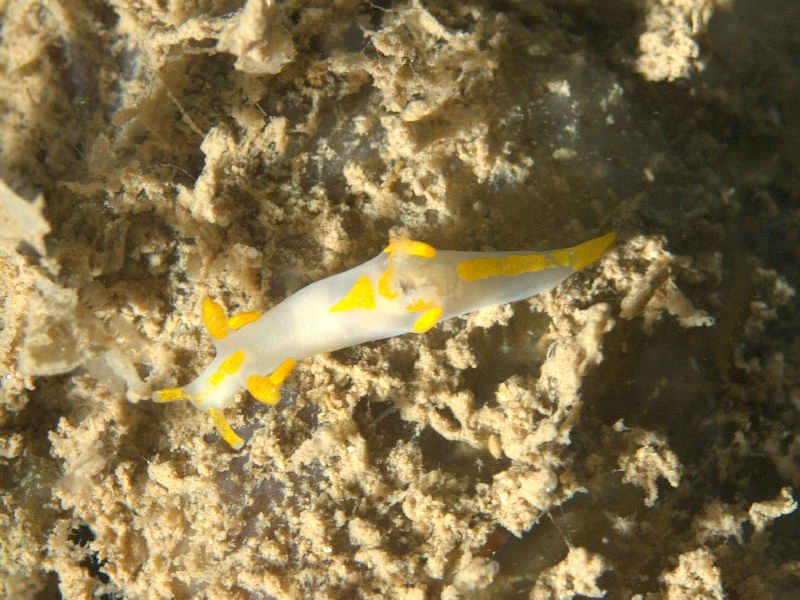 Researched by
Emily Wilson
Refereed by
Admin
Authority
Haefelfinger, 1960
Other common names
-
Synonyms
-
Summary
Description
A long and slender sea slug that grows up to 17 mm in length, with a long tapering posterior. The body is white with characteristic yellow/orange patches. The oral tentacles are long and streaked with orange pigment.
Recorded distribution in Britain and Ireland
Portland Bill, English Channel and the Llyn peninsula.
Habitat
Found in shallow water on rocks among encrusting bryozoans.
Identifying features
No mantle skirt.
Curved, posteriorly-directed, orange tipped process at the base of each rhinophore and on either side of the branchial plume.
Elongated pairs of oral and propodial tentacles are prominent.
Additional information
No text entered
Bibliography
Hayward, P., Nelson-Smith, T. & Shields, C. 1996. Collins pocket guide. Sea shore of Britain and northern Europe. London: HarperCollins.

Howson, C.M. & Picton, B.E., 1997. The species directory of the marine fauna and flora of the British Isles and surrounding seas. Belfast: Ulster Museum. [Ulster Museum publication, no. 276.]

Picton, B. E. & Morrow, C.C., 1994. A Field Guide to the Nudibranchs of the British Isles. London: Immel Publishing Ltd.

Thompson, T. E. & Brown, G. H., 1976. British Opisthobranch Molluscs. London: Academic Press. [Synopses of the British Fauna, no. 8.]
Datasets
Conchological Society of Great Britain & Ireland, 2018. Mollusc (marine) records for Great Britain and Ireland. Occurrence dataset: https://doi.org/10.15468/aurwcz accessed via GBIF.org on 2018-09-25.

NBN (National Biodiversity Network) Atlas. Available from: https://www.nbnatlas.org.

OBIS (Ocean Biodiversity Information System), 2023. Global map of species distribution using gridded data. Available from: Ocean Biogeographic Information System. www.iobis.org. Accessed: 2023-09-27
Citation
This review can be cited as:
Wilson, E. 2007. Trapania maculata A sea slug. In Tyler-Walters H. and Hiscock K. Marine Life Information Network: Biology and Sensitivity Key Information Reviews, [on-line]. Plymouth: Marine Biological Association of the United Kingdom. [cited 27-09-2023]. Available from: https://www.marlin.ac.uk/species/detail/1244
---
Last Updated: 10/09/2007