Rugose squat lobster (Munida rugosa)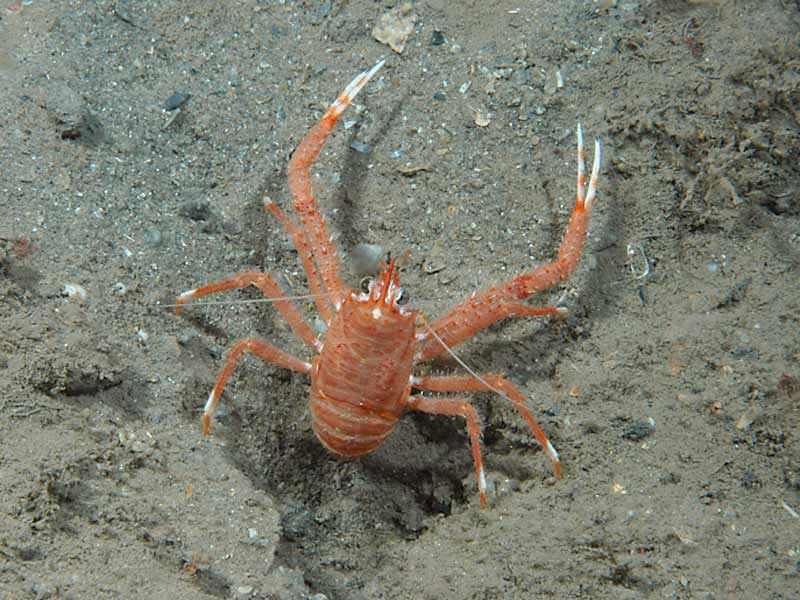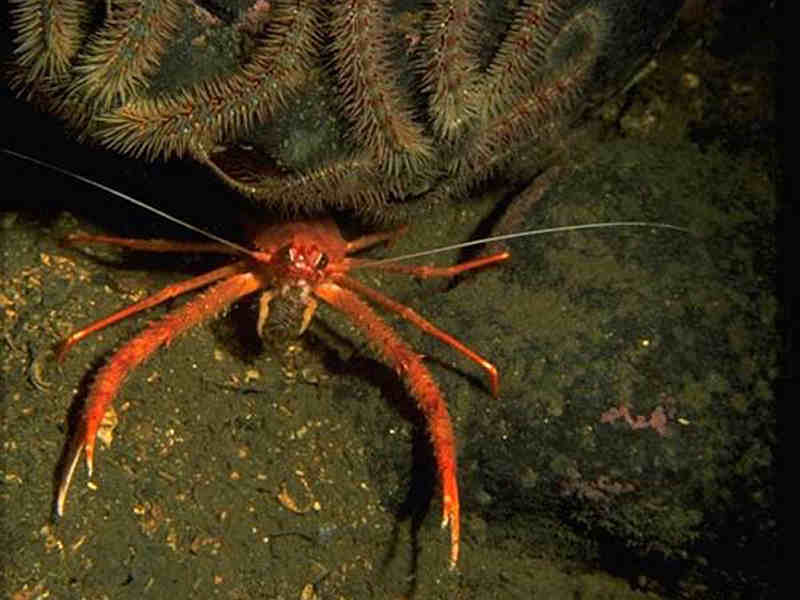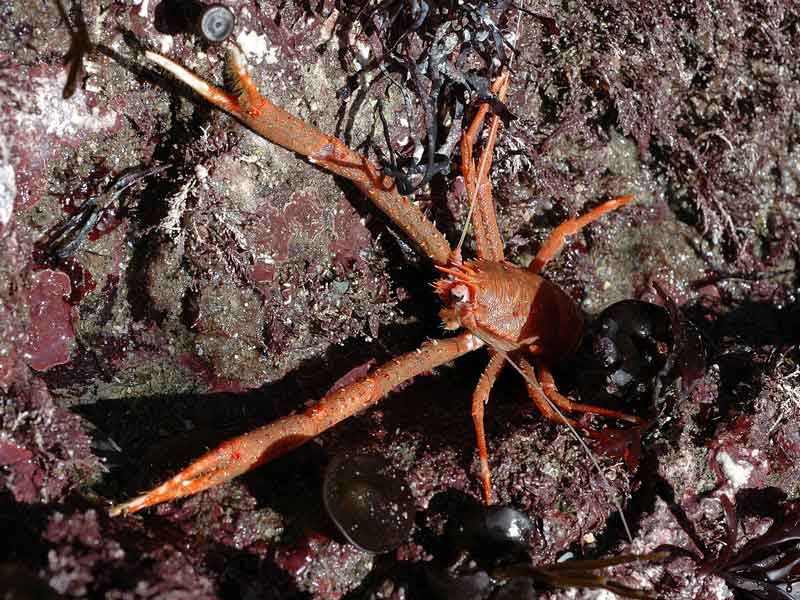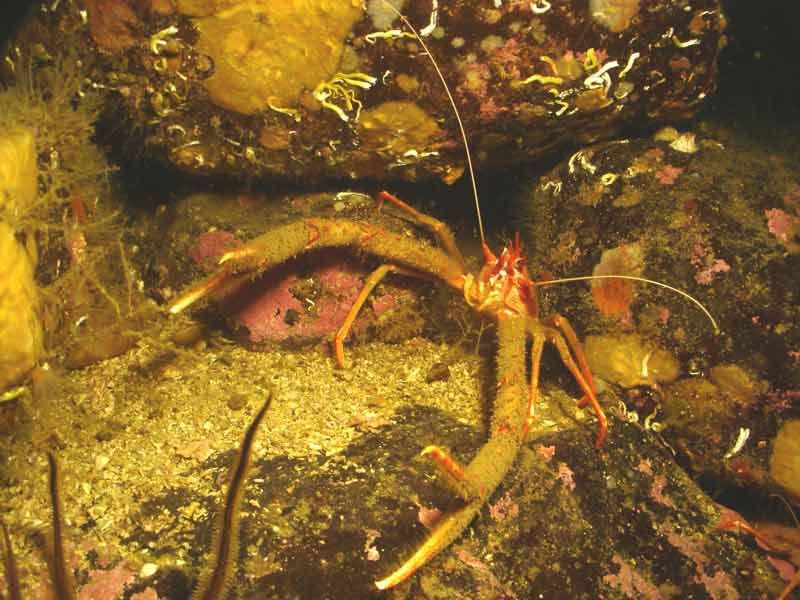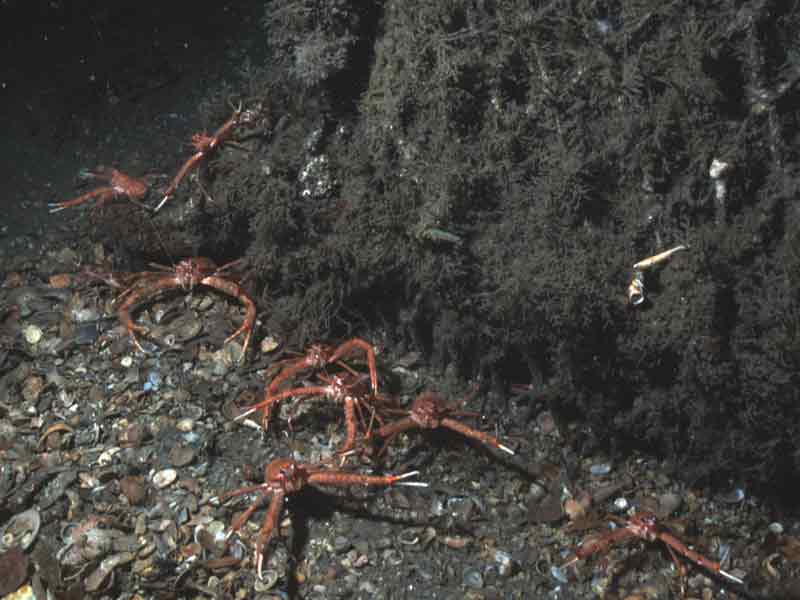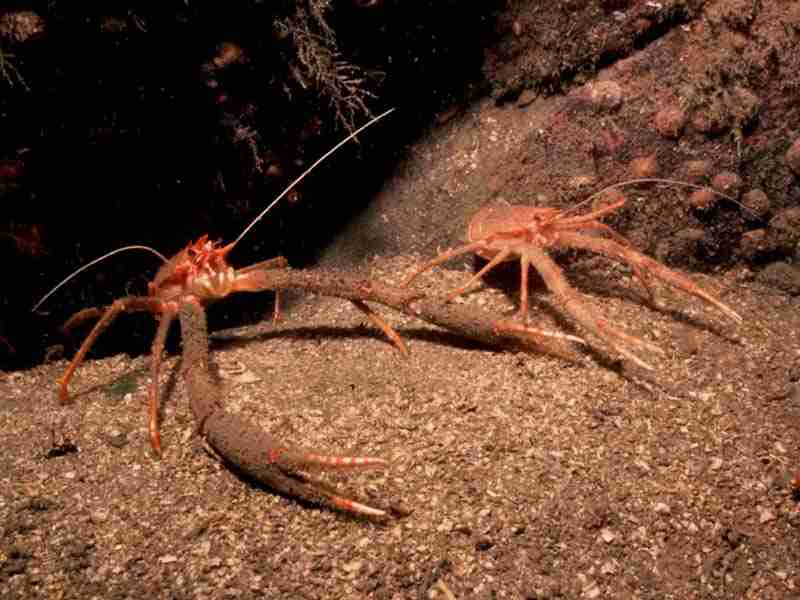 Researched by
Angus Jackson
Refereed by
Admin
Authority
(Fabricius, 1775)
Other common names
-
Synonyms
Munida bamffica A. Milne Edwards & Bouvier, 1899
Summary
Description
A squat lobster up to 10 cm with abdomen extended. Abdomen usually held under the thorax. Orange to reddish brown in colour with darker transverse striations on the carapace and abdomen. The tips and spines on the claws are white.
Recorded distribution in Britain and Ireland
All British and Irish coasts.
Habitat
Common in shallow water where it lives on rock ledges, excavations in sand under boulders and on rock ledges (Sue Scott, pers. comm.). Also found in deeper water (50- 150 m) on sandy or soft substrata.
Identifying features
Antennae not quite as long as the pincer bearing legs.
Pincers are very long and thin with numerous spines.
Numerous uninterrupted dark transverse stripes on the orange / brown carapace.
No spines on fourth abdominal segment.
Fifth pair of walking legs long and thin, usually held underneath the margins of the carapace.
Additional information
Also known as plated lobster and squat lobster.
Bibliography
Campbell, A., 1994. Seashores and shallow seas of Britain and Europe. London: Hamlyn.

Howson, C.M. & Picton, B.E., 1997. The species directory of the marine fauna and flora of the British Isles and surrounding seas. Belfast: Ulster Museum. [Ulster Museum publication, no. 276.]

Ingle, R., 1997. Crayfishes, lobsters and crabs of Europe. An illustrated guide to common and traded species. London: Chapman and Hall.
Datasets
Citation
This review can be cited as:
Jackson, A. 2008. Munida rugosa Rugose squat lobster. In Tyler-Walters H. and Hiscock K. Marine Life Information Network: Biology and Sensitivity Key Information Reviews, [on-line]. Plymouth: Marine Biological Association of the United Kingdom. [cited 29-11-2023]. Available from: https://www.marlin.ac.uk/species/detail/1280
---
Last Updated: 24/04/2008