Scarlet and gold star coral (Balanophyllia (Balanophyllia) regia)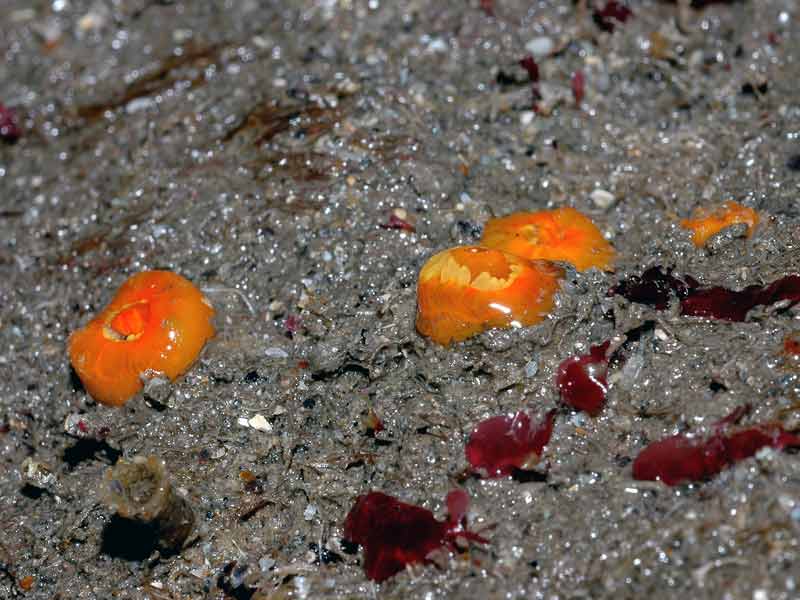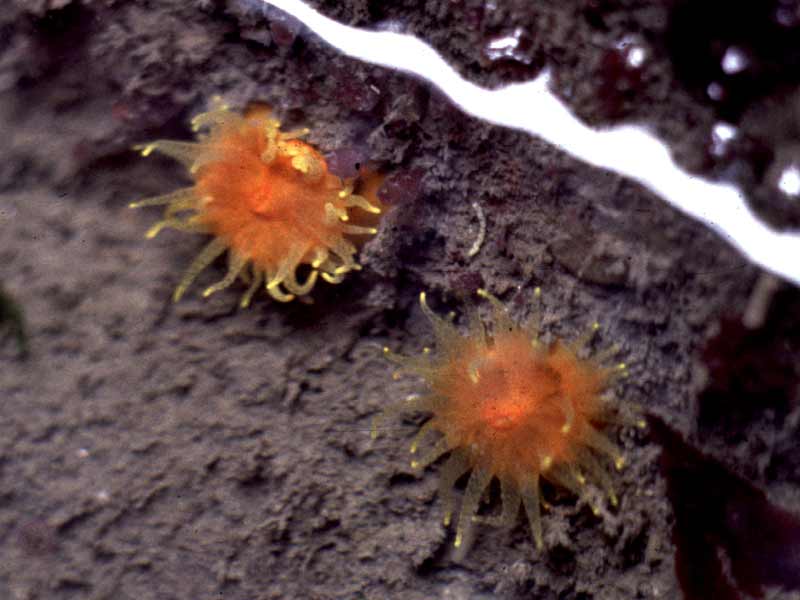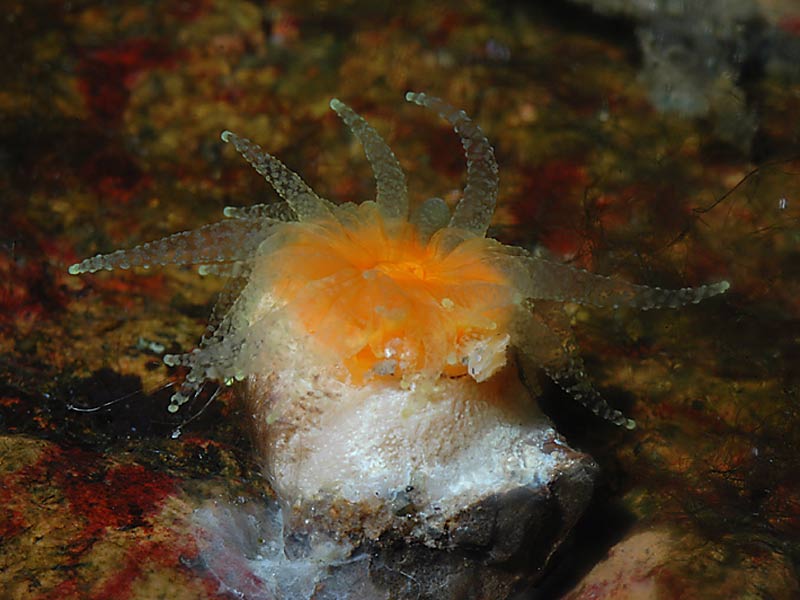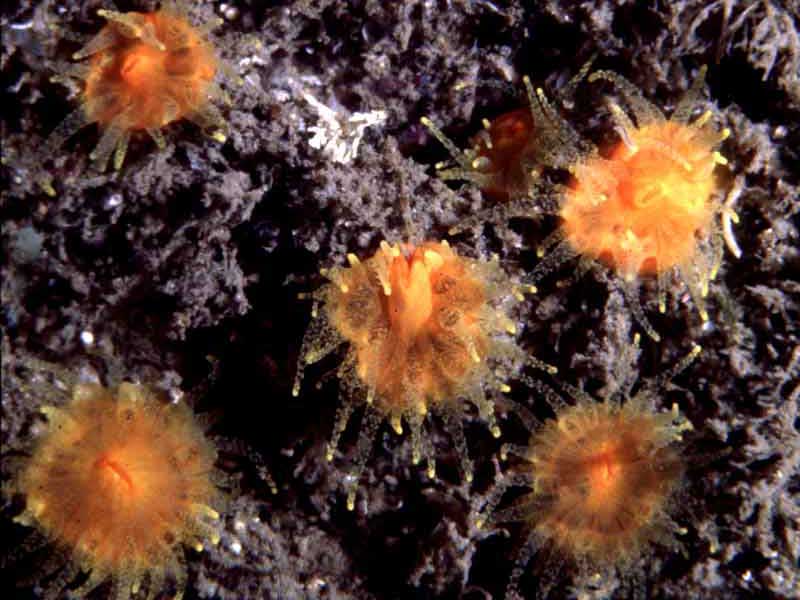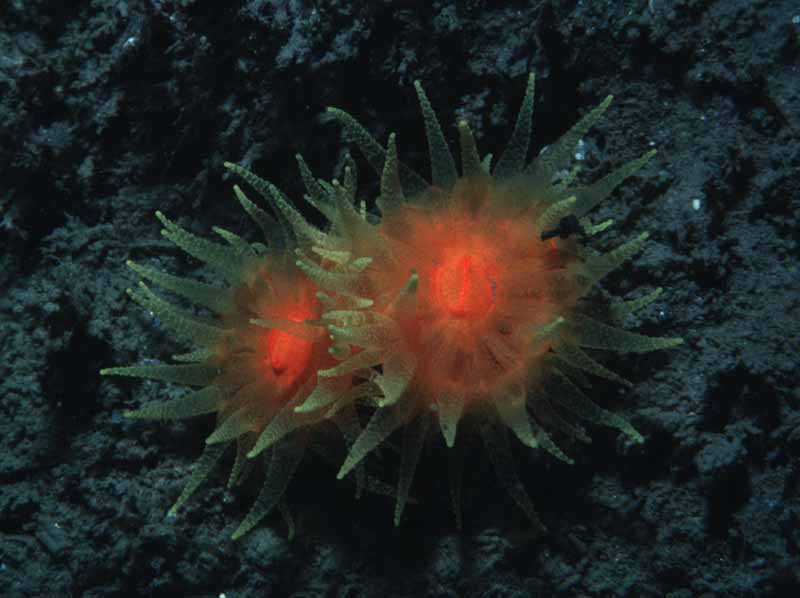 Researched by
Dr Harvey Tyler-Walters
Refereed by
Admin
Authority
Gosse, 1853
Other common names
-
Synonyms
-
Summary
Description
A brilliantly coloured solitary coral. Up to 48 short, stout, evenly tapering tentacles span about 25 mm and are arranged in groups of six around the mouth. The tentacles are a rich translucent golden yellow colour (the colour restricted to the nematocyst warts) and shade into a yellow, orange or scarlet disc. The calcareous exoskeleton (corallum) is broad and low, about 10 mm across but usually less in height. The corallum is porous, spongy in texture and fragile; less durable than in other British corals.
Recorded distribution in Britain and Ireland
Found around the coast of south-west England, the Scilly Isles and south-west Pembrokeshire.
Global distribution
Frequent around the coasts of south west Europe from Brittany south to Gibraltar, the Mediterranean, Morocco and the Canary Isles.
Habitat
Found occasionally on the shore at extreme low water but more commonly in the shallow sublittoral down to 10 m in depth. Attached to rocks in surge gullies, caves or beneath overhangs.
Identifying features
Polyps yellow or orange with up to 48 tentacles.
Tentacles yellow, without terminal knobs.
Coralla with porous, often spongy walls.
Septa arranged in Pourtales' plan producing a distinct six rayed effect in calyx.
Additional information
No text entered
Bibliography
Hayward, P.J. & Ryland, J.S. (ed.) 1995b. Handbook of the marine fauna of North-West Europe. Oxford: Oxford University Press.

Manuel, R.L., 1988. British Anthozoa. Synopses of the British Fauna (New Series) (ed. D.M. Kermack & R.S.K. Barnes). The Linnean Society of London [Synopses of the British Fauna No. 18.]. DOI https://doi.org/10.1002/iroh.19810660505

Moore, J., 2002. An atlas of marine Biodiversity Action Plan species and habitats and Species of Conservation Concern in Wales, 2nd edn. Report to the Countryside Council for Wales, CCW Contract Science Report no. 509.
Datasets
NBN (National Biodiversity Network) Atlas. Available from: https://www.nbnatlas.org.

OBIS (Ocean Biodiversity Information System), 2023. Global map of species distribution using gridded data. Available from: Ocean Biogeographic Information System. www.iobis.org. Accessed: 2023-09-21
Citation
This review can be cited as:
Tyler-Walters, H., 2008. Balanophyllia (Balanophyllia) regia Scarlet and gold star coral. In Tyler-Walters H. and Hiscock K. Marine Life Information Network: Biology and Sensitivity Key Information Reviews, [on-line]. Plymouth: Marine Biological Association of the United Kingdom. [cited 21-09-2023]. Available from: https://www.marlin.ac.uk/species/detail/1300
---
Last Updated: 17/04/2008