Football sea squirt (Diazona violacea)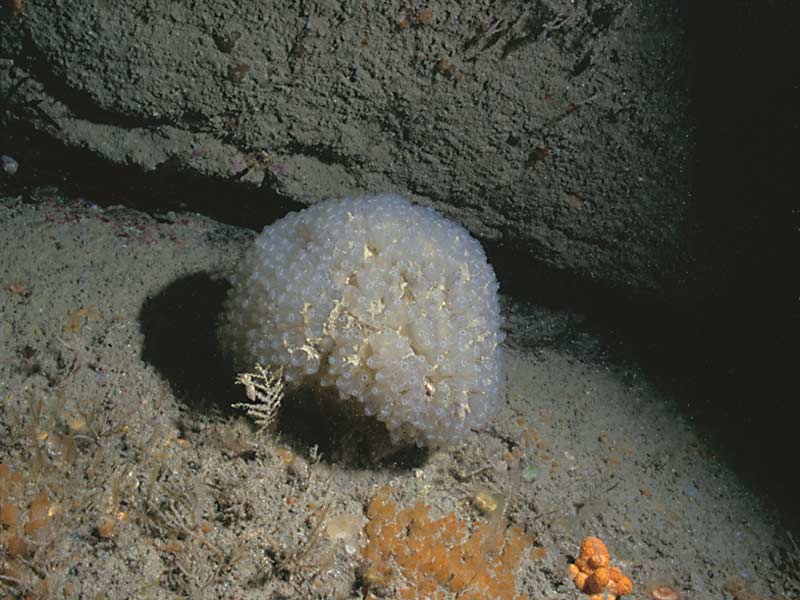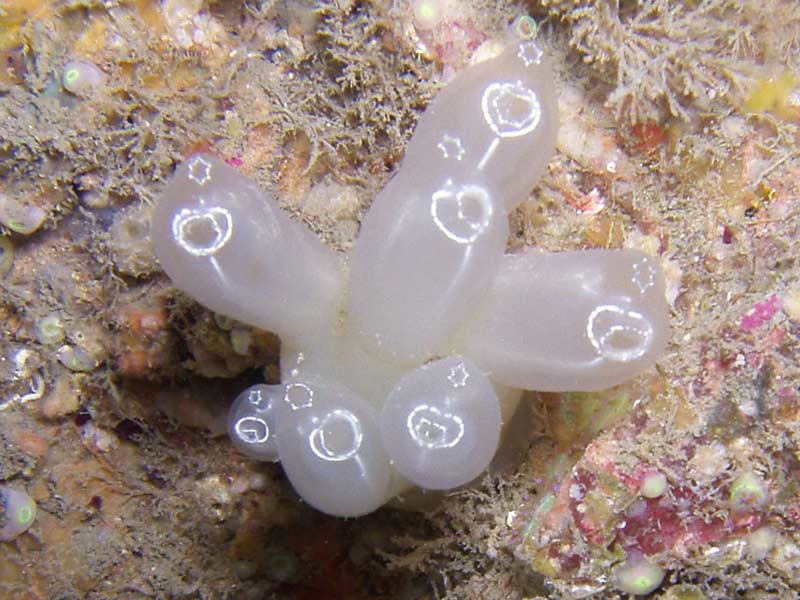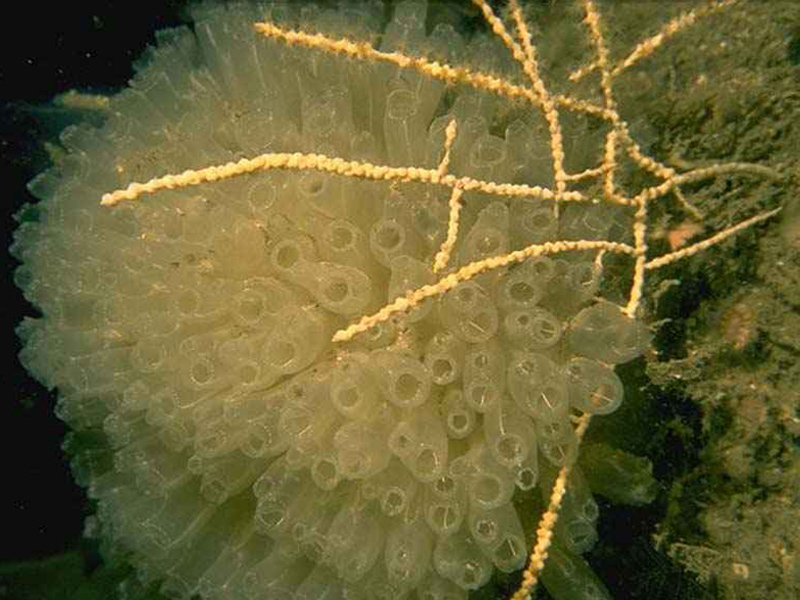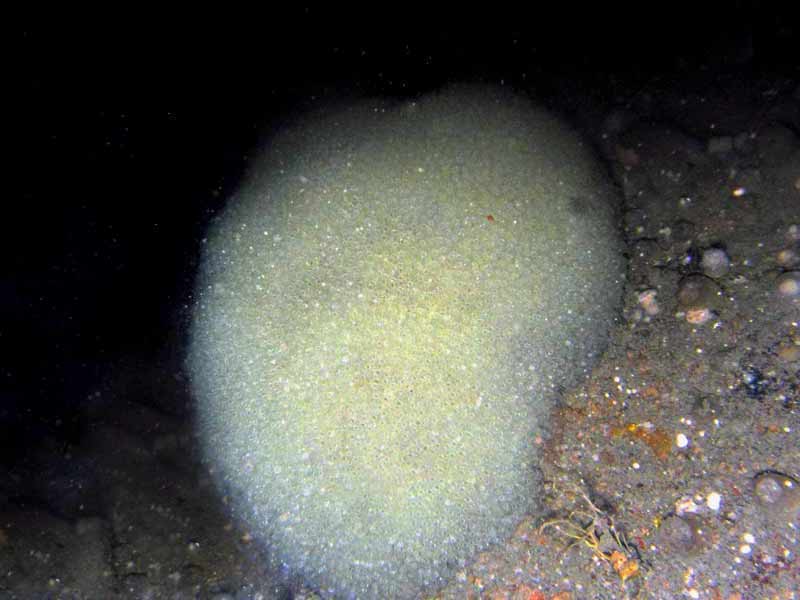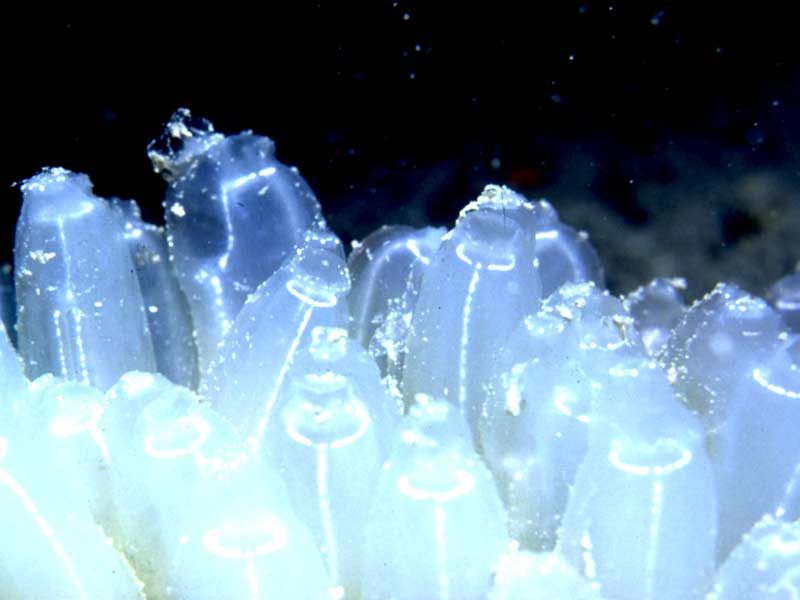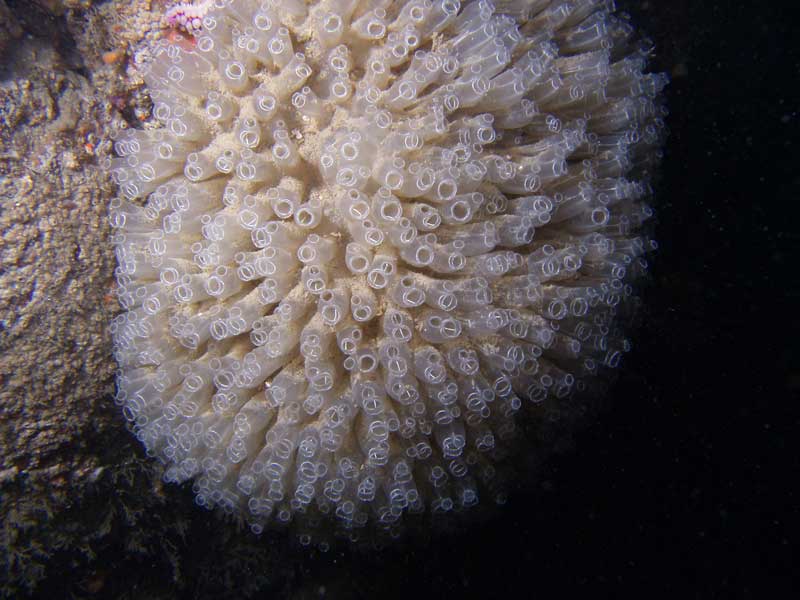 Researched by
Marie Skewes
Refereed by
Admin
Authority
Savigny, 1816
Other common names
-
Synonyms
-
Summary
Description
Colonies 10-30 cm across. Zooids soft, translucent, with a pale green tinge. The bases of each zooid are embedded in a common basal mass.
Recorded distribution in Britain and Ireland
Found along the west coasts of Ireland and Scotland. It is also recorded from south east Scotland, the south Devon coast and the Isles of Scilly.
Habitat
Sublittoral attached to a variety of substrata, mostly adjacent to deeper waters.
Identifying features
No text entered
Additional information
No text entered
Bibliography
Hayward, P., Nelson-Smith, T. & Shields, C. 1996. Collins pocket guide. Sea shore of Britain and northern Europe. London: HarperCollins.

Hayward, P.J. & Ryland, J.S. (ed.) 1995b. Handbook of the marine fauna of North-West Europe. Oxford: Oxford University Press.

Howson, C.M. & Picton, B.E., 1997. The species directory of the marine fauna and flora of the British Isles and surrounding seas. Belfast: Ulster Museum. [Ulster Museum publication, no. 276.]

JNCC (Joint Nature Conservation Committee), 1999. Marine Environment Resource Mapping And Information Database (MERMAID): Marine Nature Conservation Review Survey Database. [on-line] http://www.jncc.gov.uk/mermaid

Picton, B.E. & Costello, M.J., 1998. BioMar biotope viewer: a guide to marine habitats, fauna and flora of Britain and Ireland. [CD-ROM] Environmental Sciences Unit, Trinity College, Dublin.
Datasets
Centre for Environmental Data and Recording, 2018. Ulster Museum Marine Surveys of Northern Ireland Coastal Waters. Occurrence dataset https://www.nmni.com/CEDaR/CEDaR-Centre-for-Environmental-Data-and-Recording.aspx accessed via NBNAtlas.org on 2018-09-25.

NBN (National Biodiversity Network) Atlas. Available from: https://www.nbnatlas.org.

OBIS (Ocean Biodiversity Information System), 2023. Global map of species distribution using gridded data. Available from: Ocean Biogeographic Information System. www.iobis.org. Accessed: 2023-11-29
Citation
This review can be cited as:
Skewes, M. 2001. Diazona violacea Football sea squirt. In Tyler-Walters H. and Hiscock K. Marine Life Information Network: Biology and Sensitivity Key Information Reviews, [on-line]. Plymouth: Marine Biological Association of the United Kingdom. [cited 29-11-2023]. Available from: https://www.marlin.ac.uk/species/detail/1441
---
Last Updated: 10/10/2001