Pepper dulse (Osmundea pinnatifida)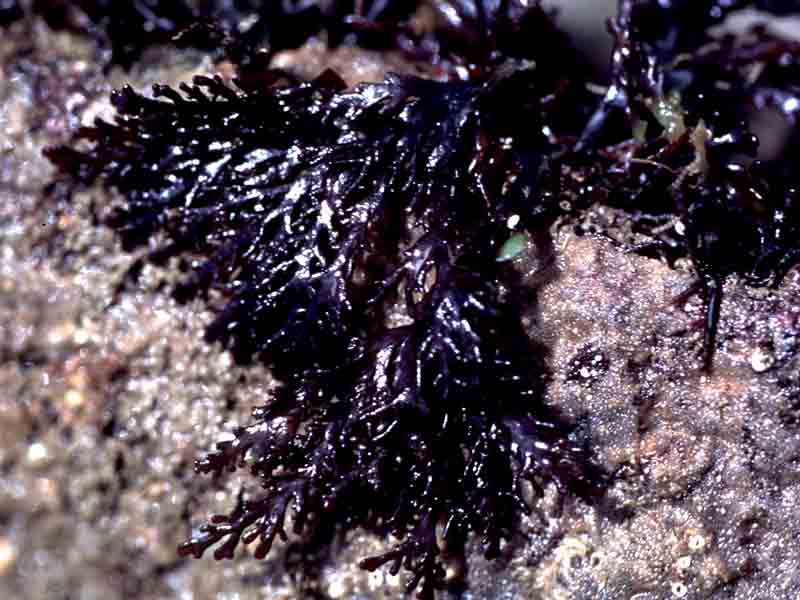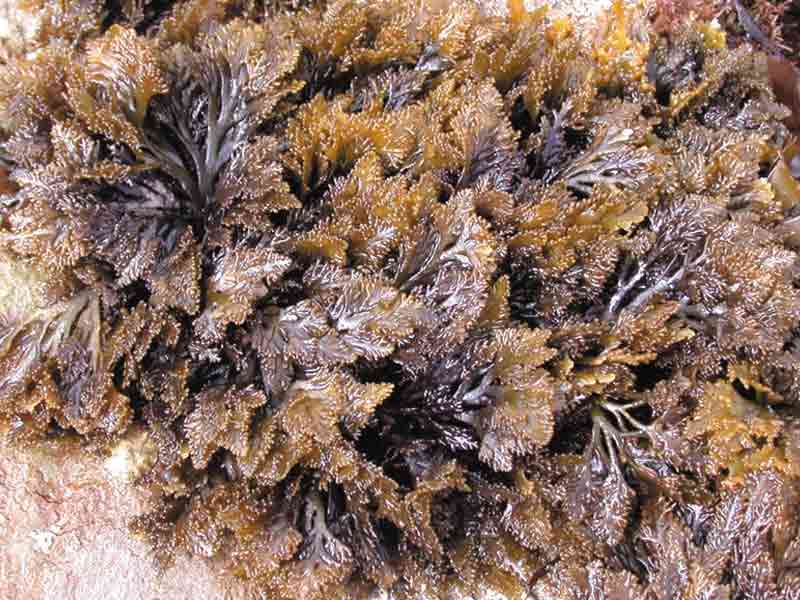 Researched by
Paolo Pizzolla
Refereed by
Admin
Authority
(Hudson) Stackhouse, 1809
Other common names
-
Synonyms
Laurencia pinnatifida (Hudson) Stackhouse, 1809
Summary
Description
A small red alga (up to 8 cm in length), it is tough and cartilaginous with flattened fronds. Branching is alternate and occurs in one plane only, with branches becoming shorter towards their apex and broadly rounded. The plant is highly variable in size and colouration depending upon its location on the shore. Higher shore plants are generally dwarfed and yellow-green in colour, owing to exposure to high levels of sunshine while on the lower shore they are reddish-brown.
Recorded distribution in Britain and Ireland
Common on exposed to moderately sheltered rocky shores on all coasts of the Britain and Ireland.
Habitat
Common to middle and lower rocky shores, often covering large areas with a greenish-yellow turf like growth in pools and on rocks but never subtidal.
Identifying features
A small red seaweed up to 8 cm in length.
Tough with flattened fronds.
Alternate branching, branches become shorter towards the top and broadly rounded.
Highly variable in size and colouration depending upon its location on the shore.
Colour ranges from yellow-green to reddish brown.
Additional information
This aromatic seaweed is dried and used as a spice in Scotland.
Bibliography
Dickinson, C.I., 1963. British seaweeds. London & Frome: Butler & Tanner Ltd.

Fish, J.D. & Fish, S., 1996. A student's guide to the seashore. Cambridge: Cambridge University Press.

Hardy, F.G. & Guiry, M.D., 2003. A check-list and atlas of the seaweeds of Britain and Ireland. London: British Phycological Society

Howson, C.M. & Picton, B.E., 1997. The species directory of the marine fauna and flora of the British Isles and surrounding seas. Belfast: Ulster Museum. [Ulster Museum publication, no. 276.]

JNCC (Joint Nature Conservation Committee), 1999. Marine Environment Resource Mapping And Information Database (MERMAID): Marine Nature Conservation Review Survey Database. [on-line] http://www.jncc.gov.uk/mermaid

Maggs, C.A. & Hommersand, M.H., 1993. Seaweeds of the British Isles: Volume 1 Rhodophycota Part 3A Ceramiales. London: Natural History Museum, Her Majesty's Stationary Office.

Norton, T.A. (ed.), 1985. Provisional Atlas of the Marine Algae of Britain and Ireland. Huntingdon: Biological Records Centre, Institute of Terrestrial Ecology.
Datasets
Citation
This review can be cited as:
Pizzolla, P.F 2003. Osmundea pinnatifida Pepper dulse. In Tyler-Walters H. and Hiscock K. Marine Life Information Network: Biology and Sensitivity Key Information Reviews, [on-line]. Plymouth: Marine Biological Association of the United Kingdom. [cited 11-12-2023]. Available from: https://www.marlin.ac.uk/species/detail/1455
---
Last Updated: 26/11/2003