Deeplet sea anemone (Bolocera tuediae)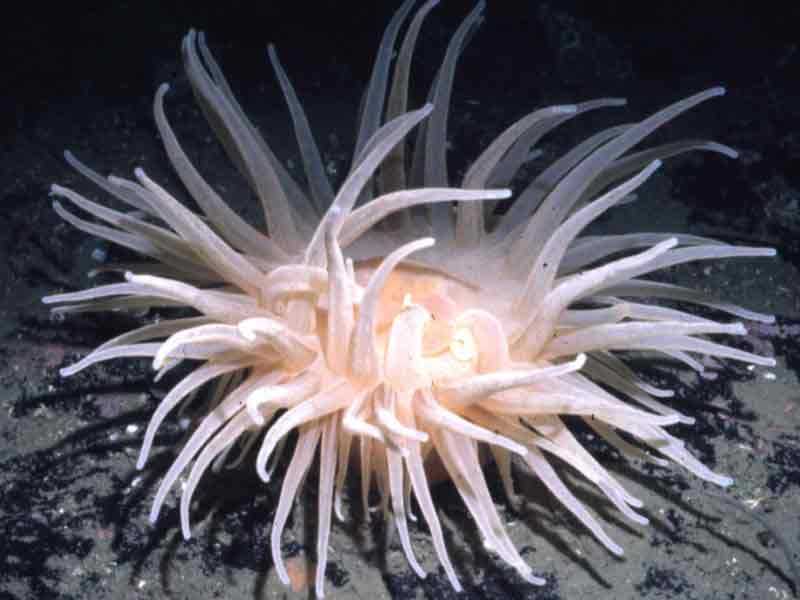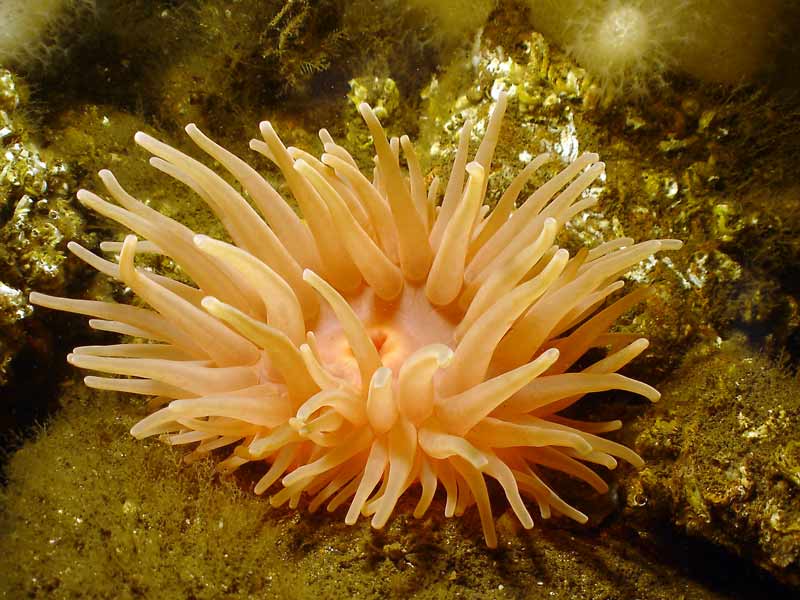 Researched by
Paolo Pizzolla
Refereed by
Admin
Authority
(Johnston, 1832)
Other common names
-
Synonyms
-
Summary
Description
This large anemone, growing up to 30 cm across the tentacles, has a smooth featureless column and up to 200 long thick tentacles. The tentacles are arranged in concentric rings of 6, then 6, then 12 , then 24 tentacles and so on (hexamerous). Bolocera tuediae is dull pink to brown in colour.
Recorded distribution in Britain and Ireland
On all British and Irish coasts, but rare on southern coasts.
Habitat
This anemone is found sublittorally at depths from 20 m to at least 2000 m.
Identifying features
A large anemone, up to 30 cm across the tentacles.
Up to 200 tentacles.
Column smooth and featureless.
Dull pink to brown colouration.
Additional information
No text entered
Bibliography
Hayward, P., Nelson-Smith, T. & Shields, C. 1996. Collins pocket guide. Sea shore of Britain and northern Europe. London: HarperCollins.

Howson, C.M. & Picton, B.E., 1997. The species directory of the marine fauna and flora of the British Isles and surrounding seas. Belfast: Ulster Museum. [Ulster Museum publication, no. 276.]

JNCC (Joint Nature Conservation Committee), 1999. Marine Environment Resource Mapping And Information Database (MERMAID): Marine Nature Conservation Review Survey Database. [on-line] http://www.jncc.gov.uk/mermaid

Manuel, R.L., 1988. British Anthozoa. Synopses of the British Fauna (New Series) (ed. D.M. Kermack & R.S.K. Barnes). The Linnean Society of London [Synopses of the British Fauna No. 18.]. DOI https://doi.org/10.1002/iroh.19810660505
Datasets
NBN (National Biodiversity Network) Atlas. Available from: https://www.nbnatlas.org.

OBIS (Ocean Biodiversity Information System), 2023. Global map of species distribution using gridded data. Available from: Ocean Biogeographic Information System. www.iobis.org. Accessed: 2023-12-09
Citation
This review can be cited as:
Pizzolla, P.F 2002. Bolocera tuediae Deeplet sea anemone. In Tyler-Walters H. and Hiscock K. Marine Life Information Network: Biology and Sensitivity Key Information Reviews, [on-line]. Plymouth: Marine Biological Association of the United Kingdom. [cited 09-12-2023]. Available from: https://www.marlin.ac.uk/species/detail/1513
---
Last Updated: 11/10/2002