Trigger fish (Balistes capriscus)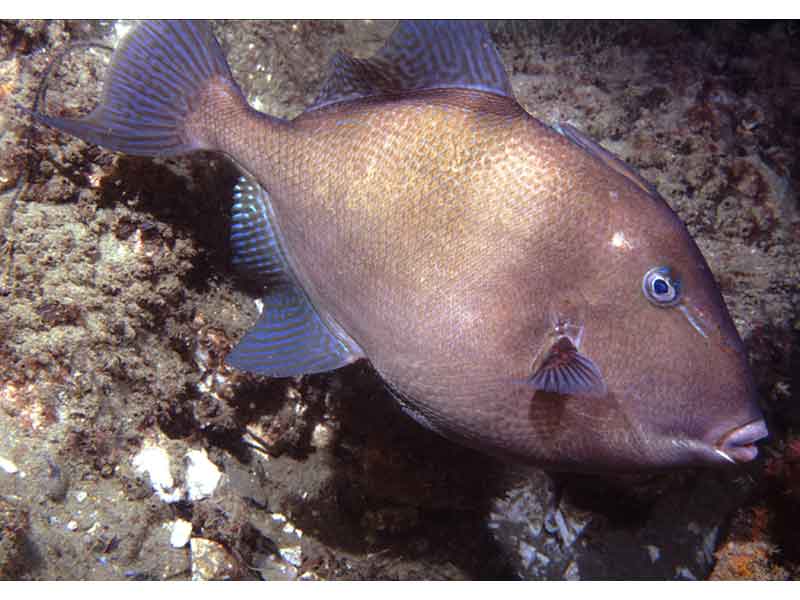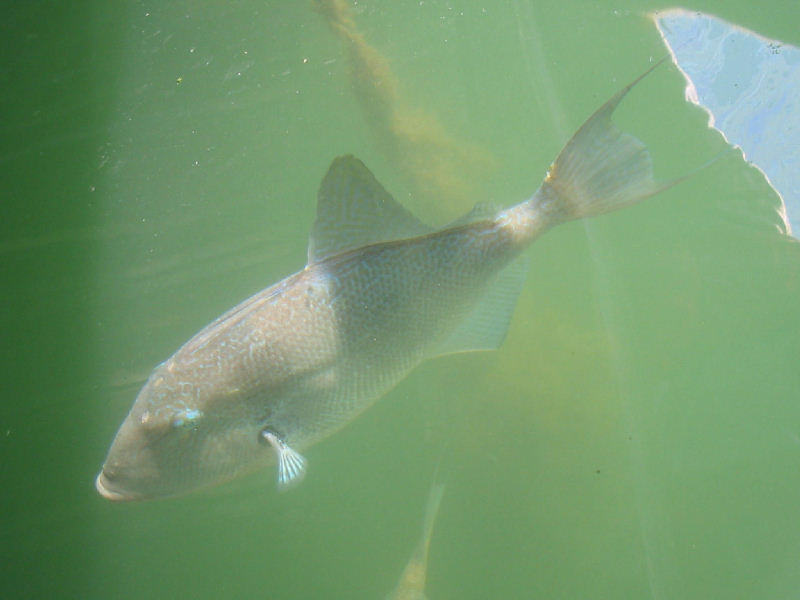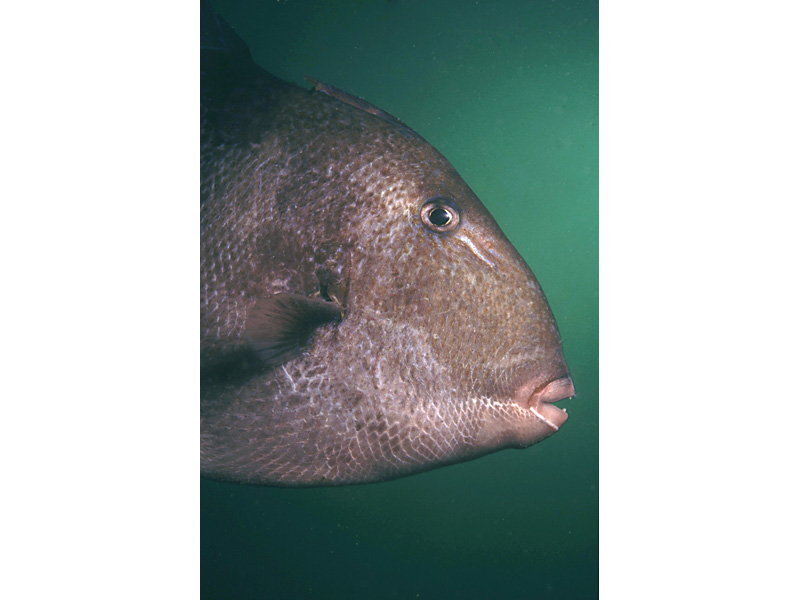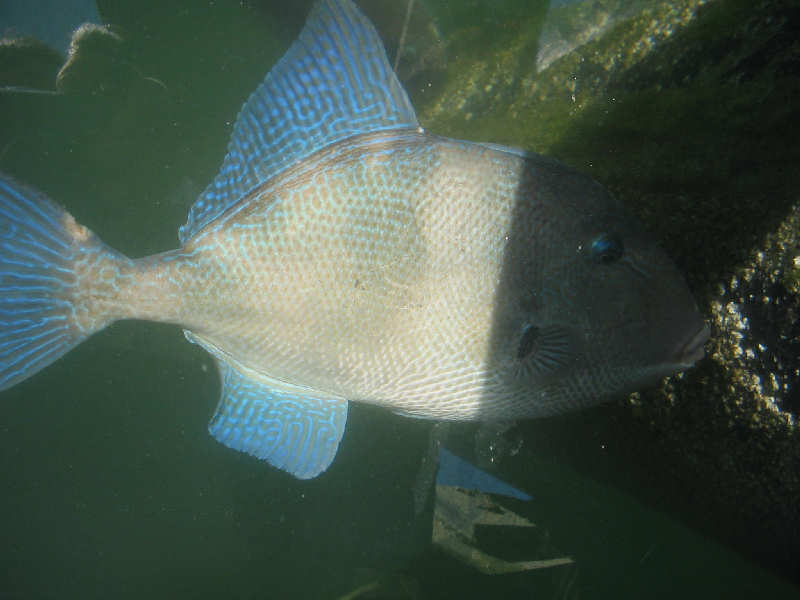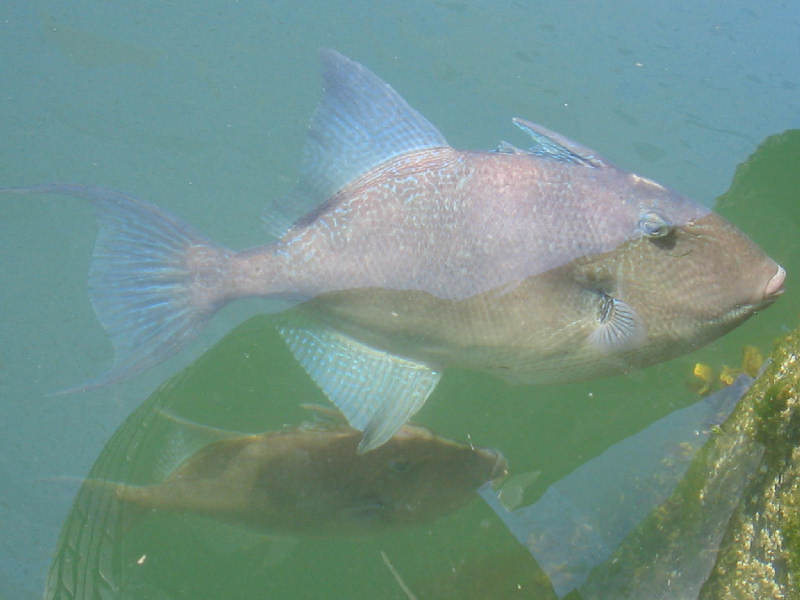 Researched by
Kate Reeds
Refereed by
Admin
Authority
Gmelin, 1789
Other common names
-
Synonyms
Balistes carolinensis Gmelin, 1789
Summary
Description
The trigger fish Balistes capriscus is commonly known as the grey trigger fish. It is brownish green to grey in colour and reaches a maximum length of 40cm. The mouth is small and 'beak like' with fleshy lips. Body form is laterally flattened to allow manoeuvring in shallow rocky areas or wrecks that they inhabit. The first dorsal fin can be locked upright and then unlocked by depressing the second spine, the 'trigger'.
Recorded distribution in Britain and Ireland
Adult specimens have been recorded in increasing numbers around the western coasts of Britain and Ireland. There is no current evidence of a breeding population in Britain and Ireland.
Habitat
Mainly rocky bottoms and floating wreckage at depths between 10-100 m.
Identifying features
Brownish green to grey in colour.
Up to 40 cm in length.
Small, beak-like mouth with fleshy lips.
Latitudinally flattened body.
First dorsal fin may be locked upright or flat.
Not currently in British waters.
Additional information
Common in the Mediterranean, where spawning occurs in water temperatures above 12°C. As they are poor swimmers, it is likely they arrive in the Eastern Atlantic to the North coast of Angola via the Gulf Stream. They may increase in numbers in Britain and Ireland because of warmer seas due to global warming.
Bibliography
FishBase, 2000. FishBase. A global information system on fishes. [On-line] http://www.fishbase.org, 2001-05-03

Howson, C.M. & Picton, B.E., 1997. The species directory of the marine fauna and flora of the British Isles and surrounding seas. Belfast: Ulster Museum. [Ulster Museum publication, no. 276.]

JNCC (Joint Nature Conservation Committee), 1999. Marine Environment Resource Mapping And Information Database (MERMAID): Marine Nature Conservation Review Survey Database. [on-line] http://www.jncc.gov.uk/mermaid

Picton, B.E. & Costello, M.J., 1998. BioMar biotope viewer: a guide to marine habitats, fauna and flora of Britain and Ireland. [CD-ROM] Environmental Sciences Unit, Trinity College, Dublin.

Whitehead, P.J.P., Bauchot, M.-L., Hureau, J.-C., Nielson, J. & Tortonese, E. 1986. Fishes of the North-eastern Atlantic and the Mediterranean. Vol. I, II & III. Paris: United Nations Educational, Scientific and Cultural Organisation (UNESCO).
Datasets
Citation
This review can be cited as:
Reeds, K.A. 2008. Balistes capriscus Trigger fish. In Tyler-Walters H. and Hiscock K. Marine Life Information Network: Biology and Sensitivity Key Information Reviews, [on-line]. Plymouth: Marine Biological Association of the United Kingdom. [cited 11-12-2023]. Available from: https://www.marlin.ac.uk/species/detail/1524
---
Last Updated: 20/08/2008