Rock cook (Centrolabrus exoletus)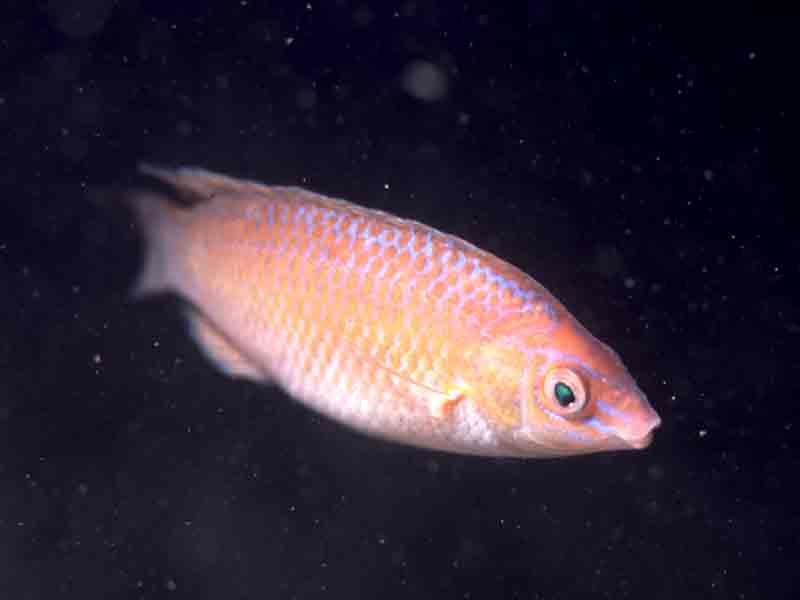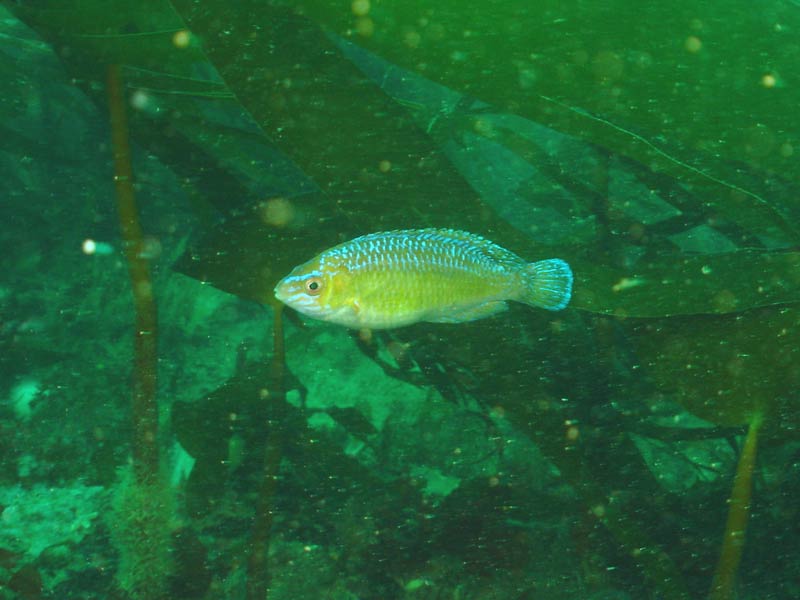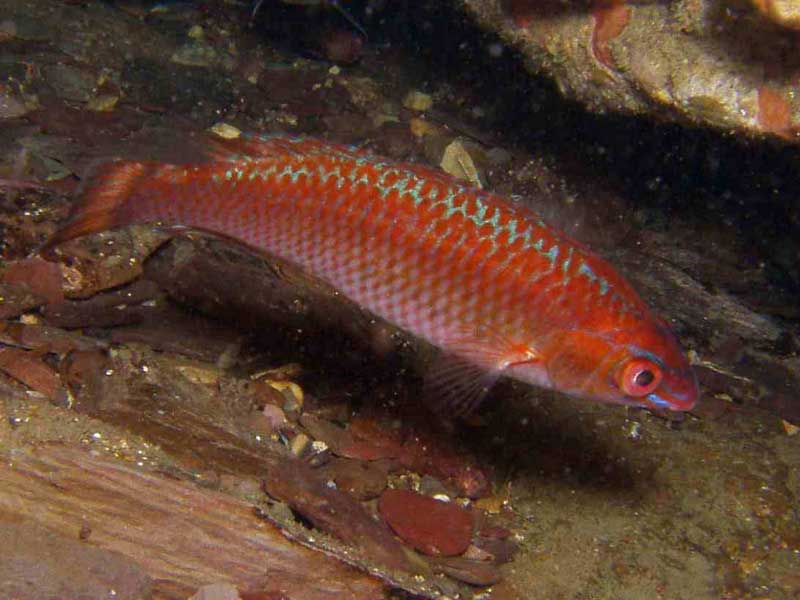 Researched by
Kate Reeds
Refereed by
Admin
Authority
(Linnaeus, 1758)
Other common names
-
Synonyms
-
Summary
Description
This brightly coloured wrasse, is distinguished by five spiny fin rays on the anal fin. Colouring is mostly greenish brown, sometimes with blue or purple flecking on the dorsal and anal fins. Its sides are yellow to brown, with a cream underside. The lower part of the head is yellowish orange, with blue and pinkish stripes. A broad dark band is also present on the caudal fin. Also known as the 'small mouthed wrasse' Centrolabrus exoletus feeds on small invertebrates and also cleans parasites from other fish.
Recorded distribution in Britain and Ireland
Distributed throughout the Britain and Ireland, although is absent from the southern North Sea.
Habitat
Often found among seaweeds (particularly eelgrass beds) and near rocks.
Identifying features
Up to 15 cm in length.
Brightly coloured: greenish brown with blue flecks dorsally, yellow sides and cream underside.
Head orange and pink with blue and pink stripes.
Five spiny rays on anal fin.
Dorsal and anal fins flecked with blue.
Dark band across the tail fin.
Additional information
Females lay their eggs in 'nests' of fine algae in rock crevices during summer months. Growth rate is faster in the males, with both male and females reaching a maximum length of 15cm.
Bibliography
FishBase, 2000. FishBase. A global information system on fishes. [On-line] http://www.fishbase.org, 2001-05-03

Howson, C.M. & Picton, B.E., 1997. The species directory of the marine fauna and flora of the British Isles and surrounding seas. Belfast: Ulster Museum. [Ulster Museum publication, no. 276.]

JNCC (Joint Nature Conservation Committee), 1999. Marine Environment Resource Mapping And Information Database (MERMAID): Marine Nature Conservation Review Survey Database. [on-line] http://www.jncc.gov.uk/mermaid

Muus, B.J. & Dahlstrom, P., 1974. Collins guide to the sea fishes of Britain and North-Western Europe. Wm Collins Sons & Co. Ltd: London.

Wheeler, A., 1969. The fishes of the British Isles and north-west Europe. London: Macmillan.

Whitehead, P.J.P., Bauchot, M.-L., Hureau, J.-C., Nielson, J. & Tortonese, E. 1986. Fishes of the North-eastern Atlantic and the Mediterranean. Vol. I, II & III. Paris: United Nations Educational, Scientific and Cultural Organisation (UNESCO).
Datasets
Citation
This review can be cited as:
Reeds, K.A. 2008. Centrolabrus exoletus Rock cook. In Tyler-Walters H. and Hiscock K. Marine Life Information Network: Biology and Sensitivity Key Information Reviews, [on-line]. Plymouth: Marine Biological Association of the United Kingdom. [cited 11-12-2023]. Available from: https://www.marlin.ac.uk/species/detail/1526
---
Last Updated: 02/09/2008