Sunfish (Mola mola)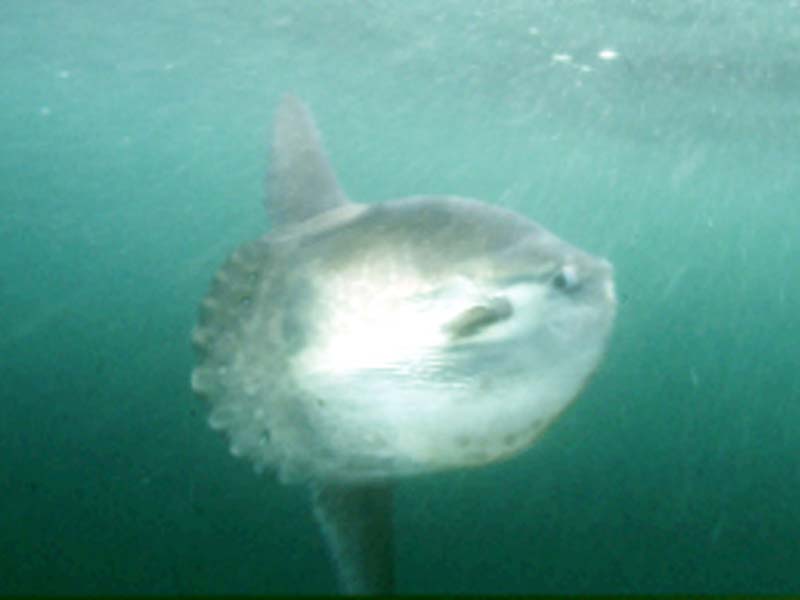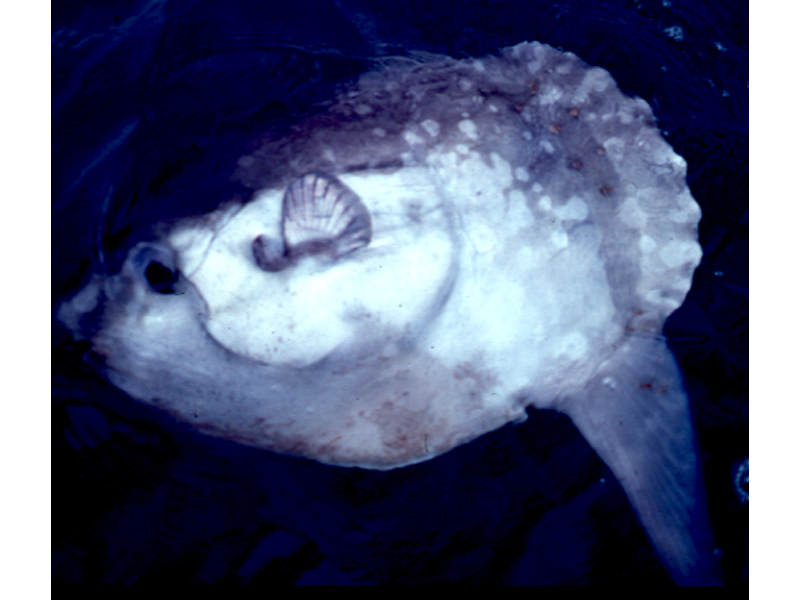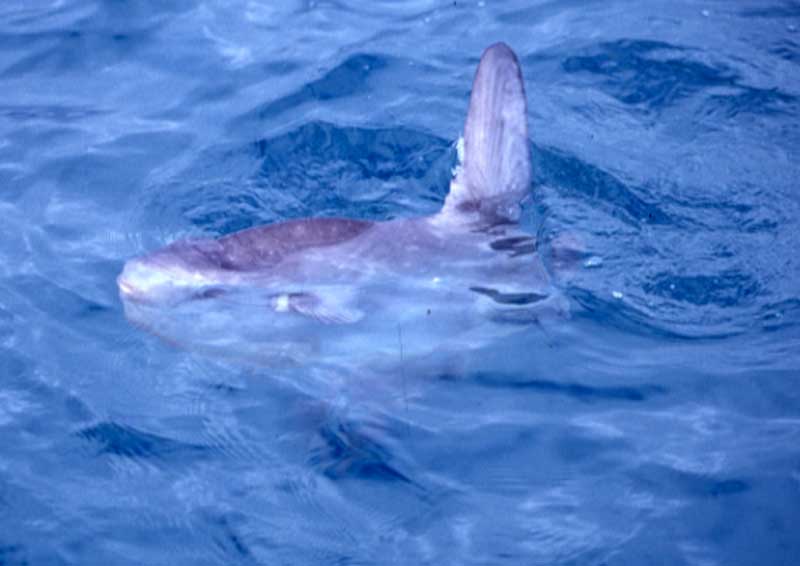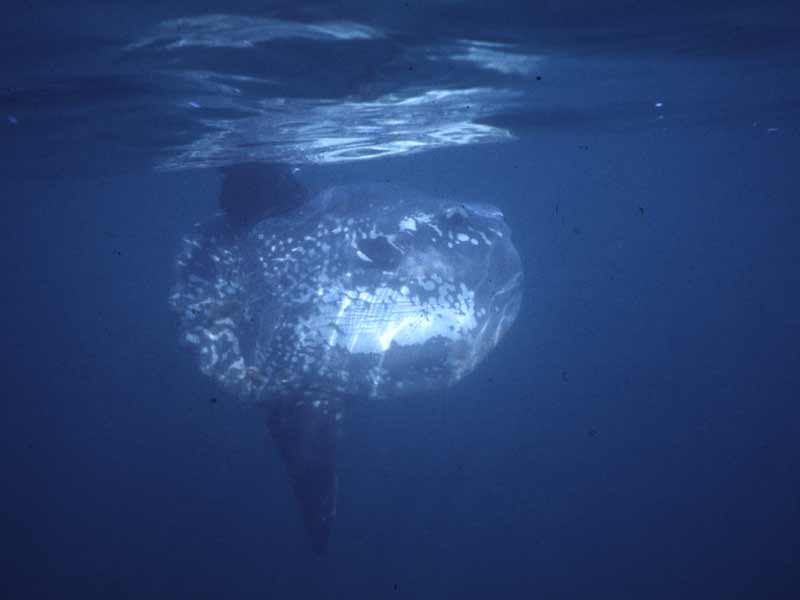 Researched by
John Bleach
Refereed by
Admin
Authority
(Linnaeus, 1758)
Other common names
-
Synonyms
-
Summary
Description
Silvery to brownish grey in colour. Body short and tall, flattened like a disc. Ventral fins absent. Caudal fin replaced by a stiff fringe of skin. Dorsal and anal fins modified to form long 'paddles' that can only move from side to side. Skin leathery without scales. Small eyes and mouth. May grow up to 4 m in length and 2 tonnes in weight.
Recorded distribution in Britain and Ireland
All Scottish and Ireland coasts, Irish Sea and off the south and west coasts of England, during the summer months only.
Habitat
Distributed throughout the world in tropical and temperate seas in open water to a depth of at least 360 m.
Identifying features
Body flat and disc-like, up to 4 m in length.
Silver to brown grey in colour.
Ventral fins absent whilst dorsal and anal fins form long 'paddles'.
Tail fin is a stiff fringe of skin.
Rough, leathery skin with irregular tubercles.
An overlying whitish fibrous tissue up to 1.5 cm thick.
Additional information
Often seen drifting at the surface while on its side or close to the surface with its dorsal fin projecting out of the water. Feeds on zooplankton, jellyfish, eel larvae and small deep sea fish.
Bibliography
Howson, C.M. & Picton, B.E., 1997. The species directory of the marine fauna and flora of the British Isles and surrounding seas. Belfast: Ulster Museum. [Ulster Museum publication, no. 276.]

JNCC (Joint Nature Conservation Committee), 1999. Marine Environment Resource Mapping And Information Database (MERMAID): Marine Nature Conservation Review Survey Database. [on-line] http://www.jncc.gov.uk/mermaid

Muus, B.J. & Dahlstrom, P., 1974. Collins guide to the sea fishes of Britain and North-Western Europe. Wm Collins Sons & Co. Ltd: London.

Picton, B.E. & Costello, M.J., 1998. BioMar biotope viewer: a guide to marine habitats, fauna and flora of Britain and Ireland. [CD-ROM] Environmental Sciences Unit, Trinity College, Dublin.

Wheeler, A., 1969. The fishes of the British Isles and north-west Europe. London: Macmillan.
Datasets
Citation
This review can be cited as:
Bleach, J. 2002. Mola mola Sunfish. In Tyler-Walters H. and Hiscock K. Marine Life Information Network: Biology and Sensitivity Key Information Reviews, [on-line]. Plymouth: Marine Biological Association of the United Kingdom. [cited 27-09-2023]. Available from: https://www.marlin.ac.uk/species/detail/1538
---
Last Updated: 11/10/2002