Bull rout (Myoxocephalus scorpius)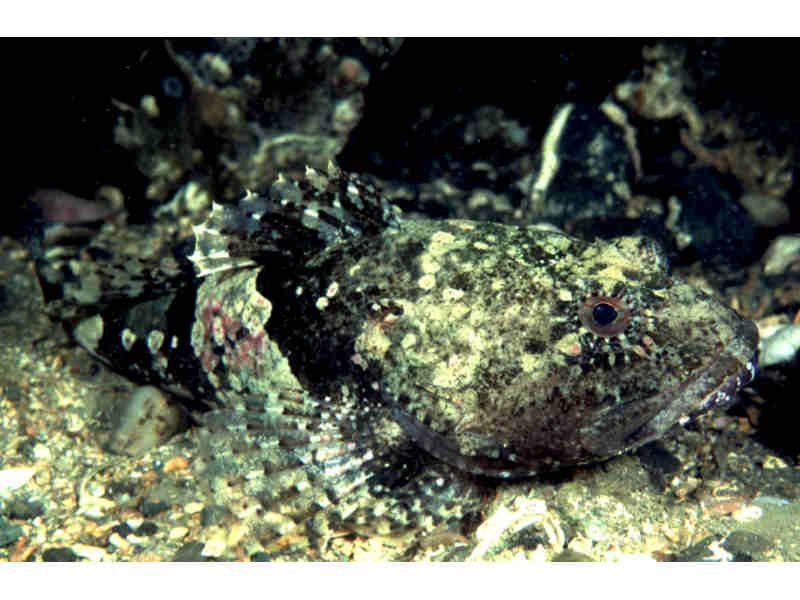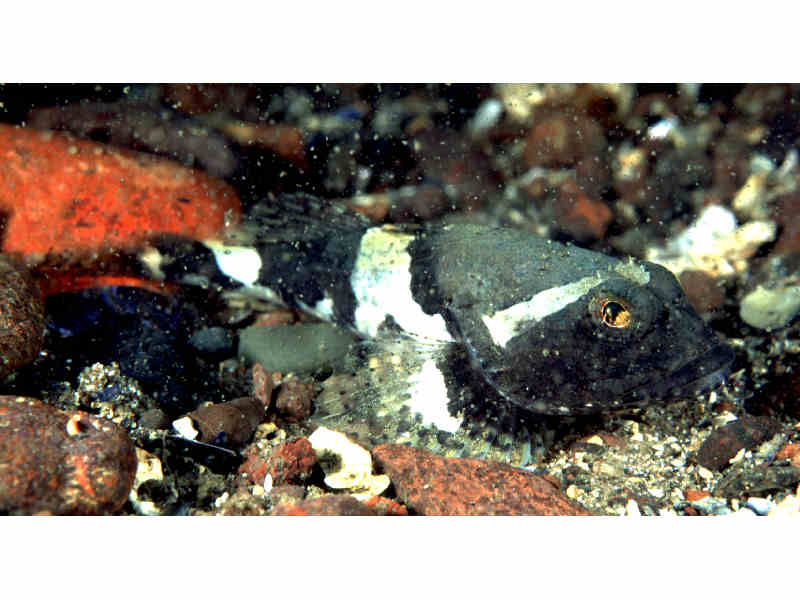 Researched by
Morvan Barnes
Refereed by
Admin
Authority
(Linnaeus, 1758)
Other common names
Short-spined sea scorpion
Synonyms
-
Summary
Description
Myoxocephalus scorpius is a moderately sized species of sea scorpion that can reach up to 30 cm in length in the south but up to 90 cm in the northern extent of its range. It has a large, broad head with warty protuberances and spines. It has a large, slightly downward pointing mouth and large dorsal eyes. Its body tapers gradually from the head to the tail. It has two dorsal fins narrowly attached. Its fins are tall, large and rounded apart from the the pelvic fins which consists of just three rays. The bull rout is green-brown above and often has dark blotches and bright milky-white spots above the pectoral fins. The underside is either cherry red (males) or light orange (females). The fins are mottled or with dark bands.
Recorded distribution in Britain and Ireland
Widely distributed throughout British and Irish waters.
Habitat
The bull rout is a coastal benthic species usually found on rocky bottoms with sand or mud at depths down to 50 m.
Identifying features
Large, broad and spiny head.
Large lips and eyes.
Large mottled fins.
No space between the dorsal fins.
Mottled green-brown upper colouration.
Additional information
No text entered
Bibliography
Dipper, F., 2001. British sea fishes (2nd edn). Teddington: Underwater World Publications Ltd.

Froese, R. & Pauly, D., 2007. Fishbase. A global information system on fishes. [On-line] http://www.fishbase.org, 2008-02-18

Howson, C.M. & Picton, B.E., 1997. The species directory of the marine fauna and flora of the British Isles and surrounding seas. Belfast: Ulster Museum. [Ulster Museum publication, no. 276.]

Knijn, R.J., Boon, T.W., Heesen, H.J.L & Hislop, J.R.G., 1993. Atlas of North Sea Fishes. ICES cooperative research reports. ICES 194., Copenhagen

Whitehead, P.J.P., Bauchot, M.-L., Hureau, J.-C., Nielson, J. & Tortonese, E. 1986. Fishes of the North-eastern Atlantic and the Mediterranean. Vol. I, II & III. Paris: United Nations Educational, Scientific and Cultural Organisation (UNESCO).
Datasets
Citation
This review can be cited as:
Barnes, M.K.S. 2008. Myoxocephalus scorpius Bull rout. In Tyler-Walters H. and Hiscock K. Marine Life Information Network: Biology and Sensitivity Key Information Reviews, [on-line]. Plymouth: Marine Biological Association of the United Kingdom. [cited 28-11-2023]. Available from: https://www.marlin.ac.uk/species/detail/154
---
Last Updated: 02/06/2008