Northern sea urchin (Strongylocentrotus droebachiensis)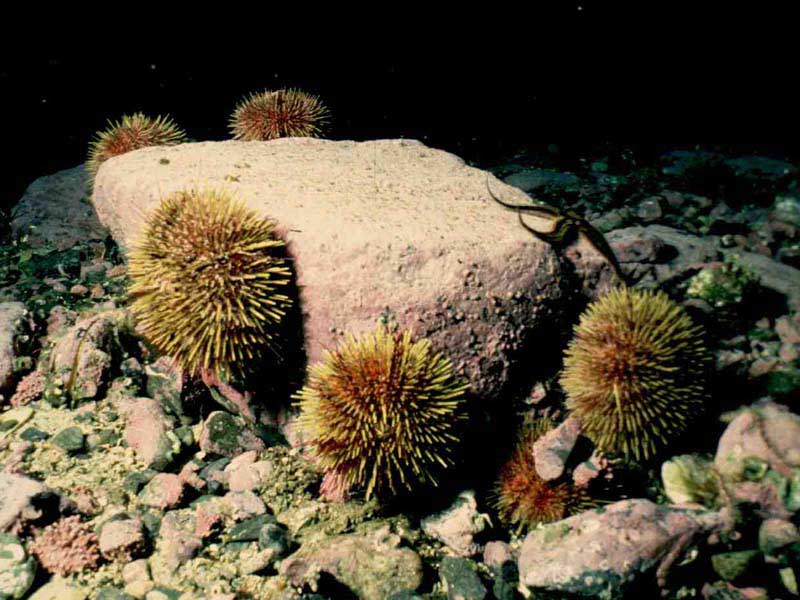 Researched by
Dean Russel
Refereed by
Admin
Authority
(O.F. Müller, 1776)
Other common names
-
Synonyms
-
Summary
Description
Strongylocentrotus droebachiensis grows up to 8cm in diameter with a low flat profile. Skeletal plates are greenish-brown with numerous reddish, greenish, or even violet spines that are usually white tipped.
Recorded distribution in Britain and Ireland
The species is recorded as occurring on north sea coasts from Shetland to the southern north sea. However, recent records from shallow inshore areas are for Shetland only.
Global distribution
Widespread and common throughout North-eastern Atlantic and Baltic, ranging south to Mediterranean, Azores and West Africa.
Habitat
Strongylocentrotus droebachiensis is found on the lower shore and infralittoral fringe down to 1200 m on rocky grounds browsing on algae. In the few locations, where it is found in Britain, it occurs in the lower infralittoral and upper circalittoral.
Identifying features
Anus situated outside apical system.
Jaws lack lateral teeth.
Shows full radial symmetry.
More than three pore plates per ambulacral plate.
Primary and secondary spines of similar length.
Additional information
May retreat further north with rising water temperatures. Can occur in plagues or swarms which devastate kelp beds in Norway.
Bibliography
Fish, J.D. & Fish, S., 1996. A student's guide to the seashore. Cambridge: Cambridge University Press.

Hailey, N., 1995. Likely impacts of oil and gas activities on the marine environment and integration of environmental considerations in licensing policy. English Nature Research Report, no 145., Peterborough: English Nature.

Hayward, P., Nelson-Smith, T. & Shields, C. 1996. Collins pocket guide. Sea shore of Britain and northern Europe. London: HarperCollins.

Hayward, P.J. & Ryland, J.S. (ed.) 1995b. Handbook of the marine fauna of North-West Europe. Oxford: Oxford University Press.

Howson, C.M. & Picton, B.E., 1997. The species directory of the marine fauna and flora of the British Isles and surrounding seas. Belfast: Ulster Museum. [Ulster Museum publication, no. 276.]

Mortensen, T.H., 1927. Handbook of the echinoderms of the British Isles. London: Humphrey Milford, Oxford University Press.
Datasets
NBN (National Biodiversity Network) Atlas. Available from: https://www.nbnatlas.org.

OBIS (Ocean Biodiversity Information System), 2023. Global map of species distribution using gridded data. Available from: Ocean Biogeographic Information System. www.iobis.org. Accessed: 2023-12-11
Citation
This review can be cited as:
Russel, D. 2001. Strongylocentrotus droebachiensis Northern sea urchin. In Tyler-Walters H. and Hiscock K. Marine Life Information Network: Biology and Sensitivity Key Information Reviews, [on-line]. Plymouth: Marine Biological Association of the United Kingdom. [cited 11-12-2023]. Available from: https://www.marlin.ac.uk/species/detail/1547
---
Last Updated: 01/06/2001