Great pipefish (Syngnathus acus)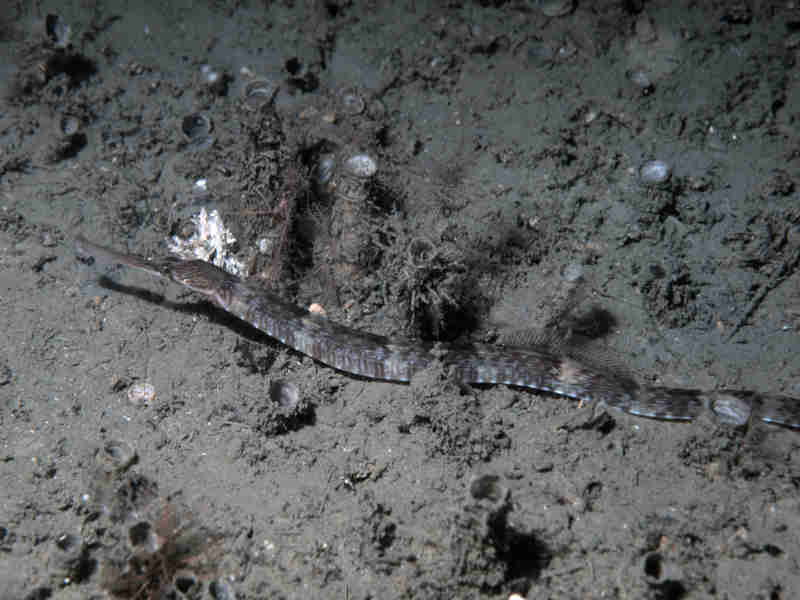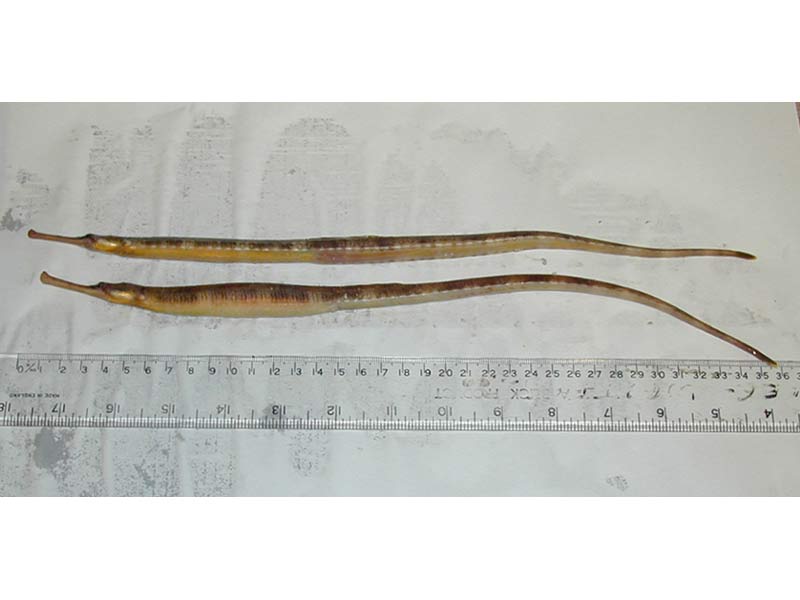 Researched by
Dean Russel
Refereed by
Admin
Authority
Linnaeus, 1758
Other common names
-
Synonyms
-
Summary
Description
Body slender and elongate, light greenish to dark brown in colour with variable markings. Pectoral, dorsal, anal and tail fins present. Snout cylindrical, equal to or less than eye diameter. There are 18 -19 body rings between head and dorsal fin
Recorded distribution in Britain and Ireland
Syngnathus acus is widely distributed along the south and west coasts of England extending up the west coast of Scotland. Recorded from several sites on the north east and south coasts of Ireland.
Global distribution
Can be found widely distributed in north west Europe.
Habitat
Found in shallow waters among seaweed or rockpools and to depths of about 90 m. It can also be found on sand and mud extending into the mouths of estuaries.
Identifying features
Body divided into distinct bony rings.
Dorsal fin with 36 -45 rays.
17 - 21 body rings between base of pectoral fin and anus.
Snout rounded in cross section and greater than half the length of head.
Additional information
No text entered
Bibliography
Dawson, 1986 1986. Syngnathidae. In Smiths' sea fishes (ed. M.M. Smith & P.C. Heemstra), pp. 445-448. Berlin: Springer-Verlag

Fish, J.D. & Fish, S., 1996. A student's guide to the seashore. Cambridge: Cambridge University Press.

Howson, C.M. & Picton, B.E., 1997. The species directory of the marine fauna and flora of the British Isles and surrounding seas. Belfast: Ulster Museum. [Ulster Museum publication, no. 276.]

Muus, B.J. & Nielsen, J.G. 1999. Sea Fish. Scandinavian Fishing Year Book. Hedehusene: Denmark

Wheeler, A., 1994. Field Key to the Shore Fishes of the British Isles. Shrewsbury: Field Studies Council.
Datasets
Citation
This review can be cited as:
Russel, D. 2002. Syngnathus acus Great pipefish. In Tyler-Walters H. and Hiscock K. Marine Life Information Network: Biology and Sensitivity Key Information Reviews, [on-line]. Plymouth: Marine Biological Association of the United Kingdom. [cited 11-12-2023]. Available from: https://www.marlin.ac.uk/species/detail/1552
---
Last Updated: 22/11/2002