Fluted sea squirt (Ascidiella aspersa)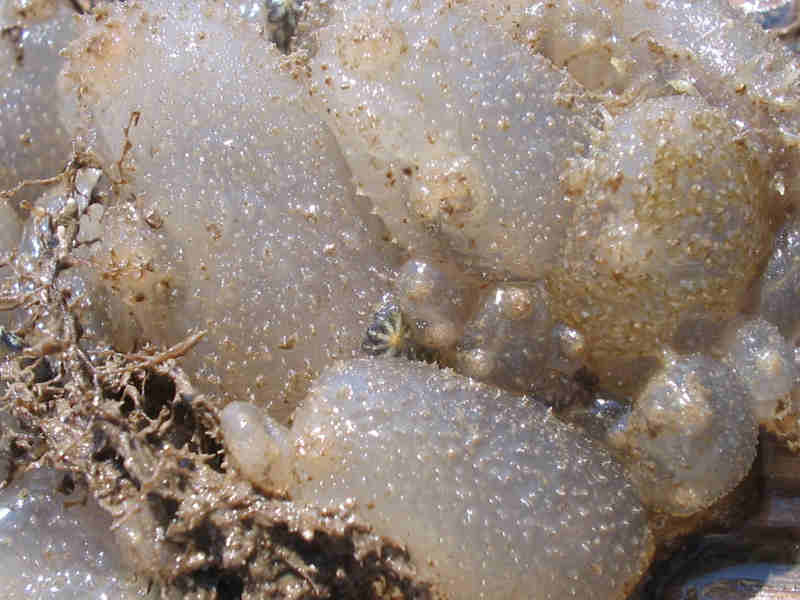 Researched by
Lisa Curtis
Refereed by
Admin
Authority
(Müller, 1776)
Other common names
-
Synonyms
-
Summary
Description
This species is solitary but commonly found in dense unfused aggregations. The body is ovoid in shape, up to 130mm long and usually attached to the substratum by the left side. The test or layer that encloses the body is firm to touch, thick, rough and gristly, and is greyish-black or brown in colour, often with attached detritus.
Recorded distribution in Britain and Ireland
Common on all British coasts but appears to be more common on south and west coasts.
Global distribution
Common throughout NE Atlantic, from W Norway to Mediterranean.
Habitat
Found in the lower intertidal and sublittorally to 80 m. Will tolerate salinities as low as 18 psu and is therefore, often found in estuaries.
Depth range
Lower intertidal to ca. 80m
Identifying features
The inhalent siphon is terminal, with the exhalent siphon about 1/3 down the edge of the body.
Siphons may sometimes be frilled.
A ring of 30-40 well separated, slender tentacles maybe found.
Additional information
No text entered
Bibliography
Fish, J.D. & Fish, S., 1996. A student's guide to the seashore. Cambridge: Cambridge University Press.

Hayward, P., Nelson-Smith, T. & Shields, C. 1996. Collins pocket guide. Sea shore of Britain and northern Europe. London: HarperCollins.

Hayward, P.J. & Ryland, J.S. (ed.) 1995b. Handbook of the marine fauna of North-West Europe. Oxford: Oxford University Press.

Howson, C.M. & Picton, B.E., 1997. The species directory of the marine fauna and flora of the British Isles and surrounding seas. Belfast: Ulster Museum. [Ulster Museum publication, no. 276.]

Stachowitsch, M., 1984. Mass mortality in the Gulf of Trieste: the course of community destruction. Marine Ecology, Pubblicazione della Statione Zoologica di Napoli, 5, 243-264.
Datasets
Citation
This review can be cited as:
Curtis, L. 2005. Ascidiella aspersa Fluted sea squirt. In Tyler-Walters H. and Hiscock K. Marine Life Information Network: Biology and Sensitivity Key Information Reviews, [on-line]. Plymouth: Marine Biological Association of the United Kingdom. [cited 11-12-2023]. Available from: https://www.marlin.ac.uk/species/detail/1566
---
Last Updated: 16/08/2005