Jewel anemone (Corynactis viridis)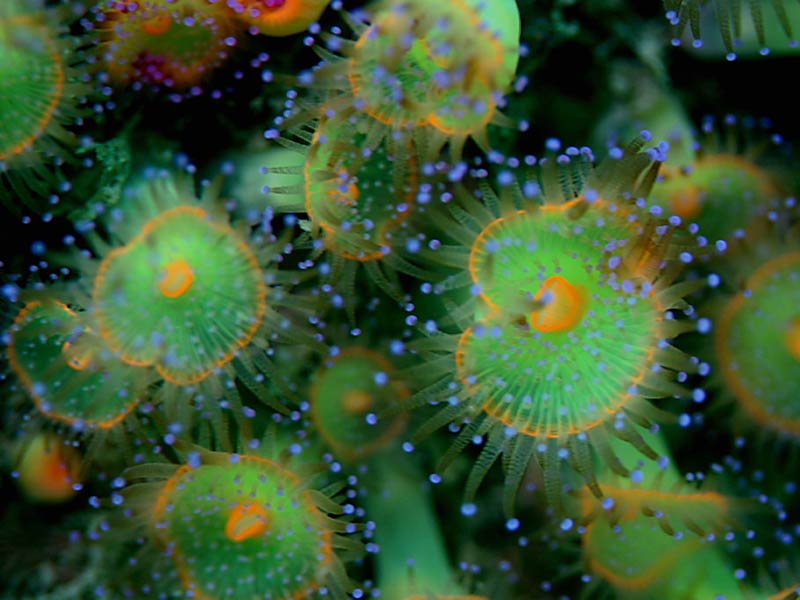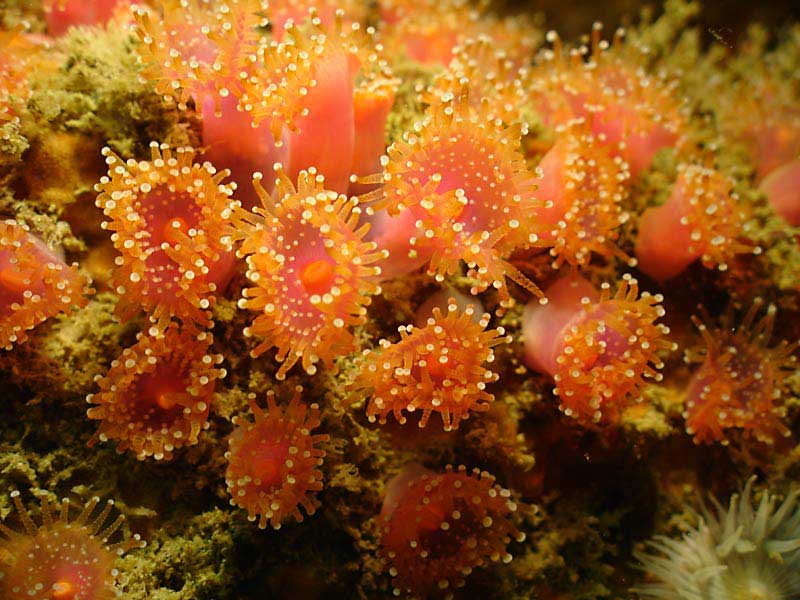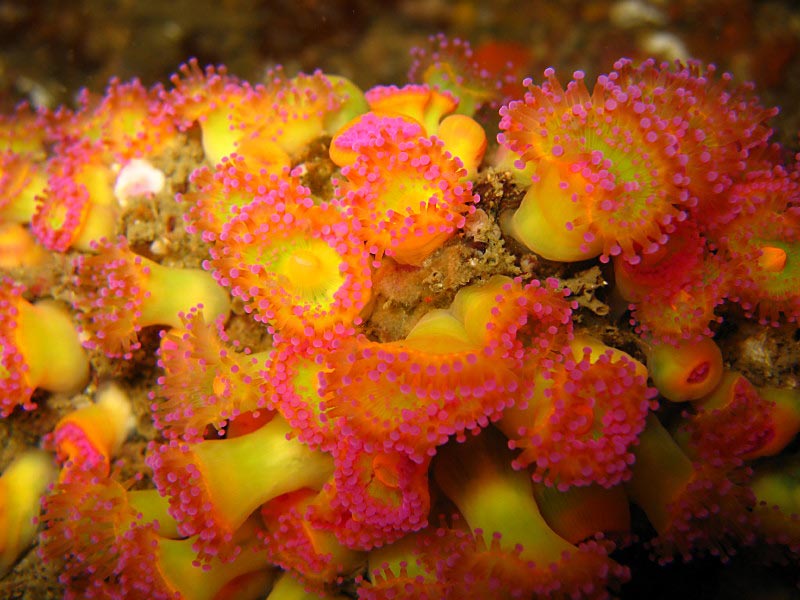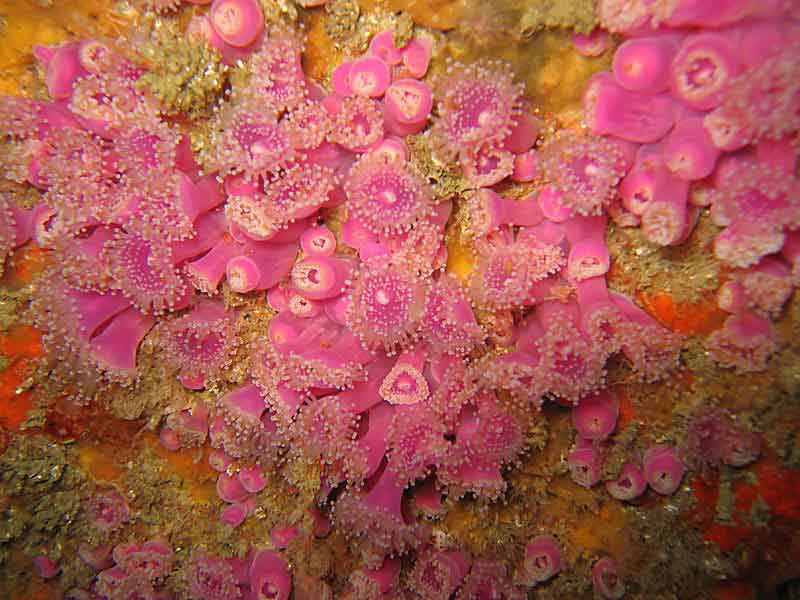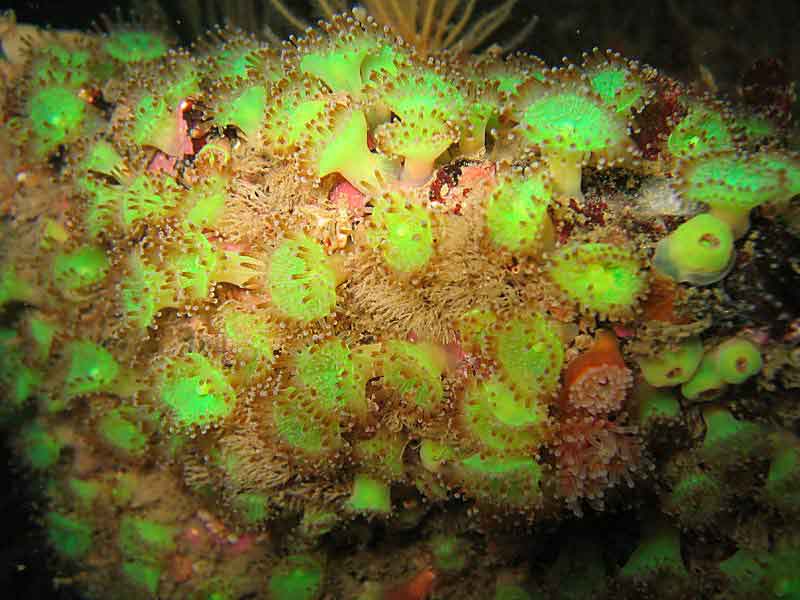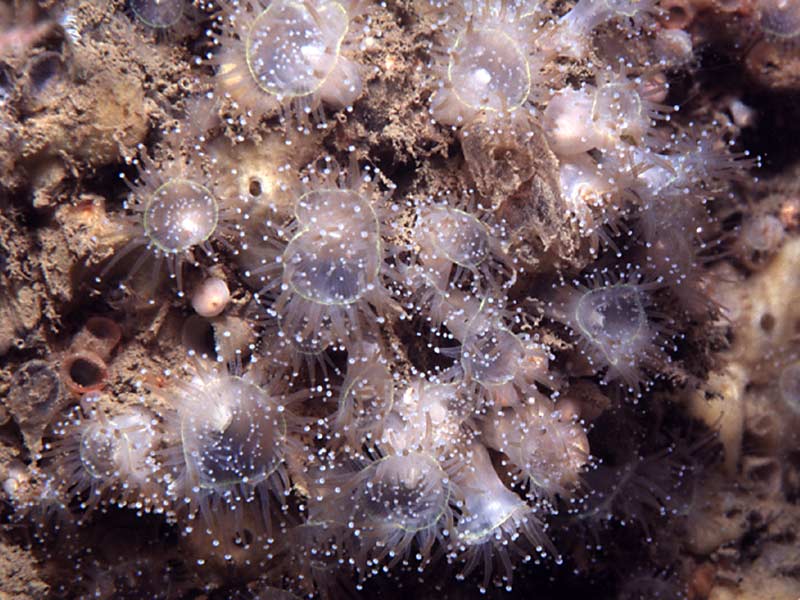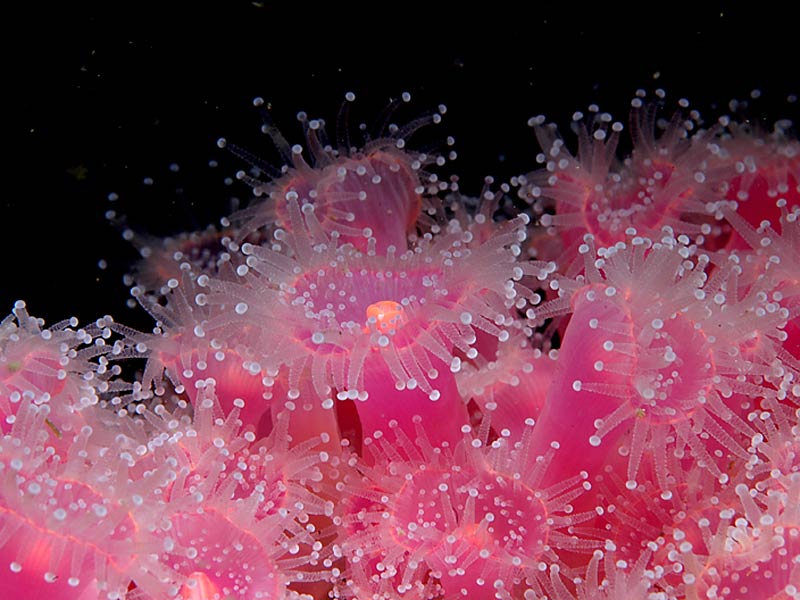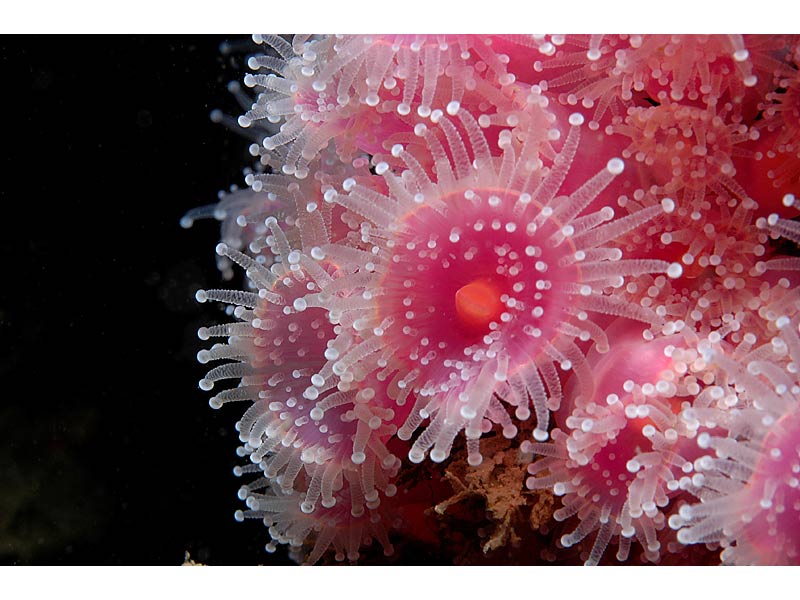 Researched by
Olwen Ager
Refereed by
Admin
Authority
Allman, 1846
Other common names
-
Synonyms
-
Summary
Description
This is a short and squat anemone with a smooth column. The anemone has up to 100 tentacles, each ending in a small knob. Corynactis viridis is brilliantly coloured and can be green, pink, red, orange or white in various combinations. Usually the disc, tentacles and tentacle tips are contrasting colours.
Recorded distribution in Britain and Ireland
Corynactis viridis reaches its northern limit in Shetland. It is found around the south and west coasts of Britain and all around Ireland.
Global distribution
Recorded around the British Isles, south-west Europe and into the Mediterranean.
Habitat
Corynactis viridis occurs from the lower shore and into the subtidal to about 50 m (sometimes to 80 m) on rocks, in caves and beneath overhangs where it is shaded from light. The anemone is often found in dense aggregations especially on vertical rock faces.
Identifying features
Base up to 10 mm in diameter and up to 15 mm in height.
Smooth column.
Up to 100 knobbed tentacles.
Variety of colours including green, pink, red, orange and white.
Often found in dense aggregations on vertical rock faces
Additional information
-none-
Bibliography
Fish, J.D. & Fish, S., 1996. A student's guide to the seashore. Cambridge: Cambridge University Press.

Hayward, P., Nelson-Smith, T. & Shields, C. 1996. Collins pocket guide. Sea shore of Britain and northern Europe. London: HarperCollins.

Hayward, P.J. & Ryland, J.S. (ed.) 1995b. Handbook of the marine fauna of North-West Europe. Oxford: Oxford University Press.

Howson, C.M. & Picton, B.E., 1997. The species directory of the marine fauna and flora of the British Isles and surrounding seas. Belfast: Ulster Museum. [Ulster Museum publication, no. 276.]

JNCC (Joint Nature Conservation Committee), 1999. Marine Environment Resource Mapping And Information Database (MERMAID): Marine Nature Conservation Review Survey Database. [on-line] http://www.jncc.gov.uk/mermaid

Manuel, R.L., 1988. British Anthozoa. Synopses of the British Fauna (New Series) (ed. D.M. Kermack & R.S.K. Barnes). The Linnean Society of London [Synopses of the British Fauna No. 18.]. DOI https://doi.org/10.1002/iroh.19810660505

Picton, B.E. & Costello, M.J., 1998. BioMar biotope viewer: a guide to marine habitats, fauna and flora of Britain and Ireland. [CD-ROM] Environmental Sciences Unit, Trinity College, Dublin.
Datasets
Citation
This review can be cited as:
Ager, O.E.D. 2007. Corynactis viridis Jewel anemone. In Tyler-Walters H. and Hiscock K. Marine Life Information Network: Biology and Sensitivity Key Information Reviews, [on-line]. Plymouth: Marine Biological Association of the United Kingdom. [cited 11-12-2023]. Available from: https://www.marlin.ac.uk/species/detail/1567
---
Last Updated: 19/02/2007