Broad-clawed porcelain crab (Porcellana platycheles)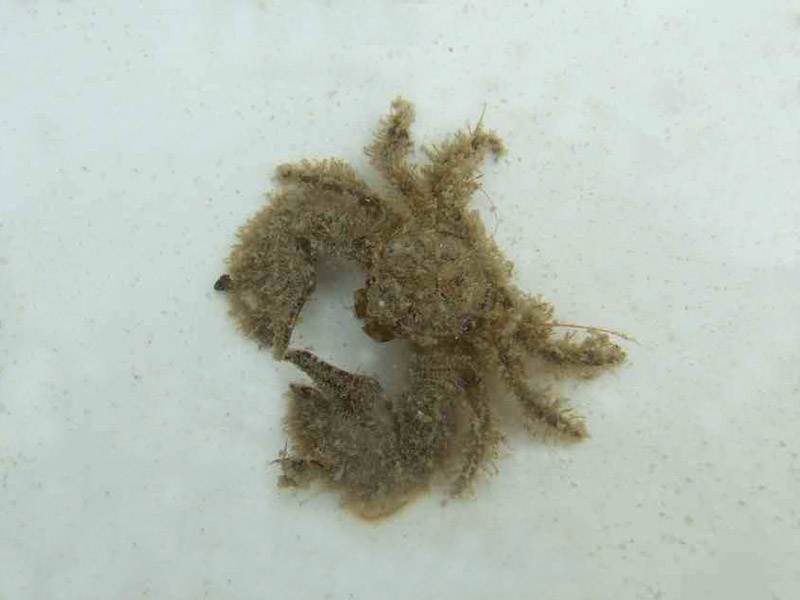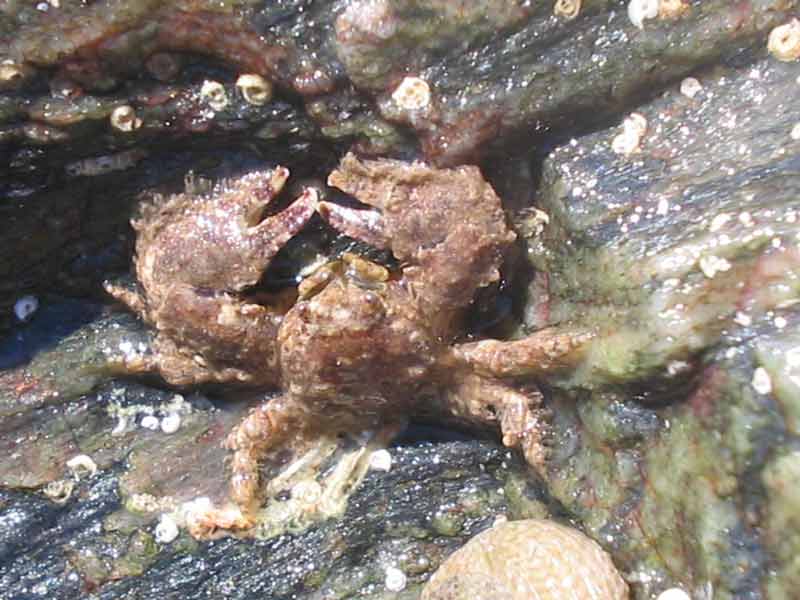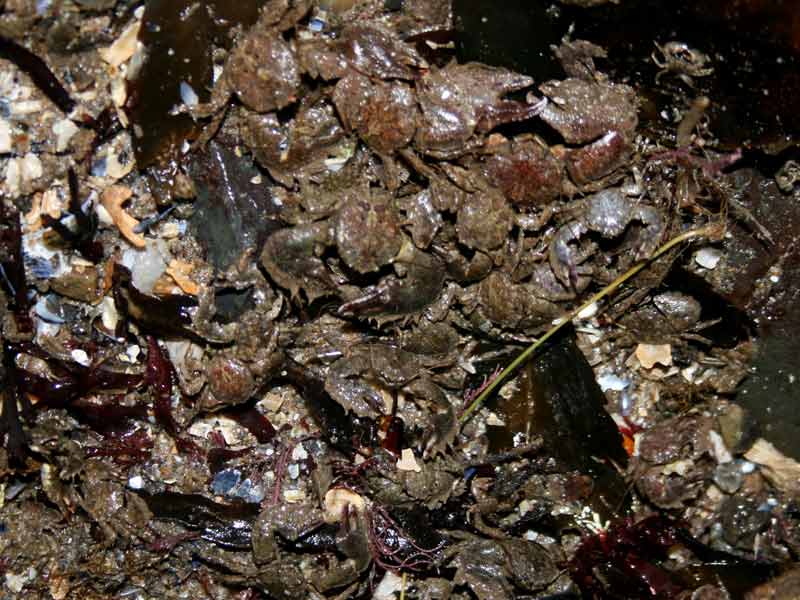 Researched by
Olwen Ager
Refereed by
Admin
Authority
(Pennant, 1777)
Other common names
-
Synonyms
-
Summary
Description
This small hairy crab (up to 15 mm in length) has very large, flattened hairy claws. It is greyish brown in colour on top, with a dirty yellowish white underside. Porcellana platycheles has a small abdomen that is tucked under its carapace. The 5th pair of legs are much reduced and are often concealed giving the appearance of only 3 pairs of walking legs.
Recorded distribution in Britain and Ireland
Around all British coasts as far north as Shetland.
Global distribution
Found throughout the North Sea basin to Norway, also in the Mediterranean and the Canary Islands.
Habitat
Porcellana platycheles is found under boulders and large stones on the middle and lower shore especially among mud and gravel. It is thought of as an intertidal species but is sometimes found in the shallow subtidal.
Identifying features
Rounded carapace up to 15mm long and hairy.
Large, flattened hairy claws.
2 long antennae.
3 Pairs of walking legs apparent.
Greyish brown top, dirty yellowish white underside.
Additional information
No text entered
Bibliography
Crothers, J. & Crothers, M., 1988. A key to the crabs and crab-like animals of British inshore waters. Somerset, England: Field Studies Council. [AIDGAP guide, no. 155.]

Fish, J.D. & Fish, S., 1996. A student's guide to the seashore. Cambridge: Cambridge University Press.

Hayward, P., Nelson-Smith, T. & Shields, C. 1996. Collins pocket guide. Sea shore of Britain and northern Europe. London: HarperCollins.

Hayward, P.J. & Ryland, J.S. (ed.) 1995b. Handbook of the marine fauna of North-West Europe. Oxford: Oxford University Press.

Howson, C.M. & Picton, B.E., 1997. The species directory of the marine fauna and flora of the British Isles and surrounding seas. Belfast: Ulster Museum. [Ulster Museum publication, no. 276.]
Datasets
Citation
This review can be cited as:
Ager, O.E.D. 2008. Porcellana platycheles Broad-clawed porcelain crab. In Tyler-Walters H. and Hiscock K. Marine Life Information Network: Biology and Sensitivity Key Information Reviews, [on-line]. Plymouth: Marine Biological Association of the United Kingdom. [cited 11-12-2023]. Available from: https://www.marlin.ac.uk/species/detail/1573
---
Last Updated: 08/05/2008