Brown forking weed (Bifurcaria bifurcata)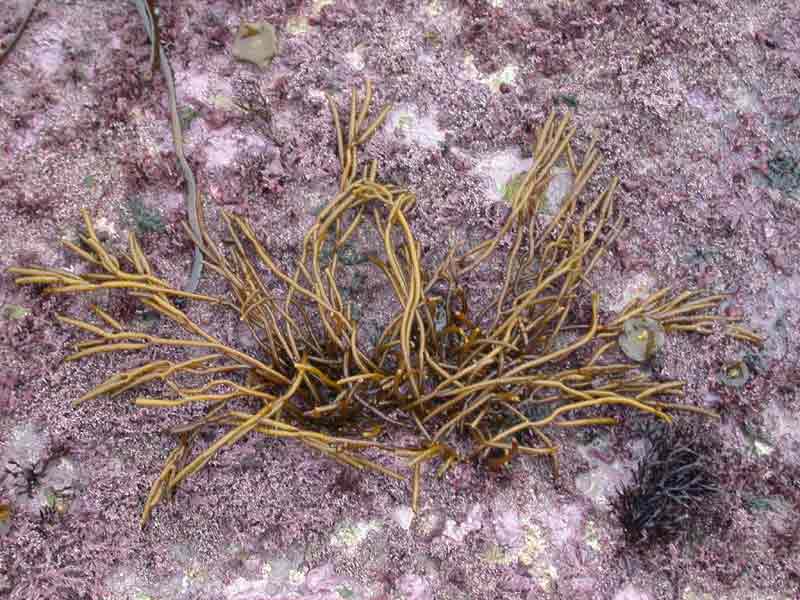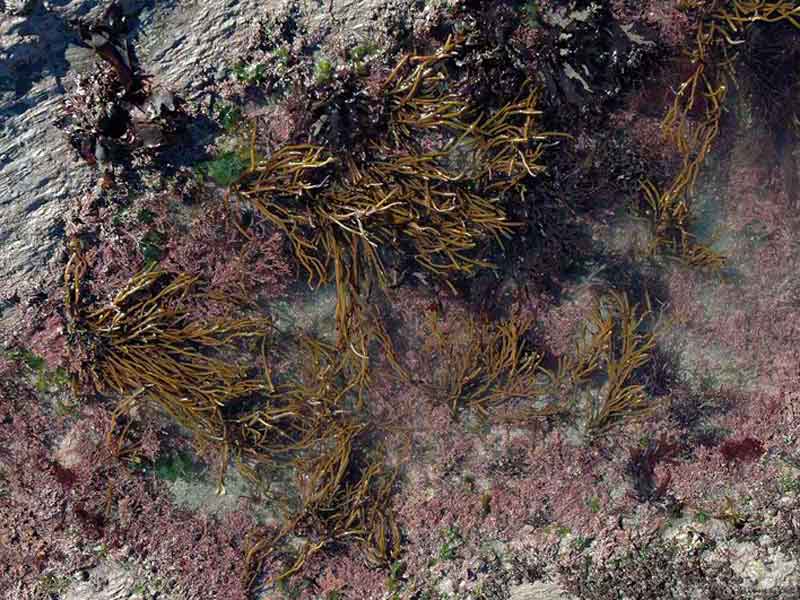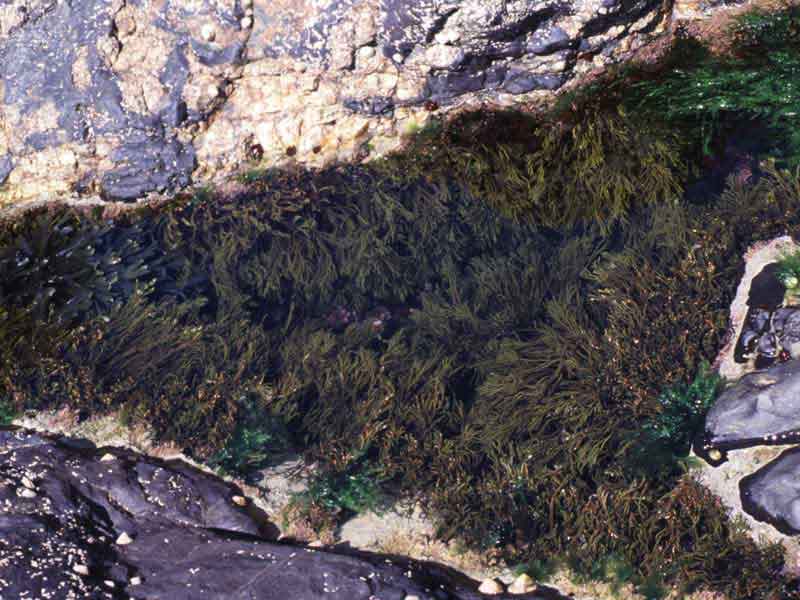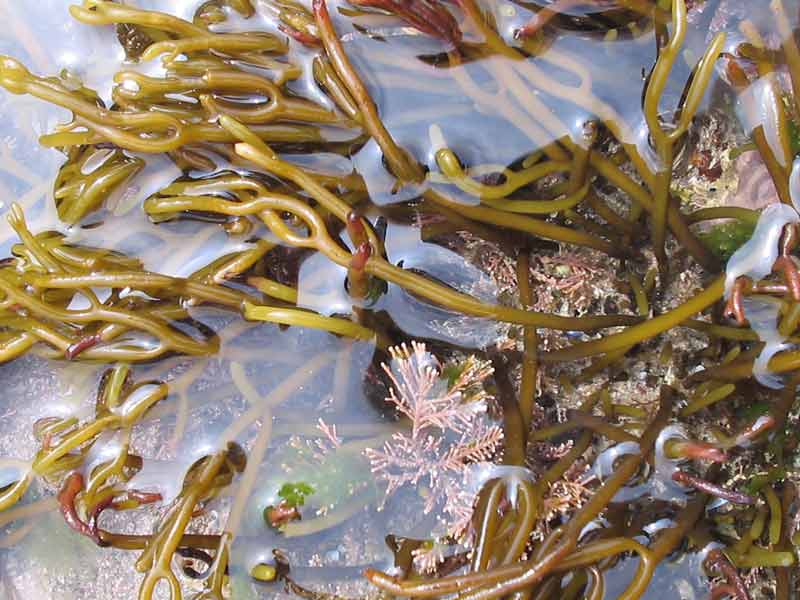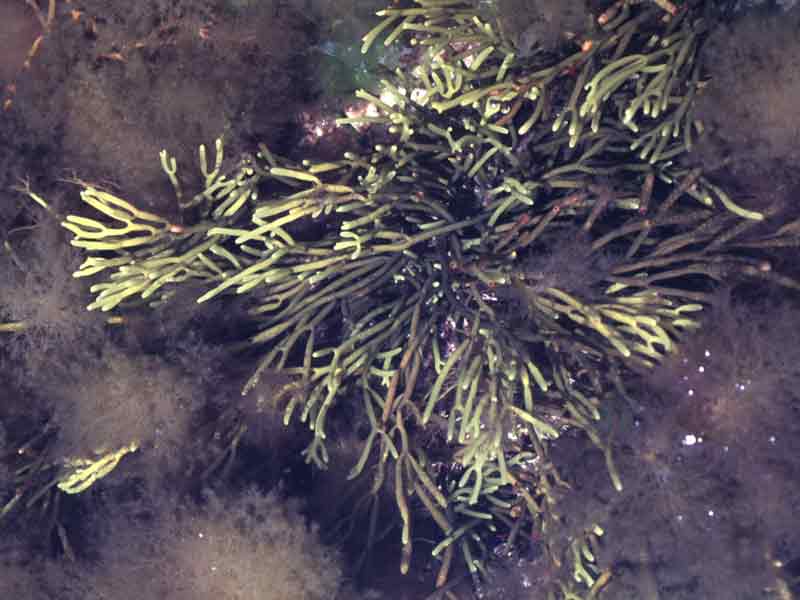 Researched by
Marie Skewes
Refereed by
Admin
Authority
R.Ross, 1958
Other common names
Brown tuning fork weed
Synonyms
Bifurcaria rotunda (Hudson) Gaillon, 1828
Summary
Description
Up to 50 cm in length. Olive-yellow in colour, but much darker when dry. Holdfast expanded and knobbly. Frond cylindrical, unbranched near base then branching dichotomously. Elongate reproductive bodies present at ends of branches. Rounded air bladders sometimes present.
Recorded distribution in Britain and Ireland
Bifurcaria bifurcata is a southern species found on the Atlantic coast of France, Spain and Portugal and extending to the south and west coasts of England and the west coast of Ireland where it is sometimes common. It is absent from Scotland.
Habitat
Bifurcaria bifurcata is usually found in rock pools on the middle and lower shore, particularly on exposed beaches. It also forms a low water zone in some locations in south-west England and west Ireland.
Identifying features
Sterile tips to fronds are rounded and slightly enlarged.
Air bladders, if present, are small.
Unlike the other fucoids, Bifurcaria bifurcata has no disc-like holdfast.
Additional information
Bifurcaria bifurcata is perennial and hermaphroditic.
Bibliography
Fish, J.D. & Fish, S., 1996. A student's guide to the seashore. Cambridge: Cambridge University Press.

Hardy, F.G. & Guiry, M.D., 2003. A check-list and atlas of the seaweeds of Britain and Ireland. London: British Phycological Society

Hiscock, K., Southward, A., Tittley, I., Jory, A. & Hawkins, S., 2001. The impact of climate change on subtidal and intertidal benthic species in Scotland. Scottish National Heritage Research, Survey and Monitoring Report , no. 182., Edinburgh: Scottish National Heritage

Hiscock, S., 1979. A field key to the British brown seaweeds (Phaeophyta). Field Studies, 5, 1- 44.

Howson, C.M. & Picton, B.E., 1997. The species directory of the marine fauna and flora of the British Isles and surrounding seas. Belfast: Ulster Museum. [Ulster Museum publication, no. 276.]
Datasets
Citation
This review can be cited as:
Skewes, M. 2008. Bifurcaria bifurcata Brown forking weed. In Tyler-Walters H. and Hiscock K. Marine Life Information Network: Biology and Sensitivity Key Information Reviews, [on-line]. Plymouth: Marine Biological Association of the United Kingdom. [cited 09-12-2023]. Available from: https://www.marlin.ac.uk/species/detail/1574
---
Last Updated: 29/05/2008