A sea mat (Einhornia crustulenta)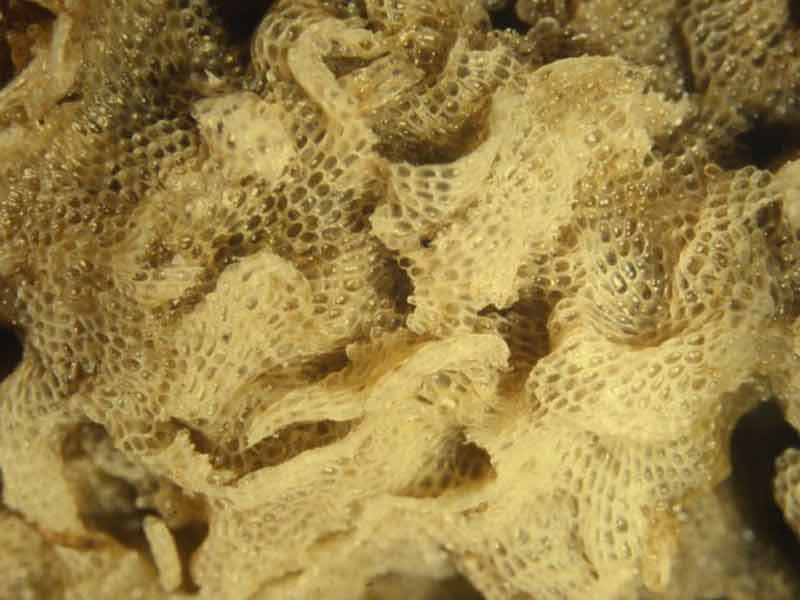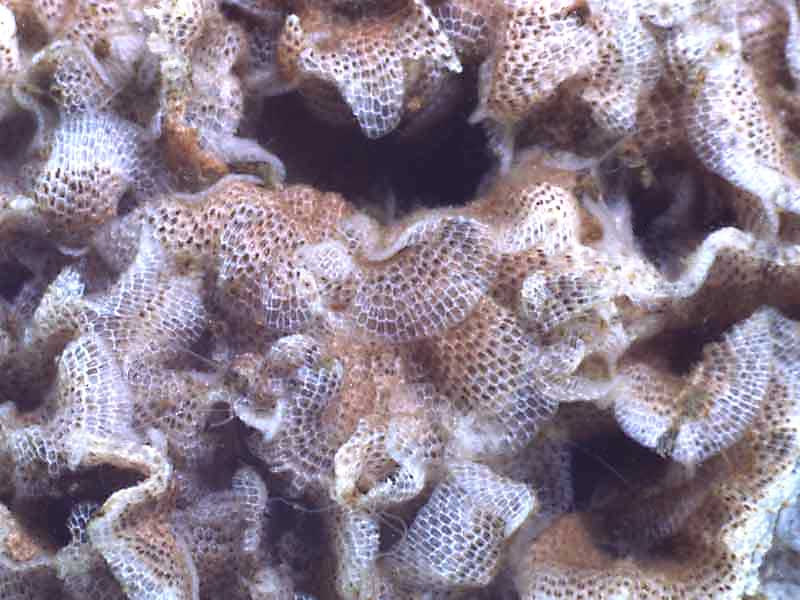 Researched by
Susie Ballerstedt
Refereed by
Admin
Authority
(Pallas, 1766)
Other common names
-
Synonyms
Electra crustulenta
Summary
Description
Einhornia crustulenta forms encrusting mats, large erect clumps or foliage-like cylinders around the stems of plants. Individuals (zooids) of the colony can be elongate, rectangular or oval, separated by narrow grooves and are approximately 0.5 mm long and 0.3 mm wide. The upper surface (frontal surface) of zooids is covered by about three quarters membrane and one quarter calcified shield (gymnocyst). The zooids are white and the operculum (door to the zooid orifice) is opaque white. Electra crustulenta zooids has crenulate margins with a single short spine.
Recorded distribution in Britain and Ireland
Only recorded at a few isolated sites: Loch of Stenness, Orkney Islands; Poole Harbour, Dorset; Devon/Cornwall coast; the River Severn; and Loch Foyle, Northern Ireland.
Global distribution
Present in the Baltic, the Netherlands, south North Sea and western Mediterranean.
Habitat
Limited to estuarine habitats. Found on various substrata from low shore to shallow water, including fronds of fucoids
Identifying features
Einhornia crustulenta forms mats, clumps or foliage-like structures.
Individuals (zooids) are approx. 0.5 mm long and 0.3 mm wide.
The margin bears a single short spine.
Additional information
No text entered
Bibliography
Hayward, P., Nelson-Smith, T. & Shields, C. 1996. Collins pocket guide. Sea shore of Britain and northern Europe. London: HarperCollins.

Hayward, P.J. & Ryland, J.S. (ed.) 1995b. Handbook of the marine fauna of North-West Europe. Oxford: Oxford University Press.

Hayward, P.J. & Ryland, J.S. 1998. Cheilostomatous Bryozoa. Part 1. Aeteoidea - Cribrilinoidea. Shrewsbury: Field Studies Council. [Synopses of the British Fauna, no. 10. (2nd edition)]
Datasets
Citation
This review can be cited as:
Ballerstedt, S. 2006. Einhornia crustulenta A sea mat. In Tyler-Walters H. and Hiscock K. Marine Life Information Network: Biology and Sensitivity Key Information Reviews, [on-line]. Plymouth: Marine Biological Association of the United Kingdom. [cited 21-09-2023]. Available from: https://www.marlin.ac.uk/species/detail/1595
---
Last Updated: 06/04/2006