Gem anemone (Aulactinia verrucosa)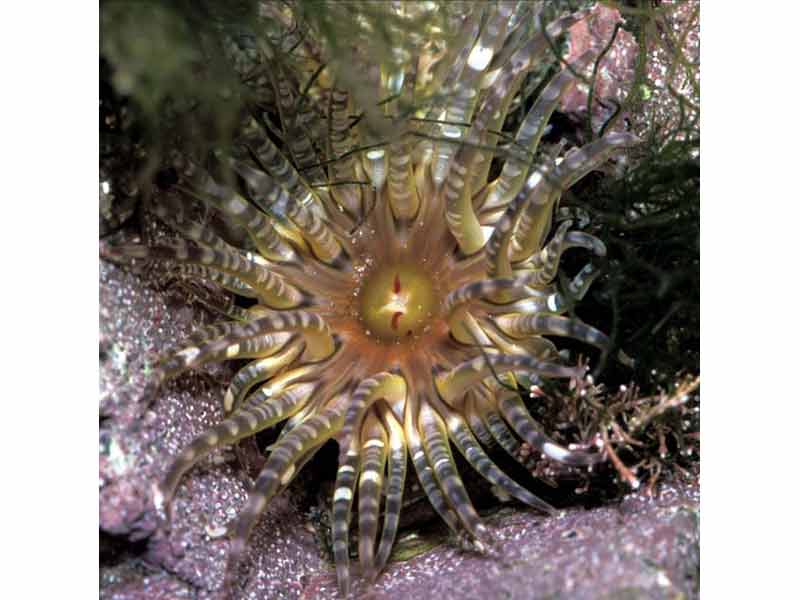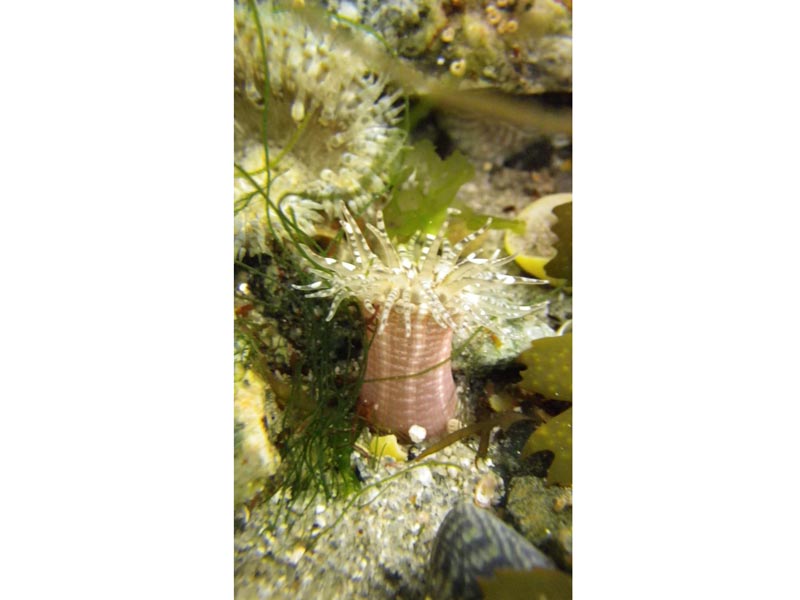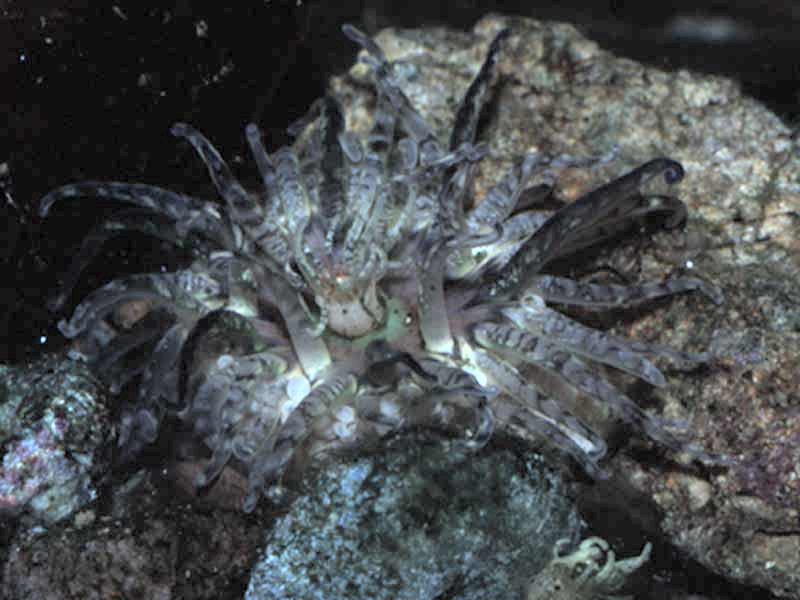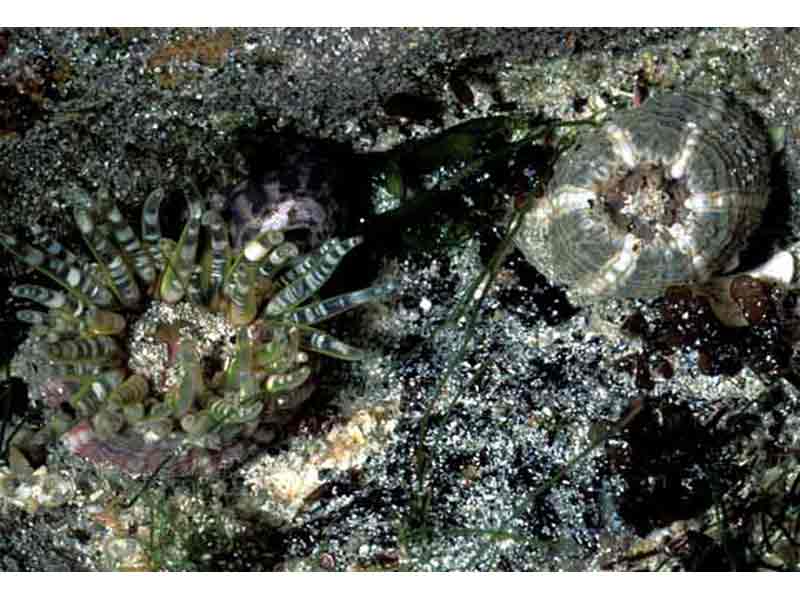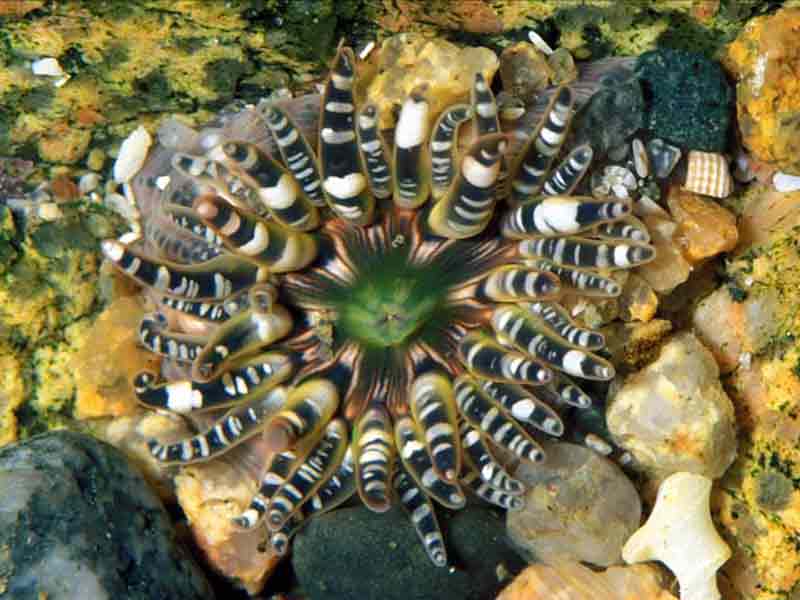 Researched by
Marie Skewes
Refereed by
Admin
Authority
(Pennant, 1777)
Other common names
-
Synonyms
Bunodactis verrucosa (Pennant, 1777)
Summary
Description
Base up to 25 mm in diameter and broader than column. Column narrow and cylindrical, up to 50 mm tall, and covered with small wart-like protuberances (verrucae). Up to 48 tentacles present, in cycles of 6, reaching up to 15 mm in length. Column grey or pink. Verrucae mostly grey but 6 principal rows are usually white. Tentacles transparent and mottled green, grey or pink in colour.
Recorded distribution in Britain and Ireland
Aulactinia verrucosa is a southern species reaching its northern limit in the British Isles where it is most common on south and west shores. Present on all Irish coasts. Recorded at a few locations in south-west Scotland and Shetland.
Global distribution
Present in south-west Europe and the Mediterranean.
Habitat
Found on the shore in localities exposed to strong wave action but also in sheltered places. Typically found in crevices in shallow water and in rock pools among Corallina. Also found attached to the bedrock beneath the layer of sand or gravel which often accumulates on the bottom of pools.
Identifying features
Verrucae prominent and arranged in up to 48 vertical rows.
No acrorhagi present, but verrucae extend on to the parapet.
Additional information
Aulactinia verrucosa closes tightly when disturbed assuming a hemispherical shape resembling the denuded test of Echinus. It is similar to Anthopleura rubripunctata, which is often larger (up to 70 mm tall) and is covered with verrucae that are often red.
Bibliography
Campbell, A.C., 1982. The Hamlyn guide to the flora and fauna of the Mediterranean Sea. London: Hamlyn.

Fish, J.D. & Fish, S., 1996. A student's guide to the seashore. Cambridge: Cambridge University Press.

Hayward, P., Nelson-Smith, T. & Shields, C. 1996. Collins pocket guide. Sea shore of Britain and northern Europe. London: HarperCollins.

Hayward, P.J. & Ryland, J.S. (ed.) 1995b. Handbook of the marine fauna of North-West Europe. Oxford: Oxford University Press.

Hiscock, K., Southward, A., Tittley, I., Jory, A. & Hawkins, S., 2001. The impact of climate change on subtidal and intertidal benthic species in Scotland. Scottish National Heritage Research, Survey and Monitoring Report , no. 182., Edinburgh: Scottish National Heritage

Howson, C.M. & Picton, B.E., 1997. The species directory of the marine fauna and flora of the British Isles and surrounding seas. Belfast: Ulster Museum. [Ulster Museum publication, no. 276.]

Manuel, R.L., 1988. British Anthozoa. Synopses of the British Fauna (New Series) (ed. D.M. Kermack & R.S.K. Barnes). The Linnean Society of London [Synopses of the British Fauna No. 18.]. DOI https://doi.org/10.1002/iroh.19810660505
Datasets
Citation
This review can be cited as:
Skewes, M. 2007. Aulactinia verrucosa Gem anemone. In Tyler-Walters H. and Hiscock K. Marine Life Information Network: Biology and Sensitivity Key Information Reviews, [on-line]. Plymouth: Marine Biological Association of the United Kingdom. [cited 09-12-2023]. Available from: https://www.marlin.ac.uk/species/detail/1601
---
Last Updated: 08/06/2007