Bryer's nut crab (Ebalia tumefacta)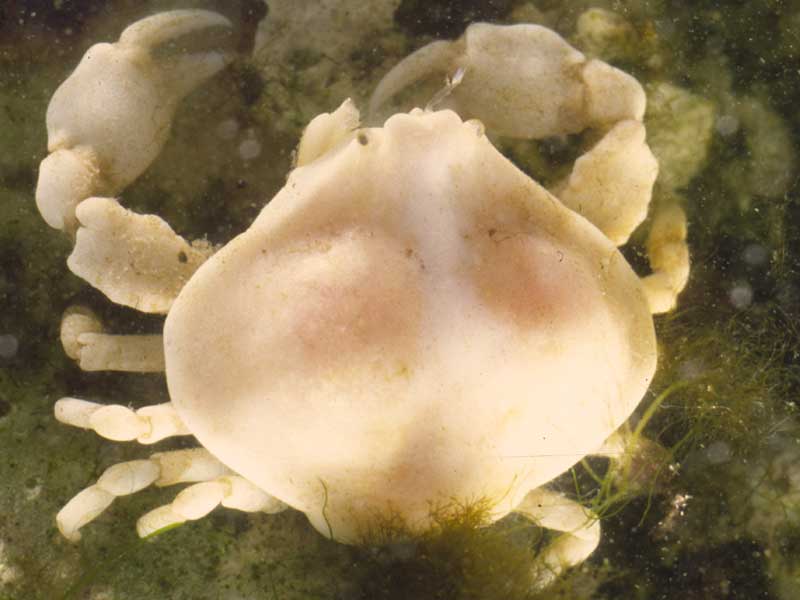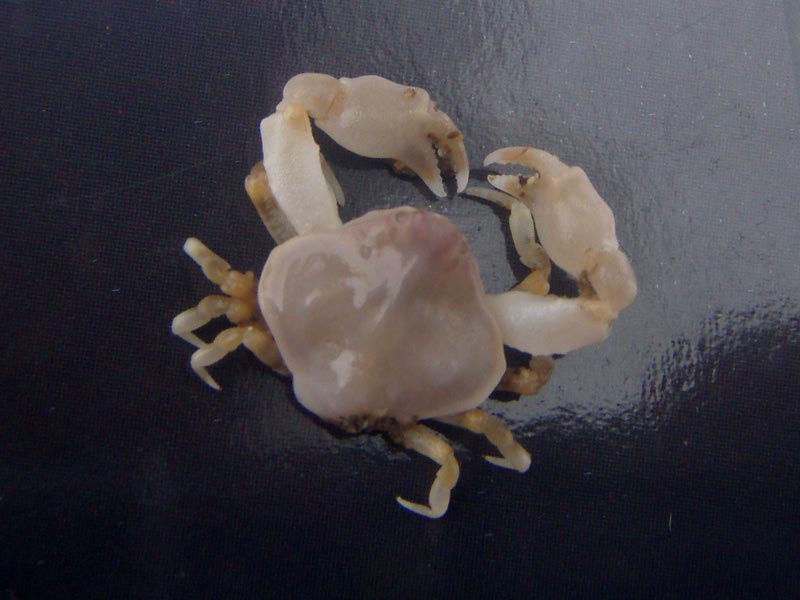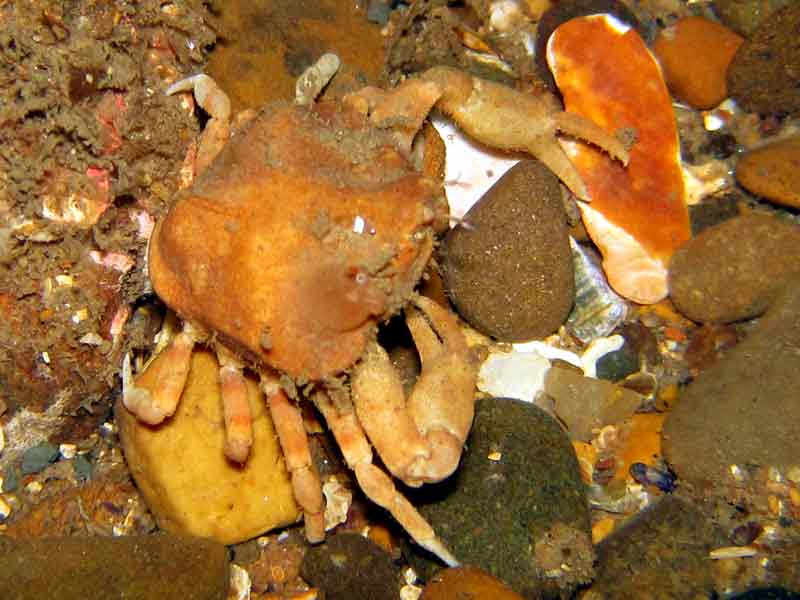 Researched by
Marie Skewes
Refereed by
Admin
Authority
(Montagu, 1808)
Other common names
-
Synonyms
-
Summary
Description
Carapace slightly broader than long (up to 13 mm across and 12 mm long) and octagonal in shape. Variable in colour, ranging from reddish, yellowish-grey, variegated brown, banded pink or orange, often with red spots. The surface of the carapace and limbs is minutely granular. Lateral (branchial) regions of the carapace are conspicuously swollen. The arms bearing the claws (chelipeds) are equal in length.
Recorded distribution in Britain and Ireland
A southern species found on the south and west coasts of England and recorded at a few locations in south-west Scotland.
Global distribution
Recorded from south Norway to north-west Africa but absent from the Mediterranean.
Habitat
Found on muddy sand, gravel or stones. Shallow sublittoral to about 15 m.
Identifying features
Chelipeds have long and slender dactyls.
Antero-lateral margin forms an almost straight line.
Propodus of chelipeds swollen, longer in males.
Additional information
No text entered
Bibliography
Crothers, J. & Crothers, M., 1988. A key to the crabs and crab-like animals of British inshore waters. Somerset, England: Field Studies Council. [AIDGAP guide, no. 155.]

Hayward, P., Nelson-Smith, T. & Shields, C. 1996. Collins pocket guide. Sea shore of Britain and northern Europe. London: HarperCollins.

Hayward, P.J. & Ryland, J.S. (ed.) 1995b. Handbook of the marine fauna of North-West Europe. Oxford: Oxford University Press.

Hiscock, K., Southward, A., Tittley, I., Jory, A. & Hawkins, S., 2001. The impact of climate change on subtidal and intertidal benthic species in Scotland. Scottish National Heritage Research, Survey and Monitoring Report , no. 182., Edinburgh: Scottish National Heritage

Howson, C.M. & Picton, B.E., 1997. The species directory of the marine fauna and flora of the British Isles and surrounding seas. Belfast: Ulster Museum. [Ulster Museum publication, no. 276.]
Datasets
Isle of Wight Local Records Centre, 2017. IOW Natural History & Archaeological Society Marine Invertebrate Records 1853- 2011. Occurrence dataset: https://doi.org/10.15468/d9amhg accessed via GBIF.org on 2018-09-27.

NBN (National Biodiversity Network) Atlas. Available from: https://www.nbnatlas.org.

OBIS (Ocean Biodiversity Information System), 2023. Global map of species distribution using gridded data. Available from: Ocean Biogeographic Information System. www.iobis.org. Accessed: 2023-10-04
Citation
This review can be cited as:
Skewes, M. 2005. Ebalia tumefacta Bryer's nut crab. In Tyler-Walters H. and Hiscock K. Marine Life Information Network: Biology and Sensitivity Key Information Reviews, [on-line]. Plymouth: Marine Biological Association of the United Kingdom. [cited 04-10-2023]. Available from: https://www.marlin.ac.uk/species/detail/1607
---
Last Updated: 23/05/2005