Common wentletrap (Epitonium clathrus)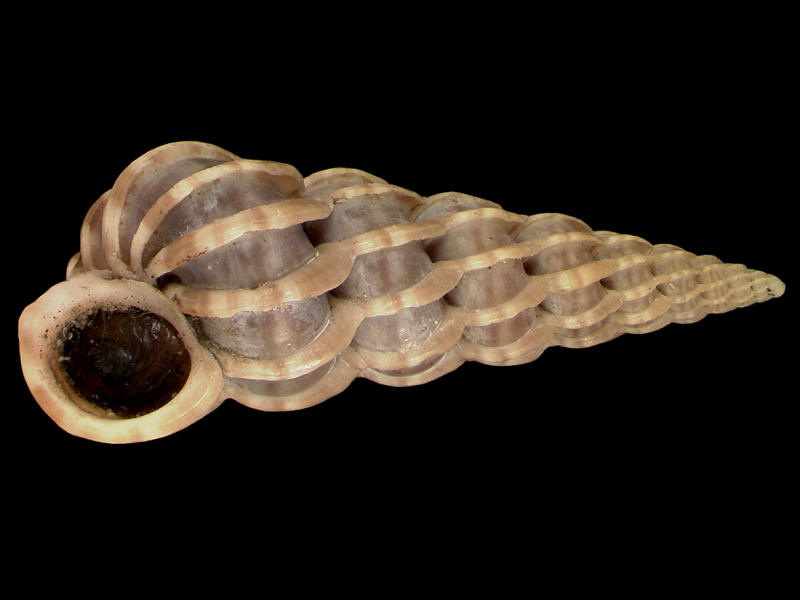 Researched by
Marie Skewes
Refereed by
Admin
Authority
(Linnaeus, 1758)
Other common names
-
Synonyms
Clathrus clathrus (Linnaeus, 1758)
Summary
Description
A tall, narrow shell, up to 4 cm in height. Up to 15 swollen whorls with pronounced longitudinal ridges, but usually less since apical ones are lost. The aperture is rounded with a black operculum. Shell off-white to pale brown in colour, ridges lighter. Often 2 narrow spiral bands of brown on shell and sometimes a third on the last whorl. Flesh white with purple-black markings.
Recorded distribution in Britain and Ireland
Present on south and west coasts of Britain.
Global distribution
Widely distributed in Europe, from Norway to the Black Sea.
Habitat
Found on sandy and muddy sediments, Epitonium clathrus is a sublittoral species which migrates onto the lower shore during the spring and summer to spawn.
Identifying features
A very distinctive shell with up to 15 loosely wound whorls linked by thickened, flat-sided, projecting ribs.
Aperture with thin, flared lip, closed by a black operculum.
Last whorl occupies about a third of shell height.
Additional information
No text entered
Bibliography
Fish, J.D. & Fish, S., 1996. A student's guide to the seashore. Cambridge: Cambridge University Press.

Graham, A., 1971. British Prosobranchs. London: Academic Press.[Synopses of the British Fauna, no. 2.]

Graham, A., 1988. Molluscs: prosobranchs and pyramellid gastropods (2nd ed.). Leiden: E.J. Brill/Dr W. Backhuys. [Synopses of the British Fauna No. 2]

Hayward, P., Nelson-Smith, T. & Shields, C. 1996. Collins pocket guide. Sea shore of Britain and northern Europe. London: HarperCollins.

Hayward, P.J. & Ryland, J.S. (ed.) 1995b. Handbook of the marine fauna of North-West Europe. Oxford: Oxford University Press.

Howson, C.M. & Picton, B.E., 1997. The species directory of the marine fauna and flora of the British Isles and surrounding seas. Belfast: Ulster Museum. [Ulster Museum publication, no. 276.]

McMillan, N.F., 1968. British Shells. London: Frederick Warne & Co Ltd.
Datasets
Citation
This review can be cited as:
Skewes, M. 2005. Epitonium clathrus Common wentletrap. In Tyler-Walters H. and Hiscock K. Marine Life Information Network: Biology and Sensitivity Key Information Reviews, [on-line]. Plymouth: Marine Biological Association of the United Kingdom. [cited 29-11-2023]. Available from: https://www.marlin.ac.uk/species/detail/1652
---
Last Updated: 17/10/2005