Corkwing wrasse (Symphodus melops)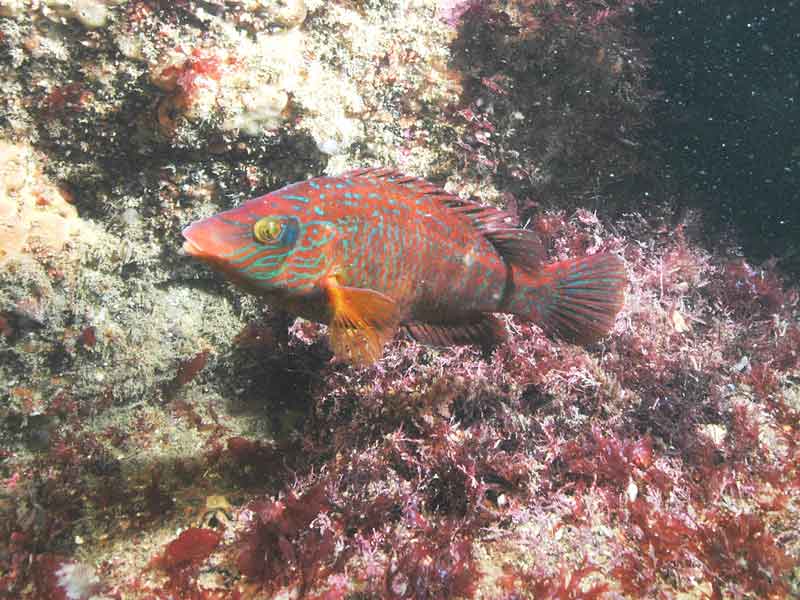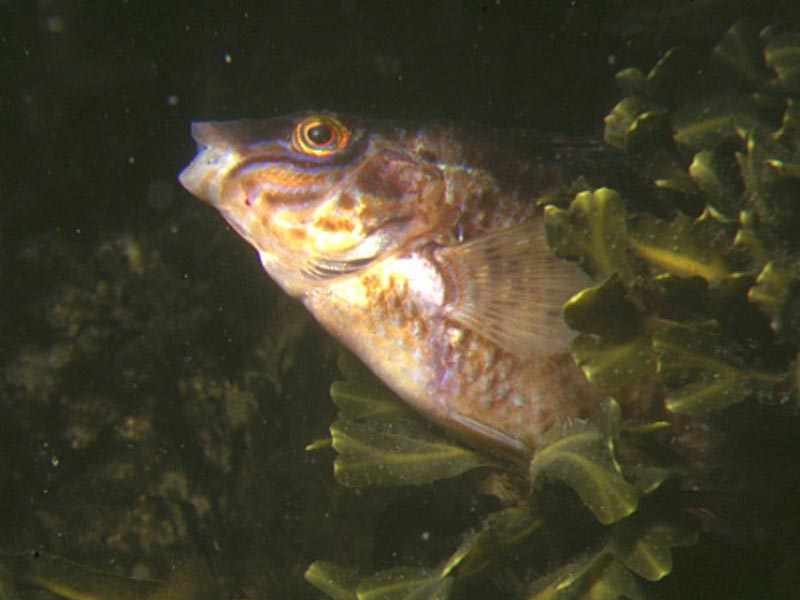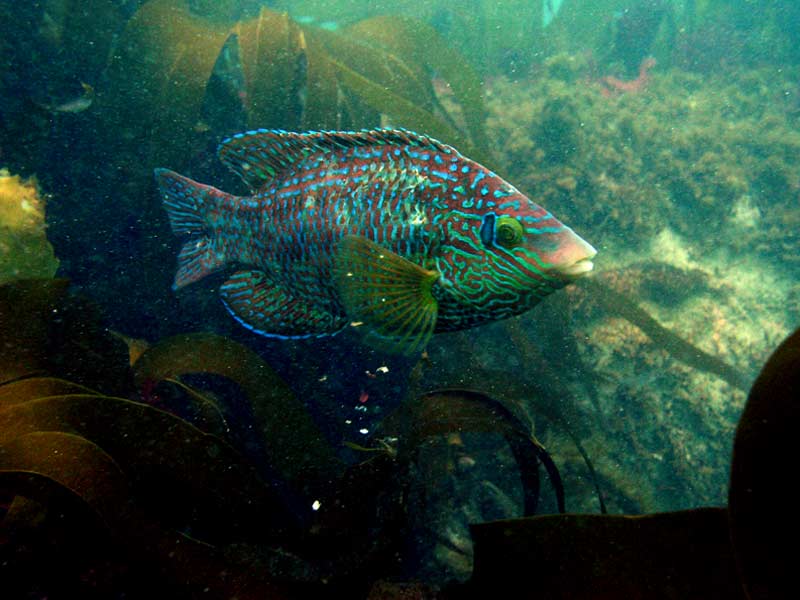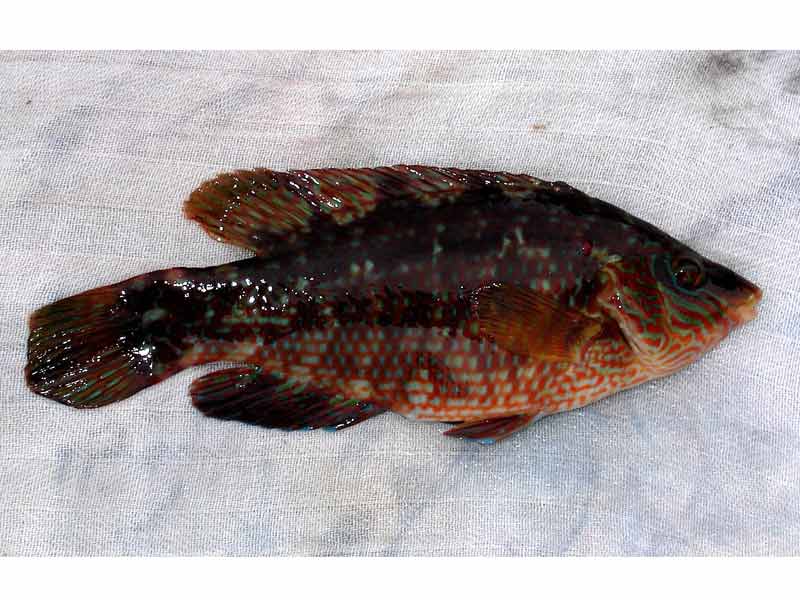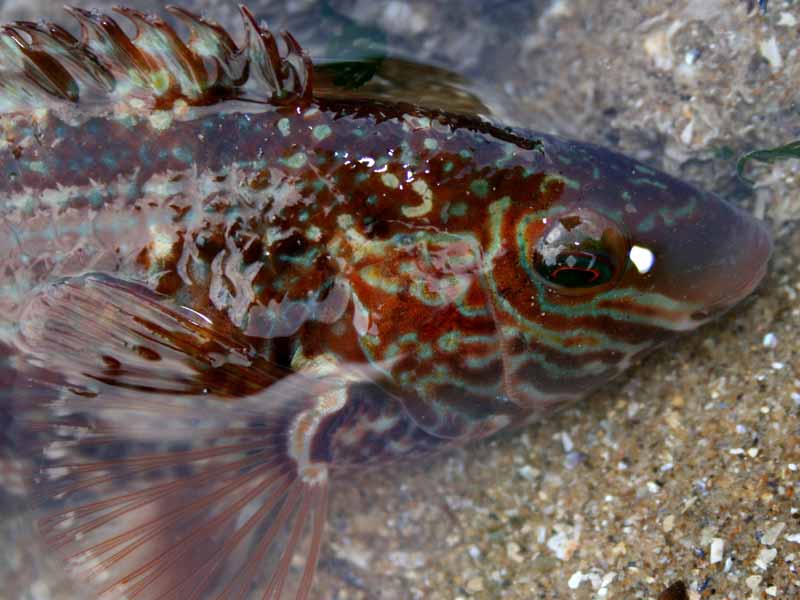 Researched by
Marie Skewes
Refereed by
This information is not refereed
Authority
(Linnaeus, 1758)
Other common names
-
Synonyms
Crenilabrus melops
Summary
Description
Body deep and compressed sideways with a single long dorsal fin. Maximum length 25 cm but usually less than 15 cm. Colour highly variable and depends on background and age of individual. Females and juveniles tend to be brown or greenish-brown, males are typically more brightly coloured. Both sexes have lines on the head and gill covers which are brown and pale blue in the female, bright green or blue in the male. All corkwing wrasse have a black spot in the middle of the tail stalk and a comma shaped spot behind the eye.
Recorded distribution in Britain and Ireland
Widely distributed on British coasts but most frequent in the south and west.
Global distribution
From Norway to Morocco, the Azores, Mediterranean and Adriatic.
Habitat
On rocky shores amongst seaweed and in lower shore pools, extending sublittorally to depths of up to 50 m.
Identifying features
Body length 15 cm, maximum length 25 cm.
Black spot in the middle of the tail stalk.
Comma shaped spot behind eye.
Lines on head and gill cover.
Single long dorsal fin with 14-17 spines anteriorly and 8-10 rays posteriorly.
Anal fin with 3 spines and 8-11 rays.
Lateral line with 31-37 large scales.
Mouth small, teeth in a single row on each jaw.
Pre-operculum distinctly serrated.
Additional information
Males build an elaborate nest of seaweed in either rock crevices or amongst seaweed or seagrasses in sediment areas. The nests are a ball or mound with an entrance hole, which the males aggressively guard. The distinctive tail spot and mark behind the eye may fade in captive individuals.
Bibliography
Dipper, F., 2001. British sea fishes (2nd edn). Teddington: Underwater World Publications Ltd.

Hayward, P., Nelson-Smith, T. & Shields, C. 1996. Collins pocket guide. Sea shore of Britain and northern Europe. London: HarperCollins.

Howson, C.M. & Picton, B.E., 1997. The species directory of the marine fauna and flora of the British Isles and surrounding seas. Belfast: Ulster Museum. [Ulster Museum publication, no. 276.]

Picton, B.E. & Costello, M.J., 1998. BioMar biotope viewer: a guide to marine habitats, fauna and flora of Britain and Ireland. [CD-ROM] Environmental Sciences Unit, Trinity College, Dublin.
Datasets
Citation
This review can be cited as:
Skewes, M. 2008. Symphodus melops Corkwing wrasse. In Tyler-Walters H. Marine Life Information Network: Biology and Sensitivity Key Information Reviews, [on-line]. Plymouth: Marine Biological Association of the United Kingdom. [cited 22-09-2023]. Available from: https://www.marlin.ac.uk/species/detail/1658
---
Last Updated: 29/04/2008