Twin fanworm (Bispira volutacornis)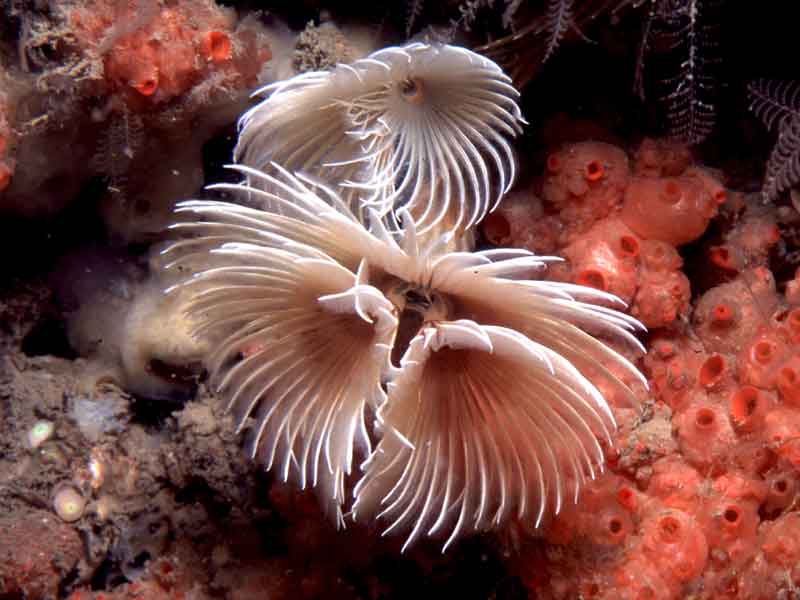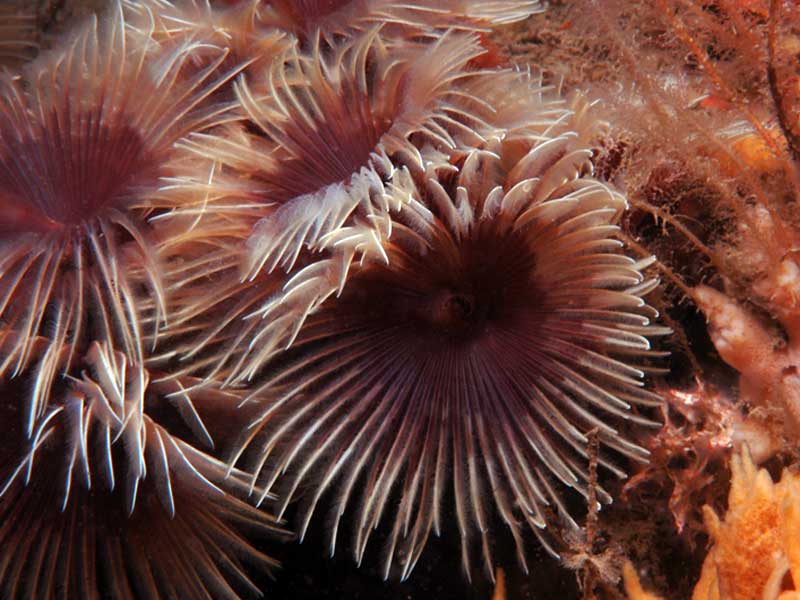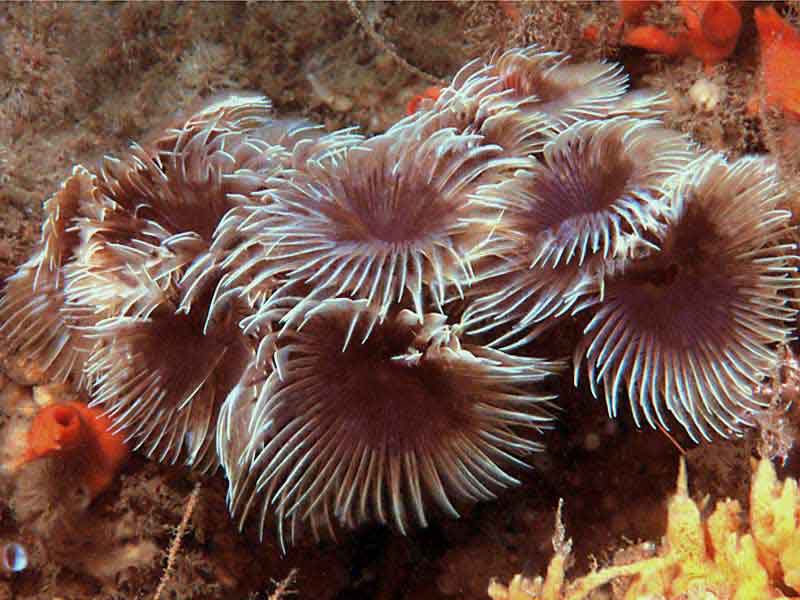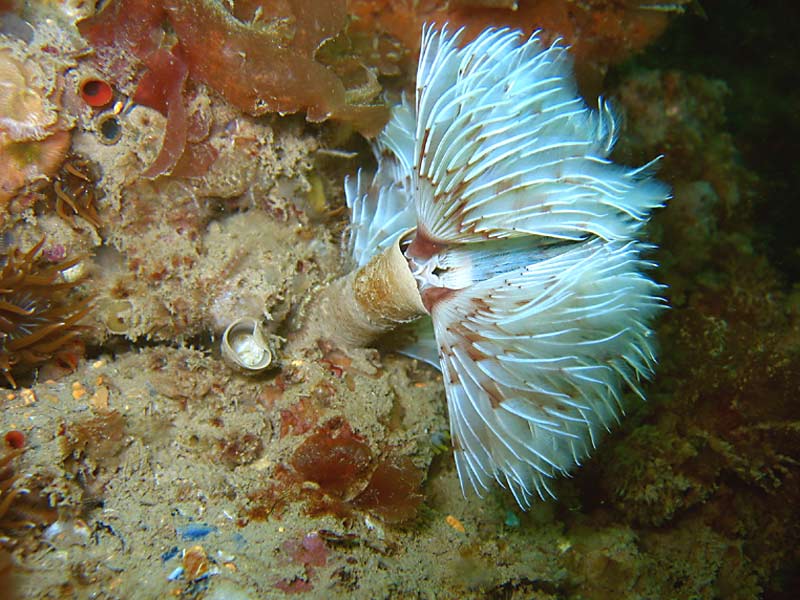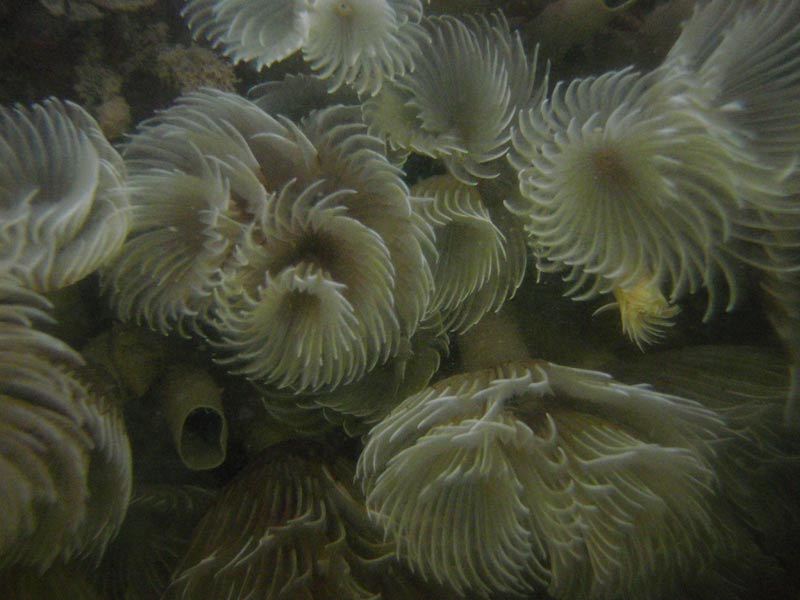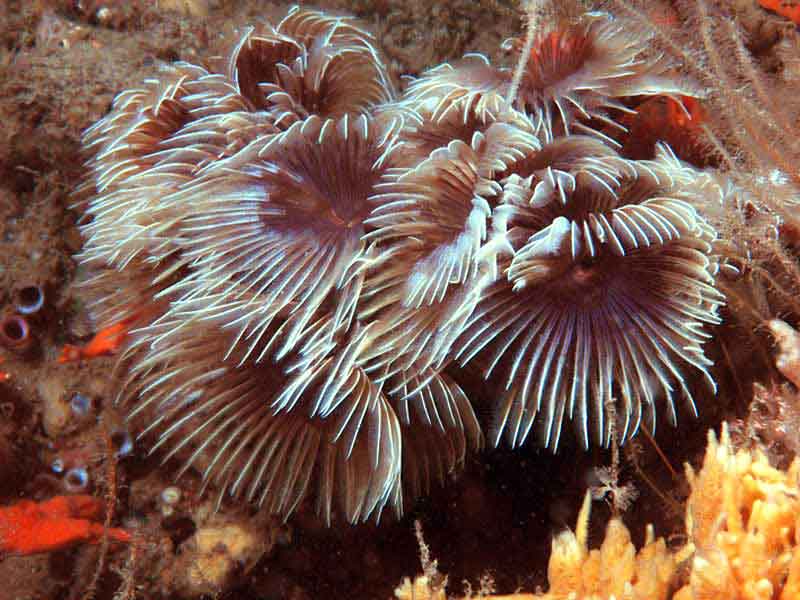 Researched by
Paul Gregory
Refereed by
Admin
Authority
(Montagu, 1804)
Other common names
-
Synonyms
-
Summary
Description
A colonial sedentary tube fanworm with a C-shaped pale/white crown of <200 tentacles (radioles). Radioles arranged in interlocking spirals or whorls, usually with one or more paired composite eyes scattered on their outer surface. Tube composed of mud/silt-mucoid outer layer. Trunk of body greenish or purplish brown. The fan usually retracts into tube when approached. The opening of the tube is then 'pinched' at the middle.
Recorded distribution in Britain and Ireland
Widespread in the south west of England, with scattered records from Flamborough Head, Ireland, the Isle of Man and western Scotland.
Habitat
Shaded rocky overhangs, or residing in rock crevices in the sublittoral. May sometimes be found in deep rock pools in the intertidal. Found to a depth of at least 30 m.
Identifying features
Tube of mud/silt-mucoid outer layer, body <10 cm, 1 cm diameter.
White or very pale chaetae (bristles) arranged in two C-shaped spirals/whorls, with paired composite eyes scattered on the outside of tentacles.
Additional information
No text entered
Bibliography
Bruce, J.R., Colman, J.S. & Jones, N.S., 1963. Marine fauna of the Isle of Man. Liverpool: Liverpool University Press.

Fauchald, K., 1977. The polychaete worms. Definitions and keys to the orders, families and genera. USA: Natural History Museum of Los Angeles County.

Gibson, R., Hextall, B. & Rogers, A., 2001. Photographic guide to the sea and seashore life of Britain and north-west Europe. Oxford: Oxford University Press.

Hayward, P., Nelson-Smith, T. & Shields, C. 1996. Collins pocket guide. Sea shore of Britain and northern Europe. London: HarperCollins.

Hayward, P.J. & Ryland, J.S. (ed.) 1995b. Handbook of the marine fauna of North-West Europe. Oxford: Oxford University Press.

Howson, C.M. & Picton, B.E., 1997. The species directory of the marine fauna and flora of the British Isles and surrounding seas. Belfast: Ulster Museum. [Ulster Museum publication, no. 276.]

Nash, R. & Keegan, B.F., 2003. Aspects of the feeding biology of the fanworm Bispira volutacornis (Polychaeta: Sabellidae). Journal of the Marine Biological Association of the United Kingdom, 83, 453-456.
Datasets
Citation
This review can be cited as:
Gregory, P. 2007. Bispira volutacornis Twin fanworm. In Tyler-Walters H. and Hiscock K. Marine Life Information Network: Biology and Sensitivity Key Information Reviews, [on-line]. Plymouth: Marine Biological Association of the United Kingdom. [cited 29-11-2023]. Available from: https://www.marlin.ac.uk/species/detail/1666
---
Last Updated: 22/01/2007