Parchment worm (Chaetopterus variopedatus)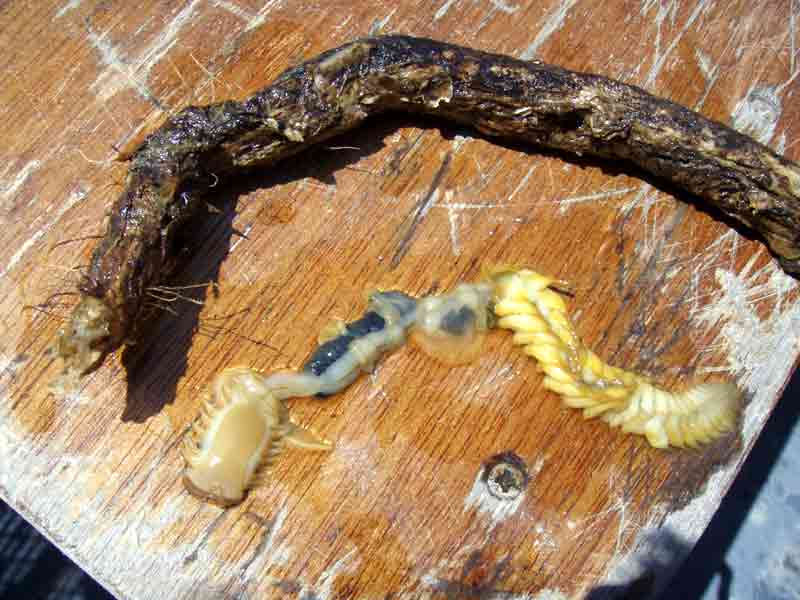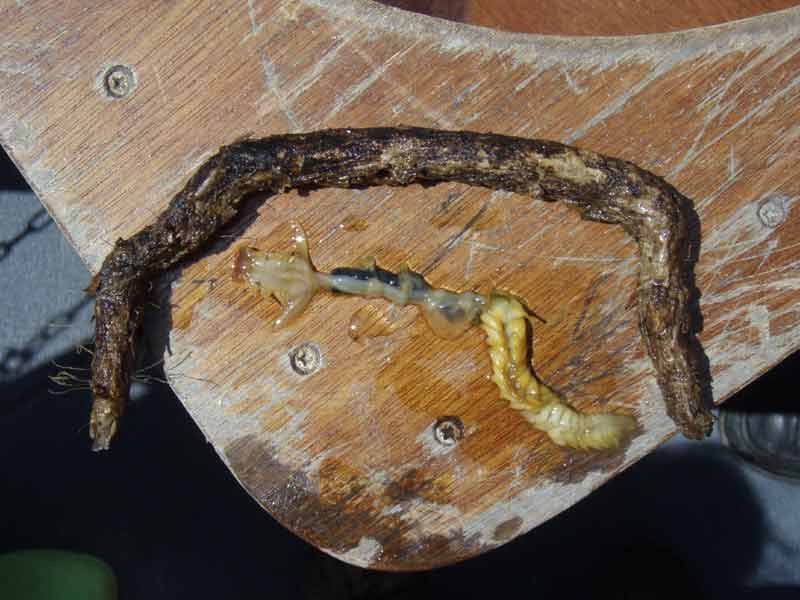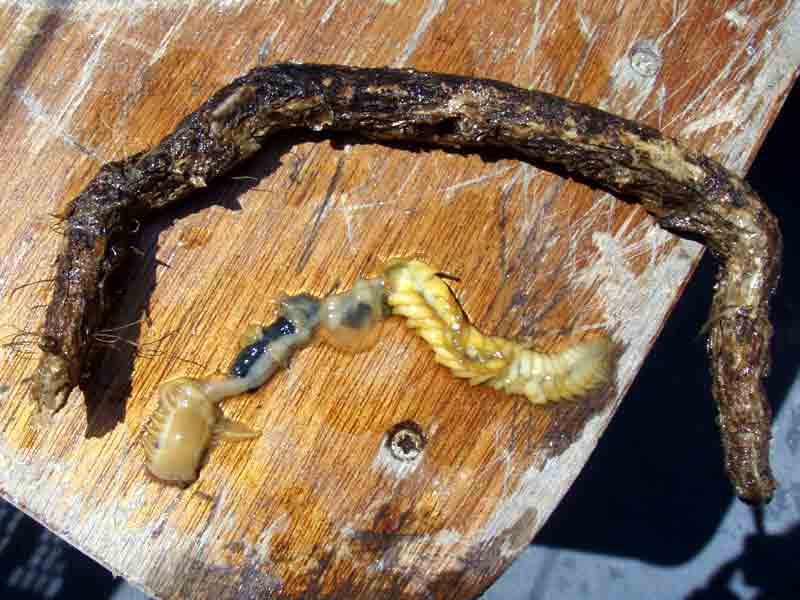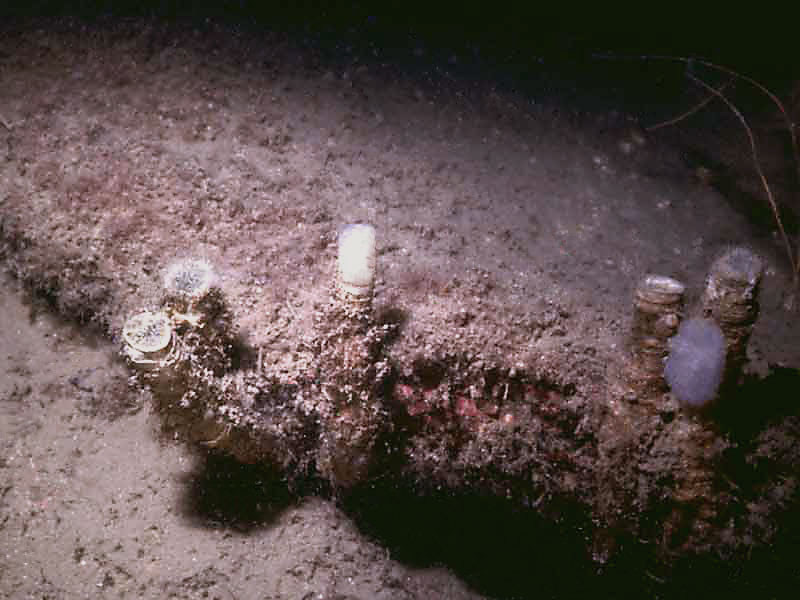 Researched by
Penny Avant
Refereed by
Admin
Authority
(Renier, 1804)
Other common names
-
Synonyms
-
Summary
Description
The parchment worm Chaetopterus variopedatus is distinctive, large and stout but fragile. It grows up to 25 cm in length and between 1 and 2.5 cm in width. It is yellowish or greenish white in colour with mature females becoming pinkish. The body is divided into three distinct regions, the short anterior end with an inconspicuous head, a mid region with highly specialized feeding structures, and a longer, regularly segmented hind end with repeating appendages. The worms live permanently in tough, flexible tubes of a whitish parchment-like material. The open end is narrow and protrudes slightly from the substratum.
Recorded distribution in Britain and Ireland
Widely distributed around British coasts, but not recorded on the east coast of England south of the Tees estuary.
Global distribution
Cosmopolitan.
Habitat
The tough permanent tubes are seen in sand and stone or shell gravel from low water to considerable depths, and in deeper water on rock, in fissures in rock and under boulders.
Identifying features
An irregularly segmented worm, up to 25 cm long and 1 to 2.5 cm wide, living permanently in a parchment-like tube.
Body in three distinct regions, a short anterior region, mid region with differing appendages modified for feeding, longer posterior region distinctly segmented.
Parts of the body phosphorescent.
The tubes protrude slightly from the sand at both ends and are non-ringed, tough and flexible.
Additional information
Other species of polychaete may occasionally occupy vacant tubes.
Bibliography
Bruce, J.R., Colman, J.S. & Jones, N.S., 1963. Marine fauna of the Isle of Man. Liverpool: Liverpool University Press.

Fish, J.D. & Fish, S., 1996. A student's guide to the seashore. Cambridge: Cambridge University Press.

Foster-Smith, J. (ed.), 2000. The marine fauna and flora of the Cullercoats District. Marine species records for the North East Coast of England. Sunderland: Penshaw Press, for the Dove Marine Laboratory, University of Newcastle upon Tyne.

Hauton, C., Hall-Spencer, J.M. & Moore, P.G., 2003. An experimental study of the ecological impacts of hydraulic bivalve dredging on maerl. ICES Journal of Marine Science, 60, 381-392.

Hayward, P., Nelson-Smith, T. & Shields, C. 1996. Collins pocket guide. Sea shore of Britain and northern Europe. London: HarperCollins.

Hayward, P.J. & Ryland, J.S. (ed.) 1995b. Handbook of the marine fauna of North-West Europe. Oxford: Oxford University Press.

Howson, C.M. & Picton, B.E., 1997. The species directory of the marine fauna and flora of the British Isles and surrounding seas. Belfast: Ulster Museum. [Ulster Museum publication, no. 276.]

JNCC (Joint Nature Conservation Committee), 1999. Marine Environment Resource Mapping And Information Database (MERMAID): Marine Nature Conservation Review Survey Database. [on-line] http://www.jncc.gov.uk/mermaid

Picton, B.E. & Costello, M.J., 1998. BioMar biotope viewer: a guide to marine habitats, fauna and flora of Britain and Ireland. [CD-ROM] Environmental Sciences Unit, Trinity College, Dublin.
Datasets
Citation
This review can be cited as:
Avant, P. 2002. Chaetopterus variopedatus Parchment worm. In Tyler-Walters H. and Hiscock K. Marine Life Information Network: Biology and Sensitivity Key Information Reviews, [on-line]. Plymouth: Marine Biological Association of the United Kingdom. [cited 11-12-2023]. Available from: https://www.marlin.ac.uk/species/detail/1681
---
Last Updated: 21/06/2002