Gaertner's spoon worm (Thalassema thalassema)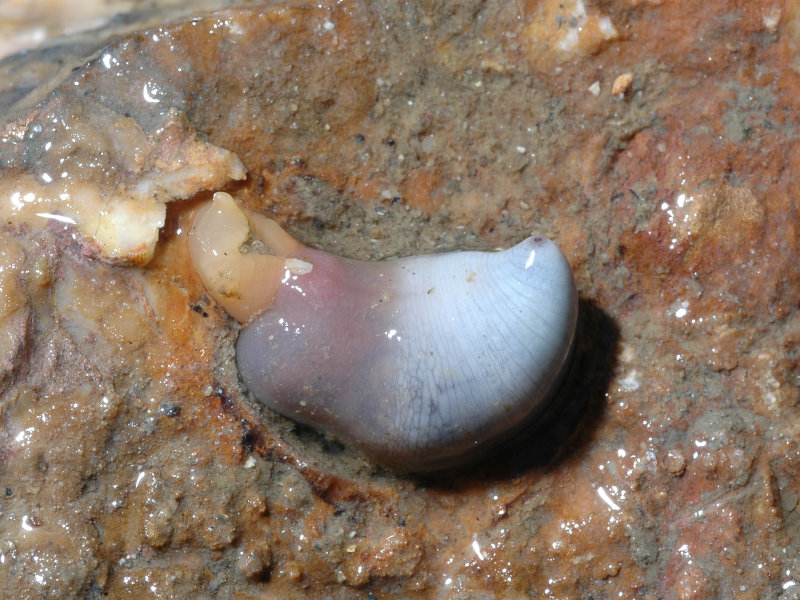 Researched by
Saskiya Richards
Refereed by
Admin
Authority
(Pallas, 1774)
Other common names
-
Synonyms
-
Summary
Description
Thalassema thalassemum is an unsegmented, soft-bodied spoon worm. The main body, or trunk, is bilaterally symmetrical and reaches a length of up to 2-7 cm. The colour of the trunk varies between individuals and may be blue, grey, yellow, pink or purple. On the surface of the trunk are numerous papillae that are arranged in rings around the body, and which increase in number towards the posterior. Along the middle of the ventral surface of the body there is sometimes a single white line. The mouth is positioned at the base of the proboscis and behind this lies a pair of chaetae. The proboscis is coloured peach or cream, can extend up to 10-20 cm and may appear to have a ventral channel when its lateral margins roll inwards during feeding.
Recorded distribution in Britain and Ireland
Thalassema thalassemum is recorded from south-west England, south-west Wales, southern and western Ireland and south-west Scotland. In addition, it has been recorded at Strangford Lough, Northern Ireland, Isle of Man and off north Wales.
Global distribution
Thalassema thalassemum has been found in the Mediterranean, Japan, Louisiana, Sierre Leone and France.
Habitat
Thalassema thalassemum inhabits sandy or muddy sediments and rock crevices at both low and shallow water. It creates a u-shaped burrow within the sediment that is lined with mucus.
Identifying features
Soft, plump, bilaterally symmetrical, cylindrical body of up to 2-7 cm.
Proboscis of up to 10-20 cm.
Mouth at base of proboscis.
One pair of hooked chaetae located behind mouth.
Numerous wart-like papillae arranged in rings.
Colour of body blue, grey, yellow, pink or purple.
Colour of proboscis peach or cream.
End of proboscis either round or pointed.
Additional information
Thalassema thalassemum is the smallest of the Echiurans. Its main body is capable of contracting to 2-3 cm. It is a deposit feeder, using its proboscis to secrete a mucus sheet that traps detritus. Thalassema thalassemum is gonochoristic, although there is no sexual dimorphism, and reproduces by external fertilization in the summer. A free-swimming planktonic larva stage develops from fertilized eggs before developing into the adult form. Thalassema thalassemum is mainly nocturnal.
Bibliography
Costello, M.J., Bouchet, P., Boxshall, G., Emblow, C. & Vanden Berghe, E., 2004. European Register of Marine Species [On-line]. http://www.marbef.org/data/erms.php,

Crothers, J. A., 1997. A key to the major groups of British marine invertebrates. Field Studies, 9, 1-177.

Fish, J.D. & Fish, S., 1996. A student's guide to the seashore. Cambridge: Cambridge University Press.

Hayward, P., Nelson-Smith, T. & Shields, C. 1996. Collins pocket guide. Sea shore of Britain and northern Europe. London: HarperCollins.

Hayward, P.J. & Ryland, J.S. (ed.) 1995b. Handbook of the marine fauna of North-West Europe. Oxford: Oxford University Press.

Howson, C.M. & Picton, B.E., 1997. The species directory of the marine fauna and flora of the British Isles and surrounding seas. Belfast: Ulster Museum. [Ulster Museum publication, no. 276.]

Nickell, L.A. & Atkinson, R.J.A., 1994. Observations on the behaviour of Thalassema thalassemum (Echiura: Echiuridae). Journal of the Marine Biological Association of the United Kingdom, 74(4), 963-966,

Wilkie, I.C 1990. First record of the spoon-worm Thalassema thalassemum (Pallas), Echiura, in Scottish waters. Glasgow Naturalist, 21, 515-517,
Datasets
Fenwick, 2018. Aphotomarine. Occurrence dataset http://www.aphotomarine.com/index.html Accessed via NBNAtlas.org on 2018-10-01

NBN (National Biodiversity Network) Atlas. Available from: https://www.nbnatlas.org.

OBIS (Ocean Biodiversity Information System), 2023. Global map of species distribution using gridded data. Available from: Ocean Biogeographic Information System. www.iobis.org. Accessed: 2023-11-29
Citation
This review can be cited as:
Richards, S. 2009. Thalassema thalassema Gaertner's spoon worm. In Tyler-Walters H. and Hiscock K. Marine Life Information Network: Biology and Sensitivity Key Information Reviews, [on-line]. Plymouth: Marine Biological Association of the United Kingdom. [cited 29-11-2023]. Available from: https://www.marlin.ac.uk/species/detail/17
---
Last Updated: 03/07/2009