Cored chimney sponge (Ciocalypta penicillus)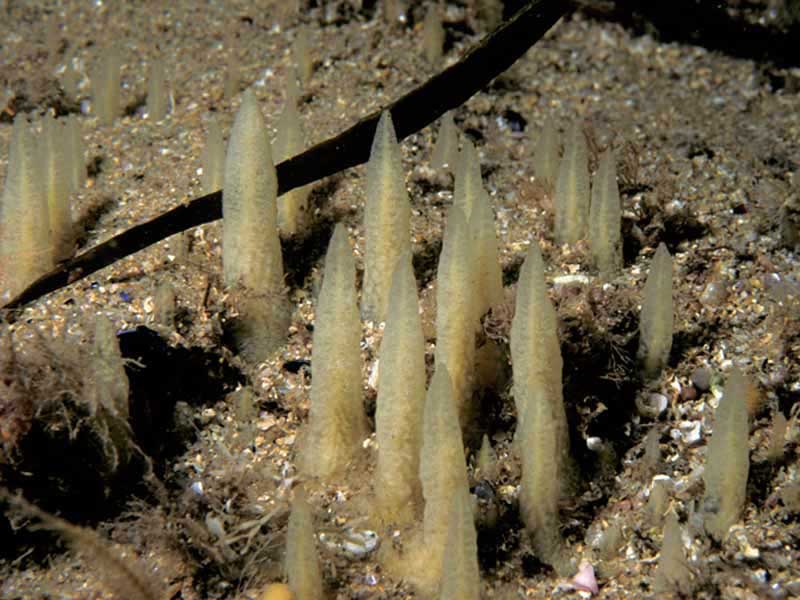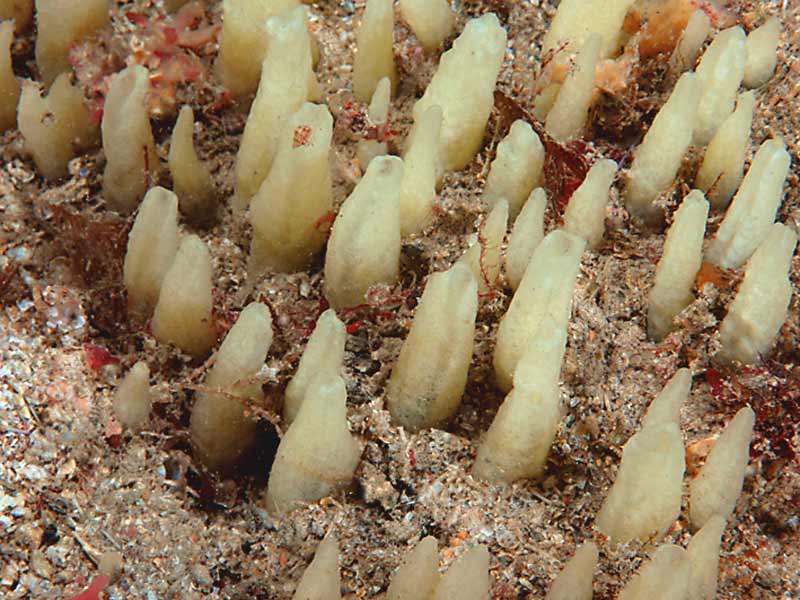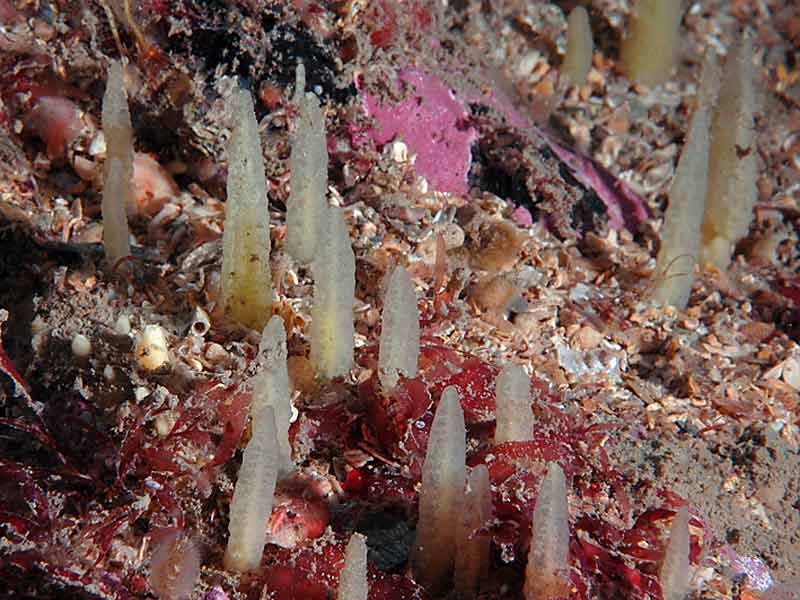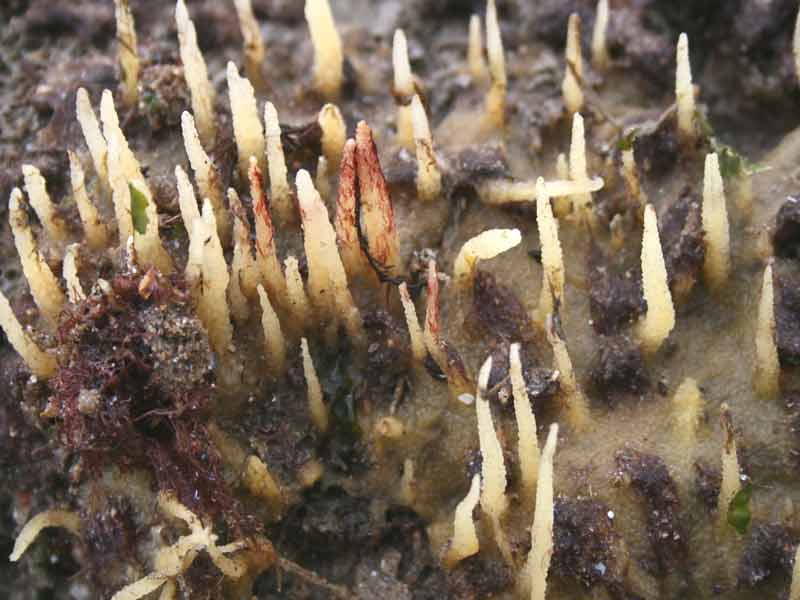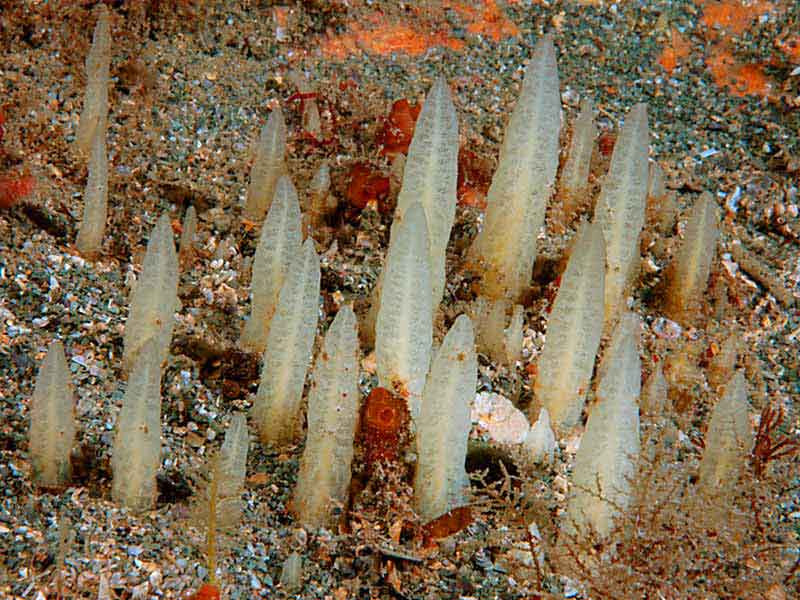 Researched by
Olwen Ager
Refereed by
Admin
Authority
Bowerbank, 1862
Other common names
-
Synonyms
-
Summary
Description
Ciocalypta penicillus forms an encrusting cushion, usually about 10 cm in diameter, with a rough upper surface. Firm, but flexible, pointed, conical projections or digits grow upwards from the base. These projections are about 5 cm high and 0.5 cm wide. The cushions are brownish or whitish-yellow in colour, while the digits are usually translucent.
Recorded distribution in Britain and Ireland
Ciocalypta penicillus is found on the west and south coasts of Britain and at various locations around the coast of Ireland.
Global distribution
Ciocalypta penicillus is found from Denmark to the Mediterranean, including the Azores and Madeira.
Habitat
Ciocalypta penicillus is usually found attached to upward facing rock surfaces typically covered in clean sand or gravel but sometimes more silty sediment.
Identifying features
Brown or whitish-yellow encrusting cushion up to 10 cm in diameter.
Pointed conical digits project upwards from base.
Basal cushion often covered in sand or gravel.
Additional information
The basal cushion is often covered by sand or gravel so only the digits are visible.
Bibliography
Gibson, R., Hextall, B. & Rogers, A., 2001. Photographic guide to the sea and seashore life of Britain and north-west Europe. Oxford: Oxford University Press.

Hayward, P.J. & Ryland, J.S. (ed.) 1995b. Handbook of the marine fauna of North-West Europe. Oxford: Oxford University Press.

Howson, C.M. & Picton, B.E., 1997. The species directory of the marine fauna and flora of the British Isles and surrounding seas. Belfast: Ulster Museum. [Ulster Museum publication, no. 276.]

JNCC (Joint Nature Conservation Committee), 1999. Marine Environment Resource Mapping And Information Database (MERMAID): Marine Nature Conservation Review Survey Database. [on-line] http://www.jncc.gov.uk/mermaid

Picton, B.E. & Costello, M.J., 1998. BioMar biotope viewer: a guide to marine habitats, fauna and flora of Britain and Ireland. [CD-ROM] Environmental Sciences Unit, Trinity College, Dublin.
Datasets
Citation
This review can be cited as:
Ager, O.E.D. 2008. Ciocalypta penicillus Cored chimney sponge. In Tyler-Walters H. and Hiscock K. Marine Life Information Network: Biology and Sensitivity Key Information Reviews, [on-line]. Plymouth: Marine Biological Association of the United Kingdom. [cited 11-12-2023]. Available from: https://www.marlin.ac.uk/species/detail/1711
---
Last Updated: 29/04/2008