Sea chervil (Alcyonidium diaphanum)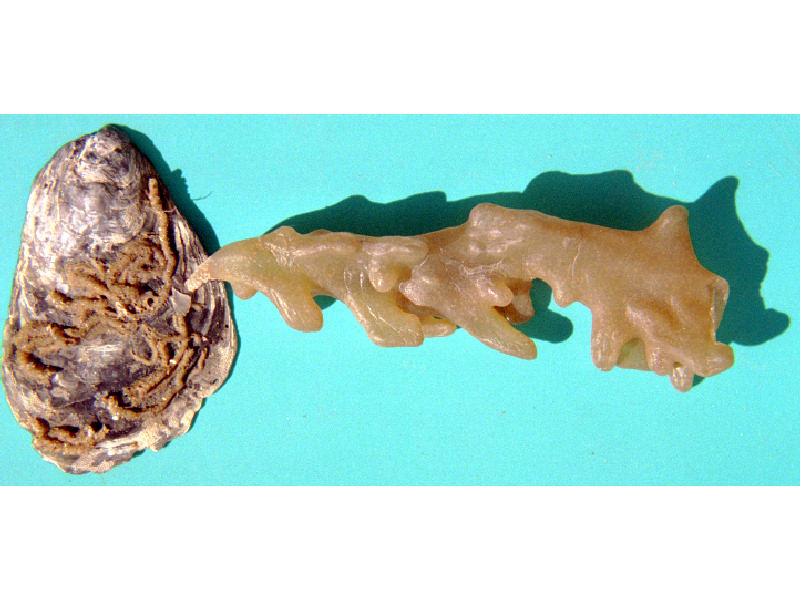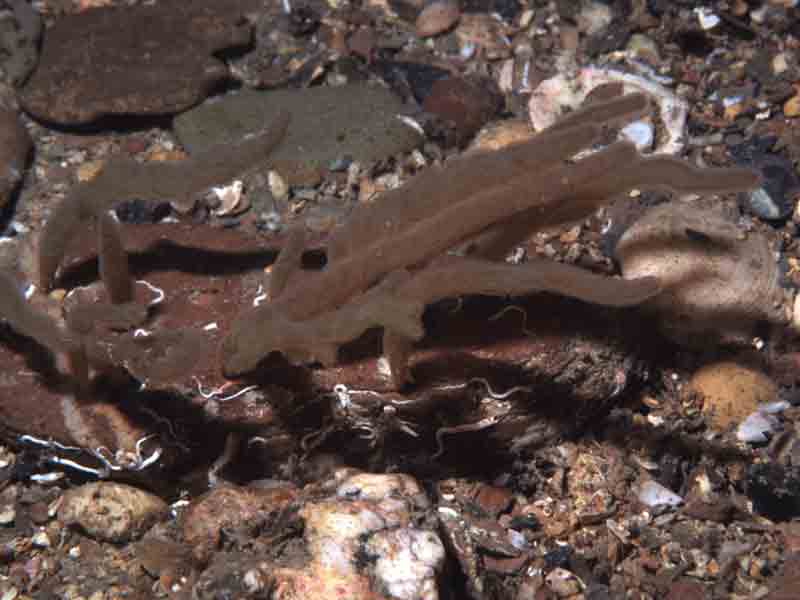 Researched by
Olwen Ager
Refereed by
Admin
Authority
(Hudson, 1778)
Other common names
-
Synonyms
-
Summary
Description
Alcyonidium diaphanum forms an erect colony that can grow up to 50 cm long but more usually 15 cm. It has a small encrusting base, which attaches to hard substratum. The colour of Alcyonidium diaphanum can be light honey, brown, pale yellowish, grey, reddish, dark mahogany or even colourless. The size, colour and colony form varies widely around the British Isles.
Recorded distribution in Britain and Ireland
Found around all British and Ireland coasts.
Global distribution
Common off all north European coasts.
Habitat
Alcyonidium diaphanum is found attached to rocks, shells or stones from the lower intertidal zone to shelly sands and coarse grounds offshore.
Identifying features
Erect colony up to 50 cm high.
Surface smooth, occasionally knobbly.
Firmly gelatinous.
Variable colour; brown, yellow, reddish, grey or colourless.
Variable shape and size.
Additional information
Other common names include "curly weed", "amber weed" and ju-ju weed" (Pathmanaban
et al.
, 2005).
Alcyonidium diaphanum is responsible for the allergic contact dermatitis, termed 'Dogger Bank Itch', experienced mostly by fishermen and dock workers (Pathmanaban et al., 2005). Although previously not reported from any other fishing grounds around the British Isles (Hayward, 1985), and despite its name, Dogger Bank Itch has also been reported from trawler-men in le Havre, shell fishermen from Cornwall and fixed net fishermen in the eastern English Channel (Pathmanaban et al., 2005).
Bibliography
Hayward, P., Nelson-Smith, T. & Shields, C. 1996. Collins pocket guide. Sea shore of Britain and northern Europe. London: HarperCollins.

Hayward, P.J. & Ryland, J.S. (ed.) 1995b. Handbook of the marine fauna of North-West Europe. Oxford: Oxford University Press.

Hayward, P.J. 1985. Ctenostome Bryozoans. Bath: Pitman Press. [Synopses of the British Fauna, no. 33.]

Howson, C.M. & Picton, B.E., 1997. The species directory of the marine fauna and flora of the British Isles and surrounding seas. Belfast: Ulster Museum. [Ulster Museum publication, no. 276.]

Pathmanaban, O.N., Porter, J.S. and White, I.R., 2005. Dogger Bank itch in the eastern English Channel: a newly described geographical distribution of an old problem. Clinical and Experimental Dermatology, 30, 622-626.

Picton, B.E. & Costello, M.J., 1998. BioMar biotope viewer: a guide to marine habitats, fauna and flora of Britain and Ireland. [CD-ROM] Environmental Sciences Unit, Trinity College, Dublin.

Porter, J.S., Ellis, J.R., Hayward, P.J., Rogers, S.I. & Callaway, R. 2002. Geographic variation in the abundance and morphology of the bryozoan Alcyonidium diaphanum (Ctenostomata: Alcyonidiidae) in UK coastal waters. Journal of the Marine Biological Association of the United Kingdom, 82, 529-535.

Porter, J.S., Hayward, P.J. & Spencer-Jones, M.E. 2001. The identitiy of Alcyonidium diaphanum (Bryozoa: Ctenostomatida). Journal of the Marine Biological Association of the United Kingdom, 81, 1001-1008.
Datasets
Citation
This review can be cited as:
Ager, O.E.D. 2007. Alcyonidium diaphanum Sea chervil. In Tyler-Walters H. and Hiscock K. Marine Life Information Network: Biology and Sensitivity Key Information Reviews, [on-line]. Plymouth: Marine Biological Association of the United Kingdom. [cited 29-11-2023]. Available from: https://www.marlin.ac.uk/species/detail/1738
---
Last Updated: 03/07/2007