Fine feather sea fir (Kirchenpaueria pinnata)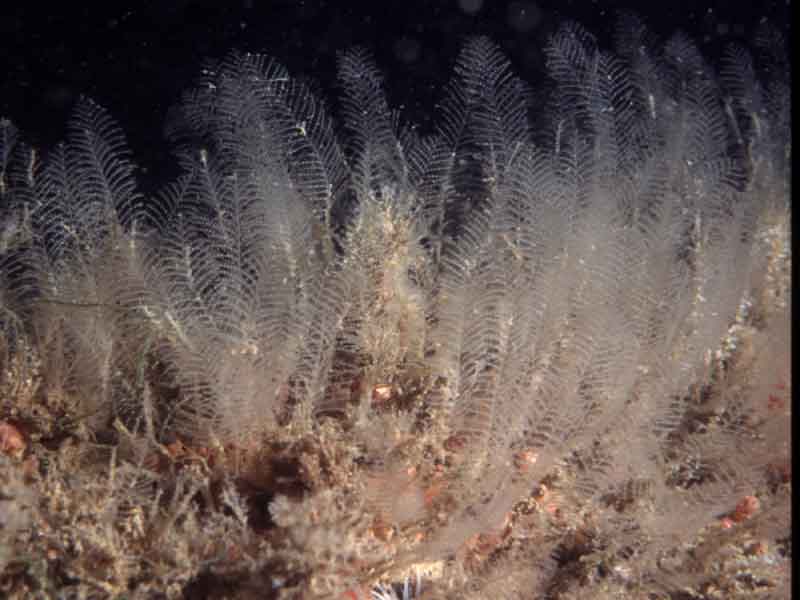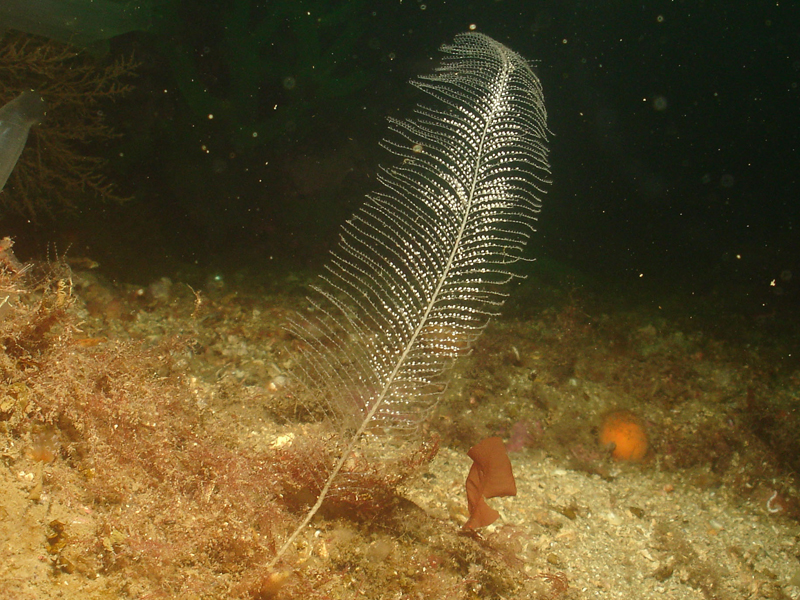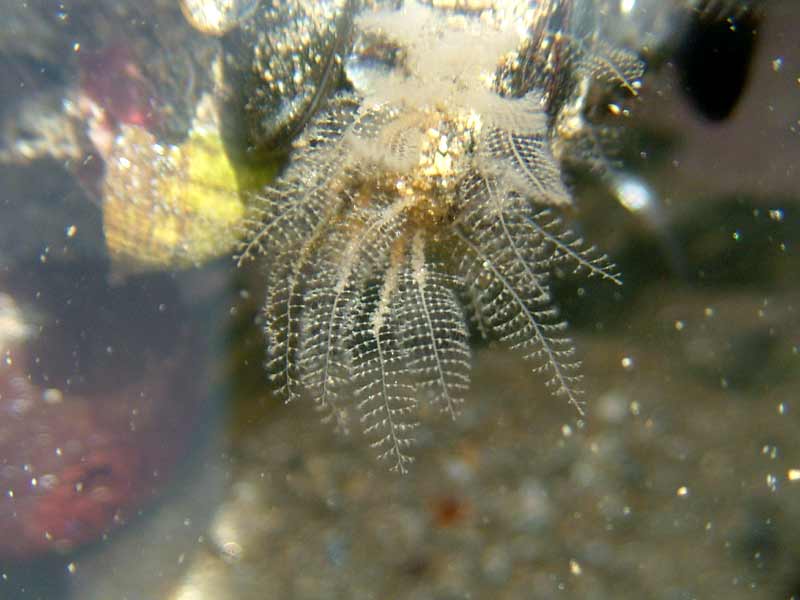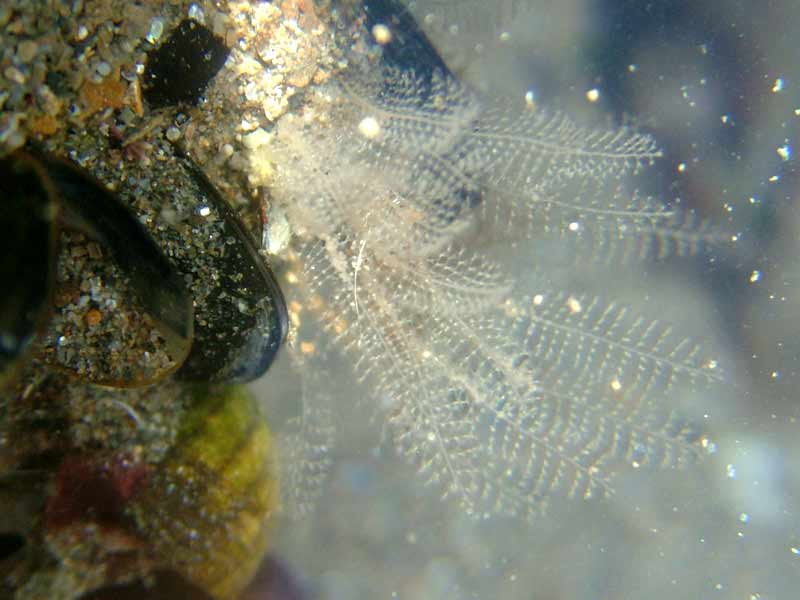 Researched by
Penny Avant
Refereed by
Admin
Authority
(Linnaeus, 1758)
Other common names
Plumed hydroid, Fine feather hydroid
Synonyms
Kirchenpaueria echinulata (Linnaeus, 1758)
Summary
Description
A colonial hydroid with slender, upright stems that are closely spaced along branching stolons attached to the substratum. They are white to yellowish, typically 3-6 cm, and may be up to 10 cm in height. Branching is pinnate with short, stiff side branches that bear polyps at equal intervals on their inner side in chitinous cups (hydrothecae). The tiny gonothecae are pear-shaped and usually attached to the main stem.
Recorded distribution in Britain and Ireland
Common around all British and Irish coasts.
Global distribution
Found in the northeast Atlantic north to Iceland, south to Morocco and also in the Mediterranean.
Habitat
Found on rock and a wide variety of other substrata including molluscan and crustacean shells, macroalgae, seagrasses and artificial wooden structures. Intertidal to about 100 m and occasionally to 350 m.
Identifying features
Slender, whitish-yellow stems arising separately, yet clustered, from a branching stolon that is attached to the substratum.
Stems are monosyphonic, branched pinnately and typically 3-6 cm in height.
Side branches are short and stiff and bear the hydrothecae, which hold the polyps, at equal intervals along their inner side.
The hydrothecae have a smooth rim.
The gonothecae are pear-shaped and touching in a double row attached to the main stem.
Additional information
-none-
Bibliography
Cornelius, P.F.S., 1995b. North-west European thecate hydroids and their medusae. Part 2. Sertulariidae to Campanulariidae. Shrewsbury: Field Studies Council. [Synopses of the British Fauna no. 50]

Fish, J.D. & Fish, S., 1996. A student's guide to the seashore. Cambridge: Cambridge University Press.

Hayward, P., Nelson-Smith, T. & Shields, C. 1996. Collins pocket guide. Sea shore of Britain and northern Europe. London: HarperCollins.

Hayward, P.J. & Ryland, J.S. (ed.) 1995b. Handbook of the marine fauna of North-West Europe. Oxford: Oxford University Press.

Howson, C.M. & Picton, B.E., 1997. The species directory of the marine fauna and flora of the British Isles and surrounding seas. Belfast: Ulster Museum. [Ulster Museum publication, no. 276.]
Datasets
Citation
This review can be cited as:
Avant, P. 2002. Kirchenpaueria pinnata Fine feather sea fir. In Tyler-Walters H. and Hiscock K. Marine Life Information Network: Biology and Sensitivity Key Information Reviews, [on-line]. Plymouth: Marine Biological Association of the United Kingdom. [cited 29-11-2023]. Available from: https://www.marlin.ac.uk/species/detail/1755
---
Last Updated: 11/04/2002