A sea slug (Doto fragilis)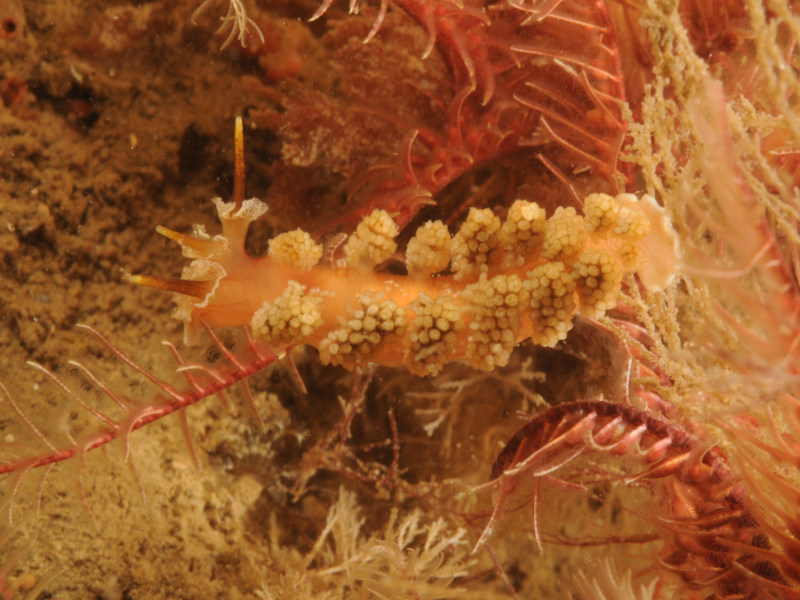 Researched by
Natalie Sweet
Refereed by
Admin
Authority
(Forbes, 1838)
Other common names
-
Synonyms
-
Summary
Description
The body of Doto fragilis varies from light to dark brown with larger specimens tending to be darker. White patches or spots occur along the the sides of the body, particularly on the dorsum and on the margins of the oral veil, which is expanded into lobes. The rhinophores are long, slender and smooth, with trumpet shaped sheaths which flare at the outer rim. Up to 10 pairs of large tuberculate cerata are present in two rows along the sides of the body, each with up to 13 concentric circles of pale tubercles. Maximum recorded size is 34 mm.
Recorded distribution in Britain and Ireland
Found all around the British Isles.
Habitat
Doto fragilis occurs up to 200 m depth. This species is known to feed on the hydroids Nemertesia antennina, Nemertesia ramosa, Halecium halecium and Halecium muricatum.
Identifying features
Brown hue in skin but no dark surface pigment spots
White glands along flanks of body
Up to 10 pairs of cerata, each with up to 13 concentric circles of pale tubercles
Additional information
No text entered
Bibliography
Howson, C.M. & Picton, B.E., 1997. The species directory of the marine fauna and flora of the British Isles and surrounding seas. Belfast: Ulster Museum. [Ulster Museum publication, no. 276.]

Hunnam, P. & Brown, G., 1975. Sublittoral nudibranch mollusca (sea slugs) in Pembrokeshire waters. Field Studies, 4, 131-159.

Picton, B. E. & Morrow, C.C., 1994. A Field Guide to the Nudibranchs of the British Isles. London: Immel Publishing Ltd.

Thompson, T. E. & Brown, G. H., 1976. British Opisthobranch Molluscs. London: Academic Press. [Synopses of the British Fauna, no. 8.]

Thompson, T.E. & Brown, G.H., 1984. Biology of Opisthobranch Molluscs, vol. II. London: Ray Society.

Thompson, T.E., 1972. Eastern Australian Dendronotoidea (Gastropoda: Opisthobranchia). Zoological Journal of the Linnean Society, 51(1), 63-77

Thompson, T.E., 1988. Molluscs: Benthic Opisthobranchs. London: Bath Press. [Synopses of the British Fauna New Series), (ed. Doris M. Kermack & R.S.K. Barnes), no. 8 (second Edition)].

WoRMS 2007. The World Register of Marine Species (WoRMS). http://www.marinespecies.org, 2008-10-31
Datasets
Citation
This review can be cited as:
Sweet, N. A. 2008. Doto fragilis A sea slug. In Tyler-Walters H. and Hiscock K. Marine Life Information Network: Biology and Sensitivity Key Information Reviews, [on-line]. Plymouth: Marine Biological Association of the United Kingdom. [cited 21-09-2023]. Available from: https://www.marlin.ac.uk/species/detail/176
---
Last Updated: 07/08/2008