Tar lichen (Verrucaria maura)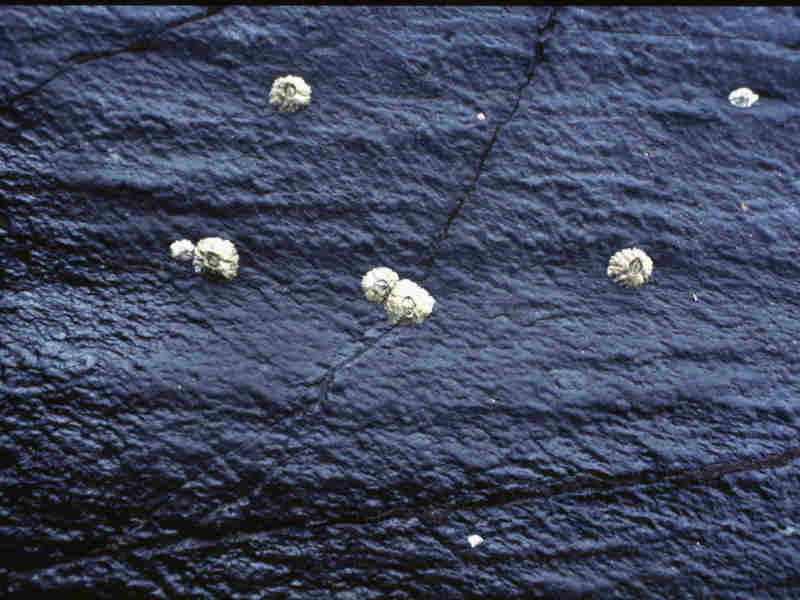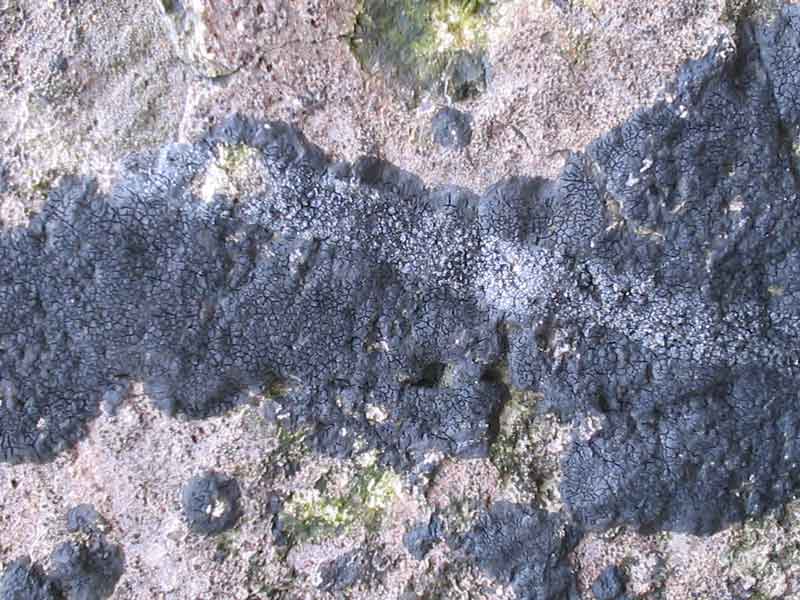 Researched by
Penny Avant
Refereed by
Admin
Authority
Wahlenberg, 1803
Other common names
-
Synonyms
-
Summary
Description
Verrucaria maura is a lichen that forms a thin, matt-black layer on rock surfaces that can resemble an oil stain. Reproductive bodies may be present as tiny black spots. Under magnification the surface is seen to be covered with a mesh of fine cracks that resemble dried mud.
Recorded distribution in Britain and Ireland
Very common on rocky shores all around the British Isles.
Global distribution
Widely distributed on the shores of northwest Europe.
Habitat
Verrucaria maura is found intertidally on almost all rocky shores except where the rocks are soft and crumbly. It is usually the main constituent of the black band of lichens below a band orange lichens and extends from well above the level of high water down to the zone of mussels and barnacles. The width of the band depends on the wave and tidal exposure of the shore.
Identifying features
An encrusting lichen forming a thin, matt-black coating, up to 1mm thick, on rock surfaces.
May cover a large area.
Difficult to remove from the rock.
The surface appears cracked under magnification.
Reproductive bodies, or perithecia, may be present as black dots.
Additional information
-none-
Bibliography
CABI Bioscience, 2000. Index Fungorum Database. [On-line] http://194.131.255.3/cabipages/index.htm, 2002-04-23

Dobson, F.S., 1997. Lichens of Rocky Shores. [Foldout pamphlet]. Shrewsbury: Field Studies Council.

Dobson, F.S., 2000. Lichens: an illustrated guide to the British and Irish species. Slough: The Richmond Publishing Co. Ltd.

Fish, J.D. & Fish, S., 1996. A student's guide to the seashore. Cambridge: Cambridge University Press.

Fletcher, A., 1975a. Key for the identification of British marine and maritime lichens. 1. Siliceous rocky shore species. Lichenologist, 7, 1-52.

Fletcher, A., 1975b. Key for the identification of British marine and maritime lichens. II. Calcereous and terricolous species. Lichenologist, 7, 73-115.

Gibson, R., Hextall, B. & Rogers, A., 2001. Photographic guide to the sea and seashore life of Britain and north-west Europe. Oxford: Oxford University Press.

Hayward, P., Nelson-Smith, T. & Shields, C. 1996. Collins pocket guide. Sea shore of Britain and northern Europe. London: HarperCollins.
Datasets
Citation
This review can be cited as:
Avant, P. 2008. Verrucaria maura Tar lichen. In Tyler-Walters H. and Hiscock K. Marine Life Information Network: Biology and Sensitivity Key Information Reviews, [on-line]. Plymouth: Marine Biological Association of the United Kingdom. [cited 27-09-2023]. Available from: https://www.marlin.ac.uk/species/detail/1769
---
Last Updated: 22/05/2008