Modest barnacle (Austrominius modestus)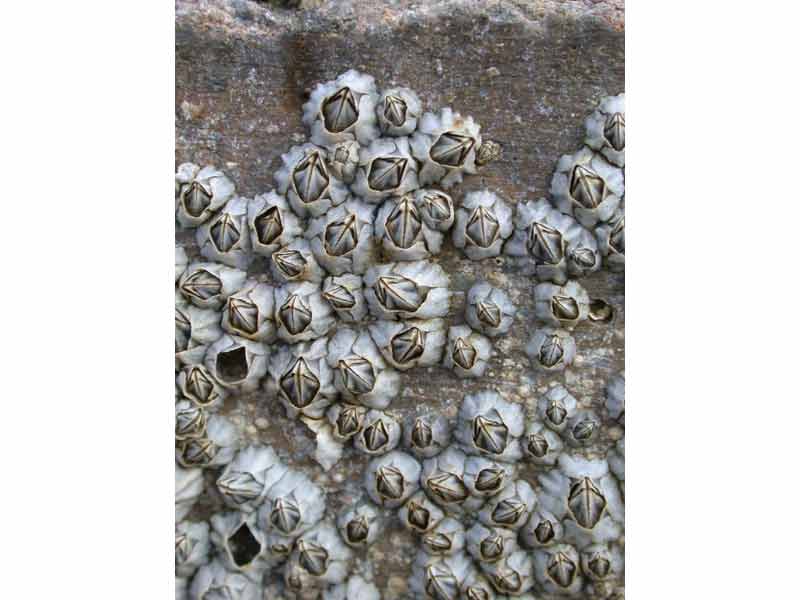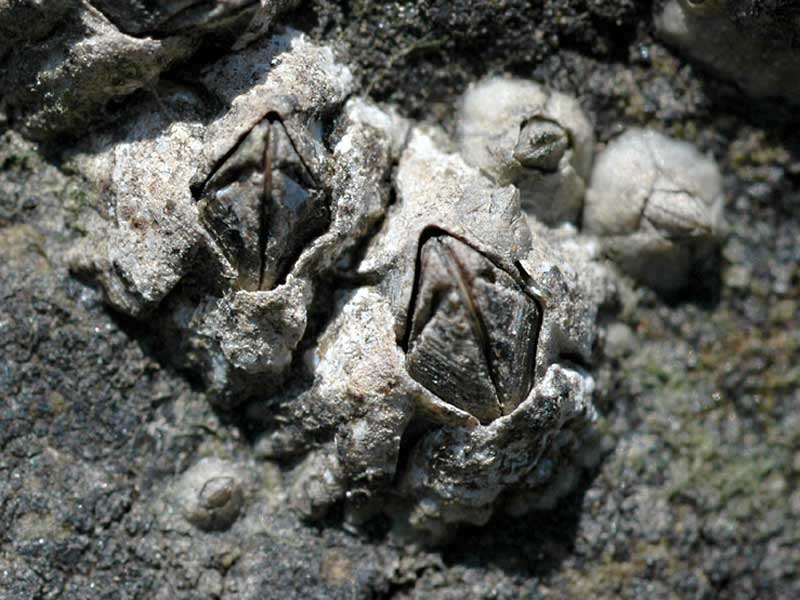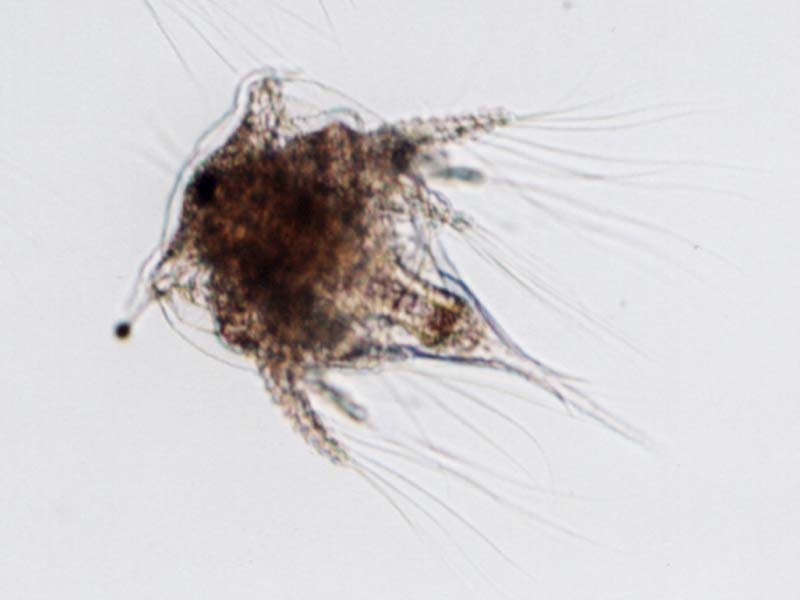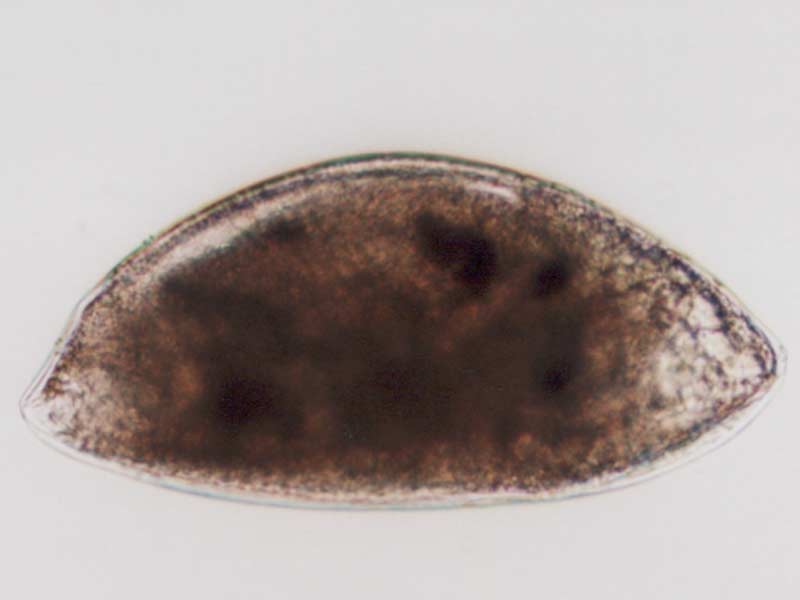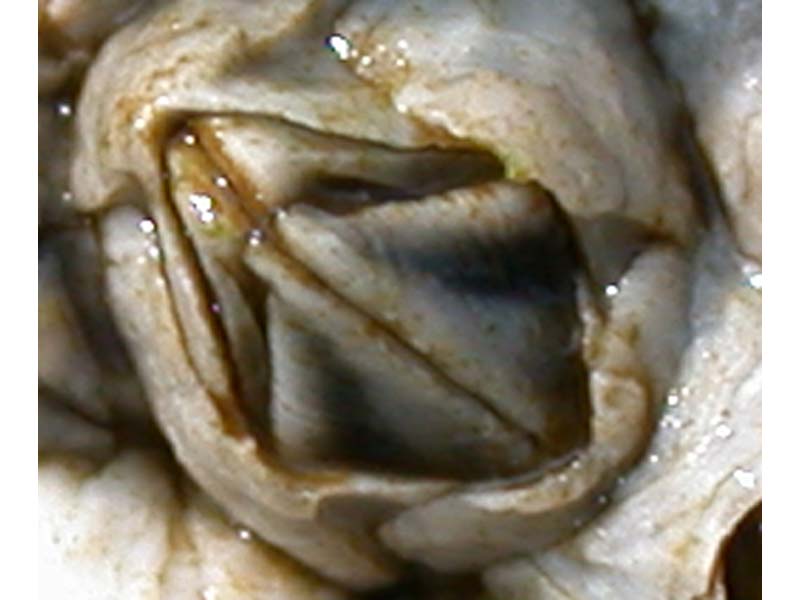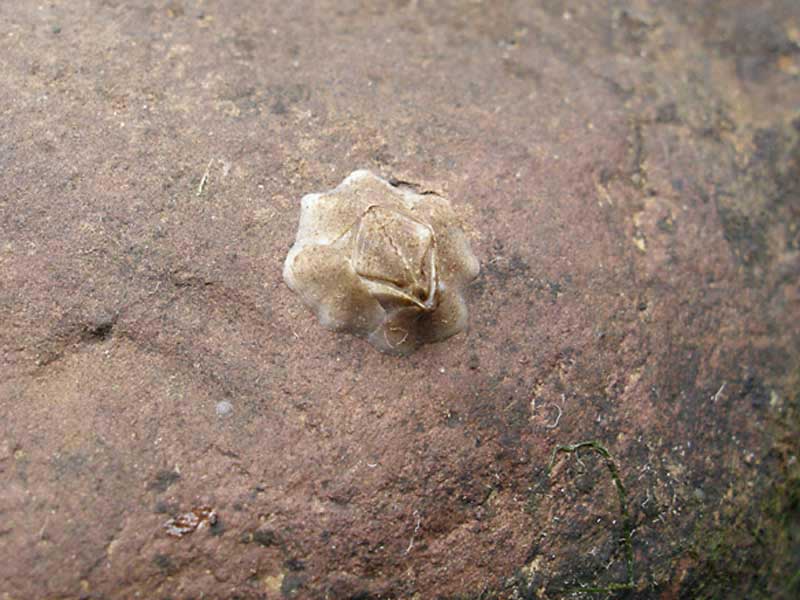 Researched by
Penny Avant
Refereed by
Admin
Authority
(Darwin, 1854)
Other common names
New Zealand barnacle
Synonyms
Elminius modestus
Summary
Description
Austrominius modestus is a small barnacle, 5-10 mm in diameter, characterised by having only 4 calcified shell plates. The body shape is low and conical with a large diamond shaped opercular aperture. In young barnacles the shell plates are smooth and the bottom margin of each has an indentation in the centre. The shell plates of older individuals have marked vertical ridges that give the barnacle an irregular, roughly circular margin. The young are opalescent greyish white in colour while the adults become drab greyish brown and eroded.
Recorded distribution in Britain and Ireland
Found all around the coast of England and Wales and in a few locations around the coast of Scotland and Ireland and in the Scottish Islands.
Global distribution
Found on the Atlantic coasts of Europe from Germany to Gibraltar.
Habitat
Elminius modestus
is found at all levels of the shore but is more common mid-shore and may extend to shallow sublittoral. It attaches to a wide variety of substrata including rocks, stones, shells, other crustaceans and artificial structures including ships. It is more tolerant of turbidity and reduced salinity than
Semibalanus balanoides
and
Chthamalus
species and is found in estuaries as well as on open coasts where the wave exposure is not high.
Identifying features
A small barnacle, 5-10 mm in diameter.
Body plan symmetrical with 4 calcified wall plates.
A low conical body shape with a diamond shaped opercular aperture.
Additional information
Austrominius modestus occurs naturally in Australasia and was first reported in Britain in 1946, by which time it was already widespread in the southeast of England. The first colonization, probably by shipping, was thought to be in Southampton Water, from where it spread rapidly along the coast, reaching extensive parts of the whole British mainland by a combination of natural and artificial means (Crisp, 1958). By 1972 it was common in parts of the west coast of Scotland and in 1978 it was reported in Shetland (Hiscock et al.,1978). Austrominius modestus not only competes with endemic British species, particularly Balanus balanoides, but has colonized some sheltered and estuarine habitats not previously inhabited by them (Bassingdale, 1964).
Bibliography
Bassindale, R., 1964. British Barnacles. London: The Linnean Society of London.[Synopses of the British Fauna, no. 14.]

Bruce, J.R., Colman, J.S. & Jones, N.S., 1963. Marine fauna of the Isle of Man. Liverpool: Liverpool University Press.

Crisp, D.J., 1958. The spread of Elminius modestus Darwin in north-west Europe. Journal of the Marine Biological Association of the United Kingdom, 37, 483-520.

Eno, N.C., Clark, R.A. & Sanderson, W.G. (ed.) 1997. Non-native marine species in British waters: a review and directory. Peterborough: Joint Nature Conservation Committee.

Fish, J.D. & Fish, S., 1996. A student's guide to the seashore. Cambridge: Cambridge University Press.

Hawkins, S. J. & Jones, H. D., 1992. Rocky Shores. London: Immel.

Hayward, P.J. & Ryland, J.S. (ed.) 1995b. Handbook of the marine fauna of North-West Europe. Oxford: Oxford University Press.

Hiscock, K., Hiscock, S. & Baker, J.M., 1978. The occurrence of the barnacle Elminius modestus in Shetland. Journal of the Marine Biological Association of the United Kingdom, 58, 627-629.

Howson, C.M. & Picton, B.E., 1997. The species directory of the marine fauna and flora of the British Isles and surrounding seas. Belfast: Ulster Museum. [Ulster Museum publication, no. 276.]
Datasets
Citation
This review can be cited as:
Avant, P. 2007. Austrominius modestus Modest barnacle. In Tyler-Walters H. and Hiscock K. Marine Life Information Network: Biology and Sensitivity Key Information Reviews, [on-line]. Plymouth: Marine Biological Association of the United Kingdom. [cited 29-11-2023]. Available from: https://www.marlin.ac.uk/species/detail/1771
---
Last Updated: 03/07/2007