Smooth Artemis (Dosinia lupinus)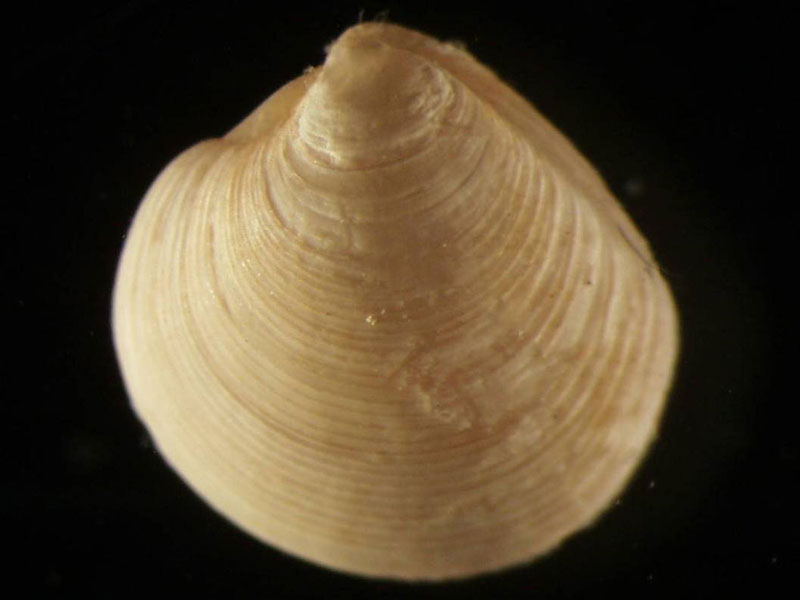 Researched by
Penny Avant
Refereed by
Admin
Authority
(Linnaeus, 1758)
Other common names
-
Synonyms
-
Summary
Description
Dosinia lupinus is a bivalve with a solid shell that is almost circular in outline, moderately concave and grows to a maximum of about 4 cm in diameter. Both valves are similar in shape and colour (equivalve).The prominent beak at the hinge points to the right and is slightly anterior to the mid line (inequilateral). The shell is off-white, fawn or light brown in colour with a sculpture of fine concentric lines on the outside. It is glossy white on the inside and the line joining the two adductor muscle scars (pallial line) has a deep U-shaped indentation (pallial sinus).
Recorded distribution in Britain and Ireland
Widely distributed around British coasts, except in the south east, and found around Irish coasts.
Global distribution
Found from Iceland south to the Mediterranean, the Canary Isles and west Africa.
Habitat
Dosinia lupinus occurs on shores of varying wave exposure where it burrows deeply into soft sediments that include fine or coarse sand, sand and mud mixtures or shell gravel. It is found on the lower shore and sublittorally to a depth of about 120 m.
Identifying features
Solid, almost circular bivalve up to 4 cm in diameter.
Fine concentric ridges.
Off-white, fawn or brown in colour.
Inner surface white and glossy.
Inner margins of shell smooth.
3 small teeth on the inner surface of each shell just below the hinge.
The line joining the two adductor muscle scars has a marked U-shaped indentation.
Additional information
Dosinia lupinus
is very similar to the rayed Artemis,
Dosinia exoleta
. They can be distinguished by the fine detail of the shell around the hinge area (Hayward
et al.
, 1996).
Bibliography
Bruce, J.R., Colman, J.S. & Jones, N.S., 1963. Marine fauna of the Isle of Man. Liverpool: Liverpool University Press.

Hayward, P., Nelson-Smith, T. & Shields, C. 1996. Collins pocket guide. Sea shore of Britain and northern Europe. London: HarperCollins.

Hayward, P.J. & Ryland, J.S. (ed.) 1995b. Handbook of the marine fauna of North-West Europe. Oxford: Oxford University Press.

Howson, C.M. & Picton, B.E., 1997. The species directory of the marine fauna and flora of the British Isles and surrounding seas. Belfast: Ulster Museum. [Ulster Museum publication, no. 276.]

Tebble, N., 1976. British Bivalve Seashells. A Handbook for Identification, 2nd ed. Edinburgh: British Museum (Natural History), Her Majesty's Stationary Office.
Datasets
Citation
This review can be cited as:
Avant, P. 2006. Dosinia lupinus Smooth Artemis. In Tyler-Walters H. and Hiscock K. Marine Life Information Network: Biology and Sensitivity Key Information Reviews, [on-line]. Plymouth: Marine Biological Association of the United Kingdom. [cited 22-09-2023]. Available from: https://www.marlin.ac.uk/species/detail/1790
---
Last Updated: 02/11/2006