Black shields (Tephromela atra var. atra)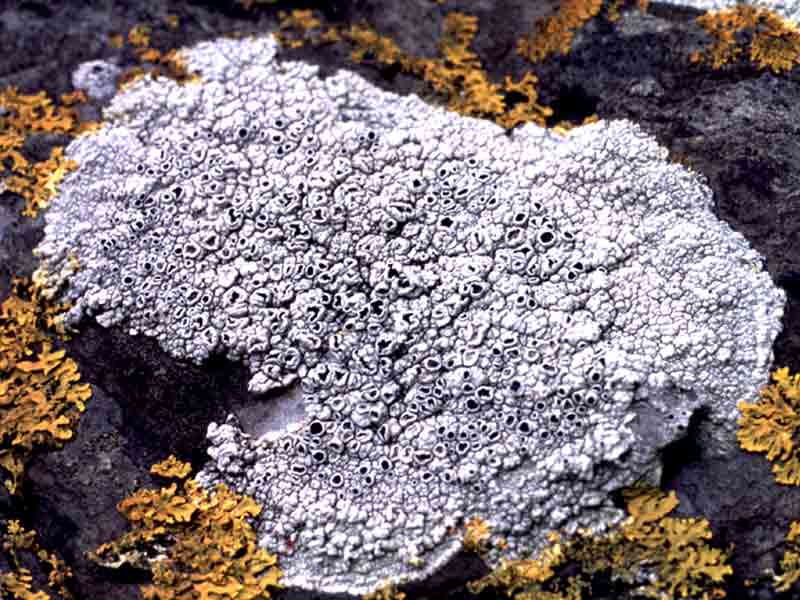 Researched by
Dr Harvey Tyler-Walters
Refereed by
Admin
Authority
(Huds.) Hafellner, 1983
Other common names
-
Synonyms
Lecanora atra , Lecanora atra (Huds.) Hafellner, 1983, Tephromela atra
Summary
Description
An encrusting lichen forming white, light grey or medium grey patches up to 10 cm across. The thallus surface is smooth, warty or cracked in texture. The fruiting bodies are large, distinct and composed of a black disc surrounded by a thick margin the same colour as the thallus. Fruiting bodies are up to 3mm in diameter and embedded in the thallus but rise to sit on the thallus surface as they mature. Mature fruiting bodies have a flat disc with a thick, crenulate or contorted grey margin.
Recorded distribution in Britain and Ireland
Very common throughout the British Isles.
Habitat
Found on well lit siliceous rocks and walls, in and above the splash zone and inland. Rarely found on trees.
Identifying features
Thallus white, light or medium grey.
Fruiting bodies with black disc and thick white to grey margin.
Fruiting bodies purple-red in cross section.
Additional information
Closely related to species of Lecanora but distinguished by the structure of the reproductive bodies and spores. Similar in appearance to Lecanora gangaleoides, which can be distinguished by the neater fruiting bodies (colourless in cross-section) and chemical tests (see Dobson, 2000).
Bibliography
CABI Bioscience, 2000. Index Fungorum Database. [On-line] http://194.131.255.3/cabipages/index.htm, 2002-04-23

Dobson, F.S., 1997. Lichens of Rocky Shores. [Foldout pamphlet]. Shrewsbury: Field Studies Council.

Dobson, F.S., 2000. Lichens: an illustrated guide to the British and Irish species. Slough: The Richmond Publishing Co. Ltd.

Hayward, P., Nelson-Smith, T. & Shields, C. 1996. Collins pocket guide. Sea shore of Britain and northern Europe. London: HarperCollins.
Datasets
Citation
This review can be cited as:
Tyler-Walters, H., 2002. Tephromela atra var. atra Black shields. In Tyler-Walters H. and Hiscock K. Marine Life Information Network: Biology and Sensitivity Key Information Reviews, [on-line]. Plymouth: Marine Biological Association of the United Kingdom. [cited 30-09-2023]. Available from: https://www.marlin.ac.uk/species/detail/1797
---
Last Updated: 10/07/2002