Southern cup coral (Caryophyllia (Caryophyllia) inornata)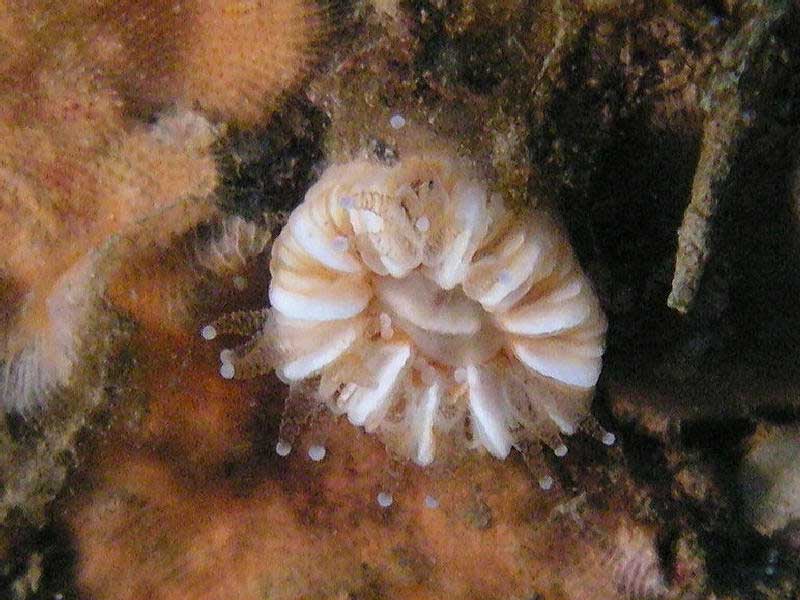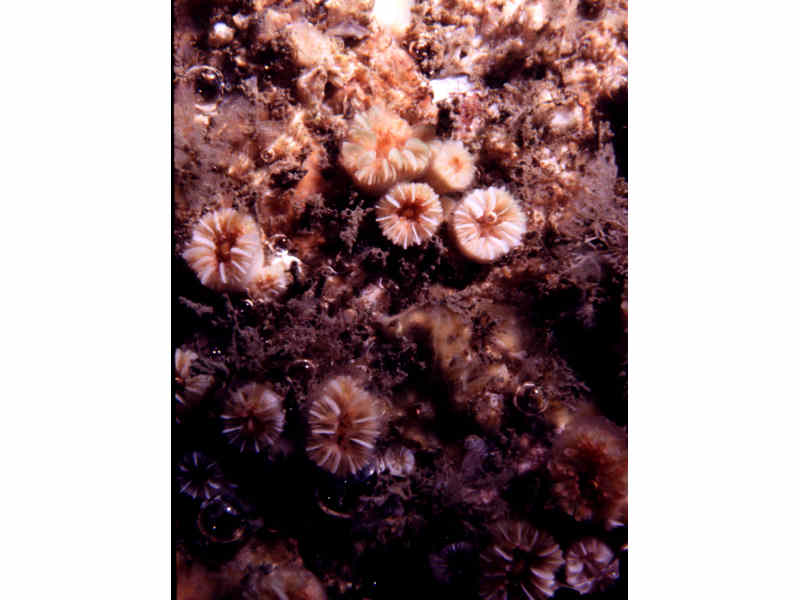 Researched by
Frances Peckett & Dr Samantha Garrard
Refereed by
Admin
Authority
(Duncan, 1878)
Other common names
-
Synonyms
Coenocyathus dorhni , Coenocyathus giesbrechti , Coenocyathus dorhni , Coenocyathus giesbrechti (Duncan, 1878), Caryophyllia inornata
Summary
Description
A solitary cup coral, typically taller than broad, up to 18 mm tall and 12 mm across. Can occur in small clusters of individuals. The cup of its exoskeleton is circular or slightly elliptical. The skeleton may be tinted with green or brown around the rim. The polyp is probably plain coloured (lacking the zig-zag patterning seen in Caryophyllia smithii) usually brown but may be white or red.
Recorded distribution in Britain and Ireland
Recorded from Lough Hyne, County Cork; Ardnoe Point, Sound of Jura; Great Cumbrae; Skomer; Lundy; the north coast of Devon and Bardsey Island north west Wales.
Global distribution
The species is widespread in the Mediterranean where it is typically found in caves, and is also recorded on the Channel coast of France, in Portugal, Madeira, the Canary Isles and the Azores (Zibrowius, 1980)
Habitat
Characteristic of rocks in sheltered places out of light, such as fissures, overhangs and caves from 0-30 m in depth.
Identifying features
Very similar to Caryophyllia smithii, differing in the following features:
Smaller. Typically taller than broad and up to 18 mm tall and 12 mm across.
Top of the coral circular or only slightly elliptical.
Septa of exoskeleton arranged in 6-rayed formation.
Rim of corallum may be tinted green or brown.
Polyp plain coloured white or red but usually brown.
Additional information
Caryophyllia inornata is very similar to Caryophyllia smithii, with which it is easily confused. The coral is described by Zibrowius (1980). Manuel (1983) provides a description of this species but suggested that more information on the description and distribution of this species was required.
Bibliography
Howson, C.M. & Picton, B.E., 1997. The species directory of the marine fauna and flora of the British Isles and surrounding seas. Belfast: Ulster Museum. [Ulster Museum publication, no. 276.]

JNCC (Joint Nature Conservation Committee), 1999. Marine Environment Resource Mapping And Information Database (MERMAID): Marine Nature Conservation Review Survey Database. [on-line] http://www.jncc.gov.uk/mermaid

Manuel, R.L., 1983. The Anthozoa of the British Isles - a colour guide, 2nd edn. Ross-on-Wye: Marine Conservation Society.

Manuel, R.L., 1988. British Anthozoa. Synopses of the British Fauna (New Series) (ed. D.M. Kermack & R.S.K. Barnes). The Linnean Society of London [Synopses of the British Fauna No. 18.]. DOI https://doi.org/10.1002/iroh.19810660505

Moore, J., 2002. An atlas of marine Biodiversity Action Plan species and habitats and Species of Conservation Concern in Wales, 2nd edn. Report to the Countryside Council for Wales, CCW Contract Science Report no. 509.

Zibrowius, H., 1980. Les scleractiniaires de la Mediterranee et de l'Atlantique nord oriental. Memoires de l'Institut Oceanograhique, Monaco. 11, 391 pp.
Datasets
NBN (National Biodiversity Network) Atlas. Available from: https://www.nbnatlas.org.

OBIS (Ocean Biodiversity Information System), 2023. Global map of species distribution using gridded data. Available from: Ocean Biogeographic Information System. www.iobis.org. Accessed: 2023-12-09
Citation
This review can be cited as:
Peckett, F. & Garrard, S. L. 2007. Caryophyllia (Caryophyllia) inornata Southern cup coral. In Tyler-Walters H. and Hiscock K. Marine Life Information Network: Biology and Sensitivity Key Information Reviews, [on-line]. Plymouth: Marine Biological Association of the United Kingdom. [cited 09-12-2023]. Available from: https://www.marlin.ac.uk/species/detail/1809
---
Last Updated: 17/02/2007