Sandy creeplet (Epizoanthus couchii)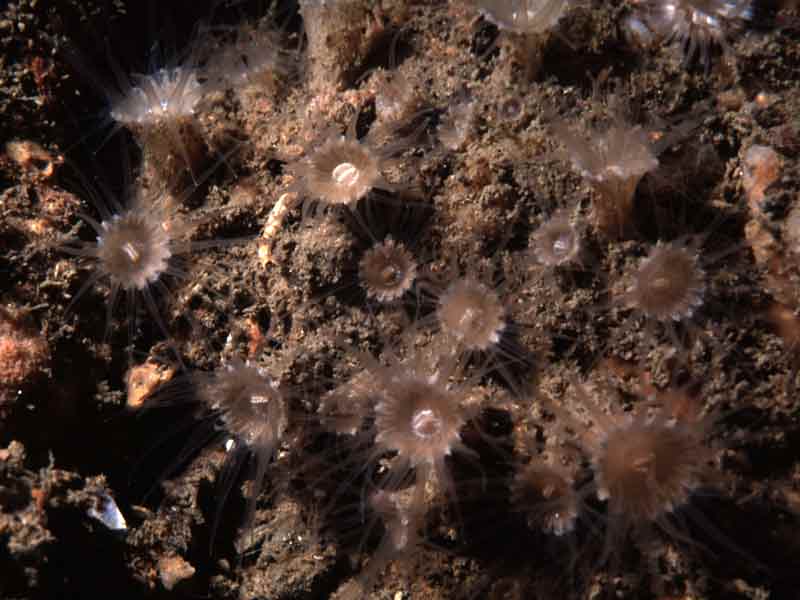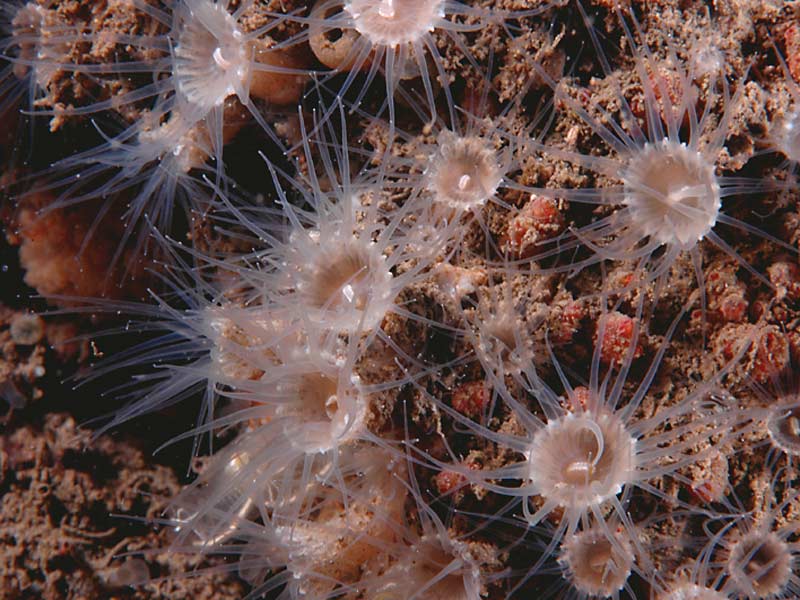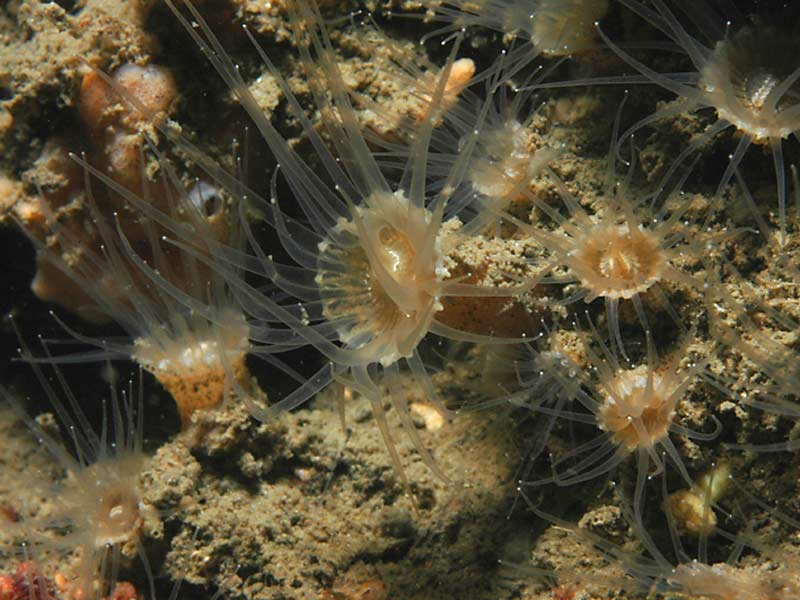 Researched by
Hugh Jones
Refereed by
Admin
Authority
(Johnston in Couch, 1844)
Other common names
-
Synonyms
-
Summary
Description
Polyps are variable in size, up to 12 mm long and 4 mm in diameter. There are 12-16 well defined marginal teeth. Polyps arise from a stolon-like band of tissue. Tentacles number between 24-32 but 28 is typical. The tentacles are long in extension and taper evenly to their tips, each of which bears a tiny but distinct terminal knob. The disc and tentacles are colourless, sometimes freckled. The column maybe whitish, buff or pink. The species is often covered in a fine layer of sand which can cover the stolon, the lower parts of the column, and extend upwards to the marginal teeth.
Recorded distribution in Britain and Ireland
Common around the western and southern coasts of Britain it remains unrecorded in the North sea. Epizoanthus couchii also been recorded in southern Ireland.
Global distribution
Reported from the coasts of northern France, Germany and Norway.
Habitat
Encrusting on rocks and shells from low water of spring tide level to 100 m depth often overgrown by other species and easily overlooked when its polyps are retracted. Common in habitats subject to moderate tidal streams and some sediment scour.
Identifying features
Colonial habit, polyps usually arising from a narrow basal band.
24-32 tentacles, transparent with white tip.
Additional information
No text entered
Bibliography
Bruce, J.R., Colman, J.S. & Jones, N.S., 1963. Marine fauna of the Isle of Man. Liverpool: Liverpool University Press.

Howson, C.M. & Picton, B.E., 1997. The species directory of the marine fauna and flora of the British Isles and surrounding seas. Belfast: Ulster Museum. [Ulster Museum publication, no. 276.]

JNCC (Joint Nature Conservation Committee), 1999. Marine Environment Resource Mapping And Information Database (MERMAID): Marine Nature Conservation Review Survey Database. [on-line] http://www.jncc.gov.uk/mermaid

Manuel, R.L., 1988. British Anthozoa. Synopses of the British Fauna (New Series) (ed. D.M. Kermack & R.S.K. Barnes). The Linnean Society of London [Synopses of the British Fauna No. 18.]. DOI https://doi.org/10.1002/iroh.19810660505

Ryland, J.S., 2000. Reproduction in British zoanthids, and an unusual process in Parazoanthus anguicomus. Journal of the Marine Biological Association of the United Kingdom, 80, 943-944.
Datasets
Citation
This review can be cited as:
Jones, H. 2008. Epizoanthus couchii Sandy creeplet. In Tyler-Walters H. and Hiscock K. Marine Life Information Network: Biology and Sensitivity Key Information Reviews, [on-line]. Plymouth: Marine Biological Association of the United Kingdom. [cited 04-10-2023]. Available from: https://www.marlin.ac.uk/species/detail/1829
---
Last Updated: 17/04/2008