Thick-lipped dog whelk (Tritia incrassata)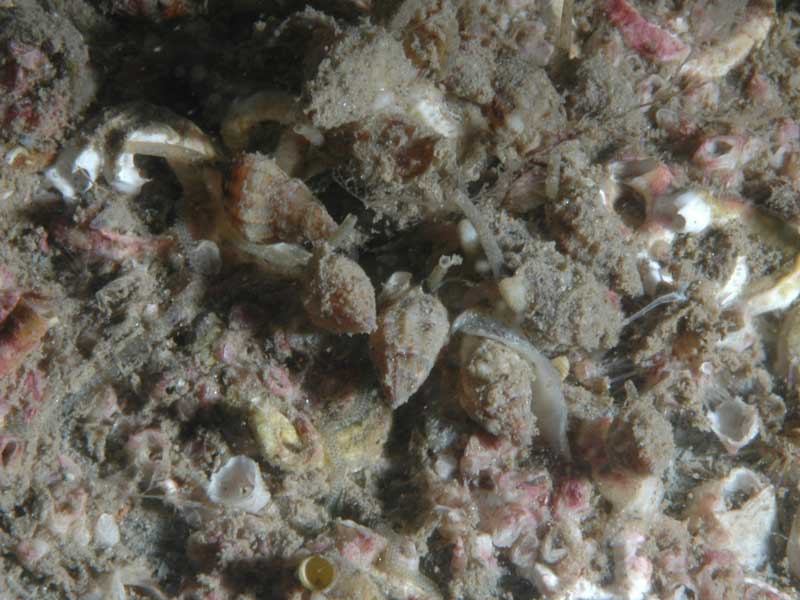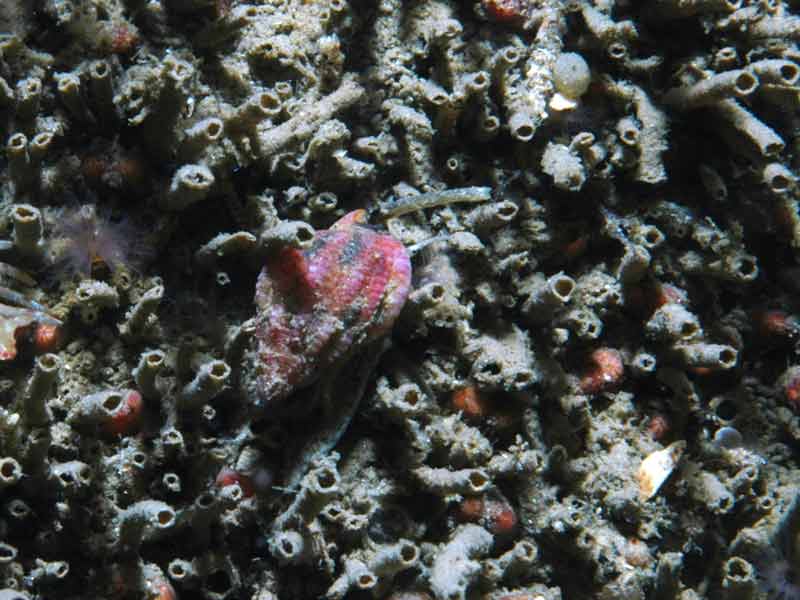 Researched by
Frances Peckett & Dr Samantha Garrard
Refereed by
Admin
Authority
(Strøm, 1768)
Other common names
-
Synonyms
Nassarius incrassatus (Strøm, 1768)
Summary
Description
Tritia incrassata is a small dog whelk that can grow up to 12 mm high by 6 mm wide. The shell is buff or light tan in colour and often has brown bands at the base of the last whorl. The siphonal canal is short and deep and has a dark brown mark on its roof. The outer lip arises at a 45 degree angle to the last whorl, and in mature individuals, the inner lip is toothed.
Recorded distribution in Britain and Ireland
Recorded from most coasts of Britain and Ireland.
Global distribution
Recorded from northern Norway, to the Skagerrak and Kattegat and the North Sea, along the Atlantic coast of France and south to the Azores and the Mediterranean.
Habitat
Tritia incrassata is found in silty areas of the lower rocky shore and into the sublittoral. They are found under rocks, in crevices and beneath seaweed tufts.
Depth range
Depth range- Lower shore to 200 m
Identifying features
Small dogwhelk up to 12 mm long by 6 mm across.
Thickened aperture.
Coarsely toothed outer lip.
Siphonal canal short and deep with a dark brown mark on the roof.
Eight protuberant whorls on its shell.
Buff or light tan in colour.
Additional information
-none-
Bibliography
Graham, A., 1988. Molluscs: prosobranchs and pyramellid gastropods (2nd ed.). Leiden: E.J. Brill/Dr W. Backhuys. [Synopses of the British Fauna No. 2]

Hayward, P., Nelson-Smith, T. & Shields, C. 1996. Collins pocket guide. Sea shore of Britain and northern Europe. London: HarperCollins.

Hayward, P.J. & Ryland, J.S. (ed.) 1995b. Handbook of the marine fauna of North-West Europe. Oxford: Oxford University Press.

Picton, B.E. & Costello, M.J., 1998. BioMar biotope viewer: a guide to marine habitats, fauna and flora of Britain and Ireland. [CD-ROM] Environmental Sciences Unit, Trinity College, Dublin.
Datasets
NBN (National Biodiversity Network) Atlas. Available from: https://www.nbnatlas.org.

OBIS (Ocean Biodiversity Information System), 2023. Global map of species distribution using gridded data. Available from: Ocean Biogeographic Information System. www.iobis.org. Accessed: 2023-09-30
Citation
This review can be cited as:
Peckett, F. & Garrard, S. L. 2002. Tritia incrassata Thick-lipped dog whelk. In Tyler-Walters H. and Hiscock K. Marine Life Information Network: Biology and Sensitivity Key Information Reviews, [on-line]. Plymouth: Marine Biological Association of the United Kingdom. [cited 30-09-2023]. Available from: https://www.marlin.ac.uk/species/detail/1847
---
Last Updated: 20/11/2002