Hermit crab fur (Hydractinia echinata)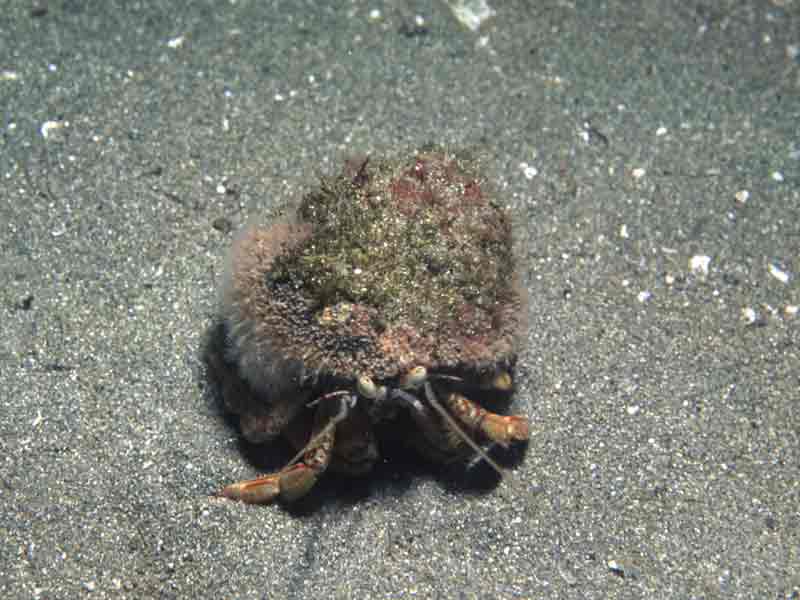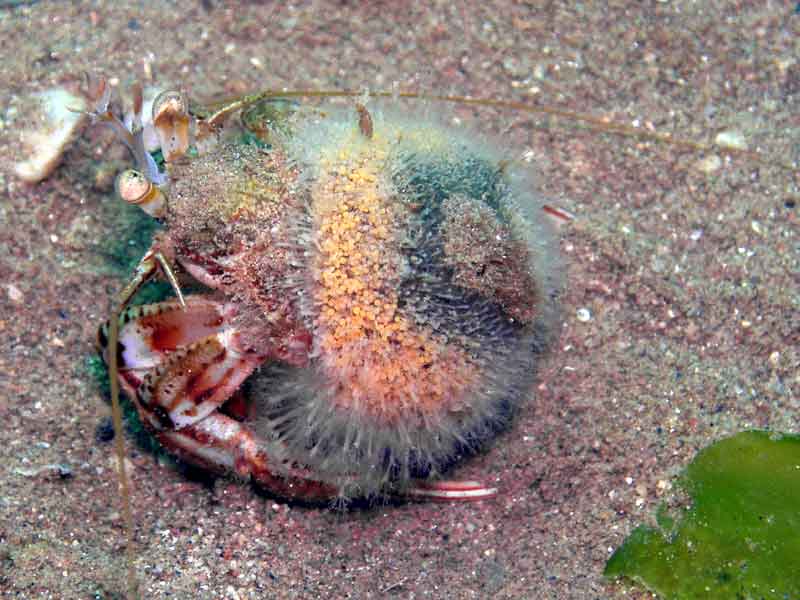 Researched by
Catherine MacDougall
Refereed by
Admin
Authority
(Fleming, 1828)
Other common names
Snail fur, Hermit crab hydroid
Synonyms
-
Summary
Description
Forms a horny mat, the hydrorhiza, about 3 mm thick on gastropod shells occupied by hermit crabs. The mat consists of thick jagged spines that reach 3 mm in height. Amongst the hydrorhiza mat there are three types of polyps: 1) a club like feeding polyp that grows up to 13 mm in length, with upper and lower circles of eight tentacles, the lower set being shorter than the upper; 2) male and female reproductive polyps (gonozoids) that have a few short terminal tentacles, and 3) specialized defensive stinging polyps (dactylozooids) that are long coils and look thread-like. The gonozoids liberate crawling planula larvae that can sense moving gastropod shells.
Recorded distribution in Britain and Ireland
Recorded from all round Britain but sparse on the east coast.
Global distribution
Common from Arctic Norway to north west Africa. Not recorded in the Mediterranean.
Habitat
Lives on the shell of hermit crabs in the intertidal and subtidal.
Identifying features
Forms a horny mat about 3 mm thick on the back of the gastropod shells occupied by a hermit crab.
Amongst the mat there are long feeding polyps of 13 mm in length and defensive polyps in a long coil that look thread like.
Additional information
No text entered
Bibliography
Gibson, R., Hextall, B. & Rogers, A., 2001. Photographic guide to the sea and seashore life of Britain and north-west Europe. Oxford: Oxford University Press.

Hayward, P., Nelson-Smith, T. & Shields, C. 1996. Collins pocket guide. Sea shore of Britain and northern Europe. London: HarperCollins.

JNCC (Joint Nature Conservation Committee), 1999. Marine Environment Resource Mapping And Information Database (MERMAID): Marine Nature Conservation Review Survey Database. [on-line] http://www.jncc.gov.uk/mermaid
Datasets
Citation
This review can be cited as:
MacDougall, C.A. 2003. Hydractinia echinata Hermit crab fur. In Tyler-Walters H. and Hiscock K. Marine Life Information Network: Biology and Sensitivity Key Information Reviews, [on-line]. Plymouth: Marine Biological Association of the United Kingdom. [cited 11-12-2023]. Available from: https://www.marlin.ac.uk/species/detail/1853
---
Last Updated: 28/01/2003