Two spotted goby (Gobiusculus flavescens)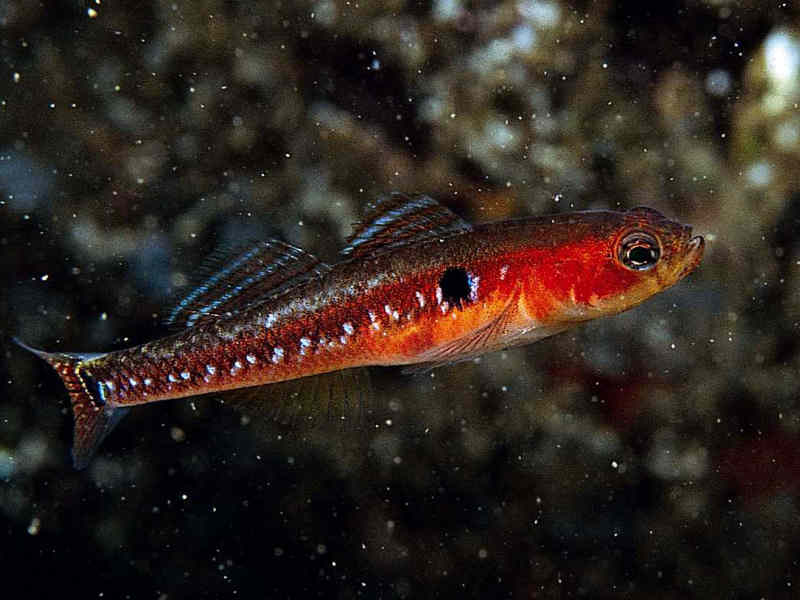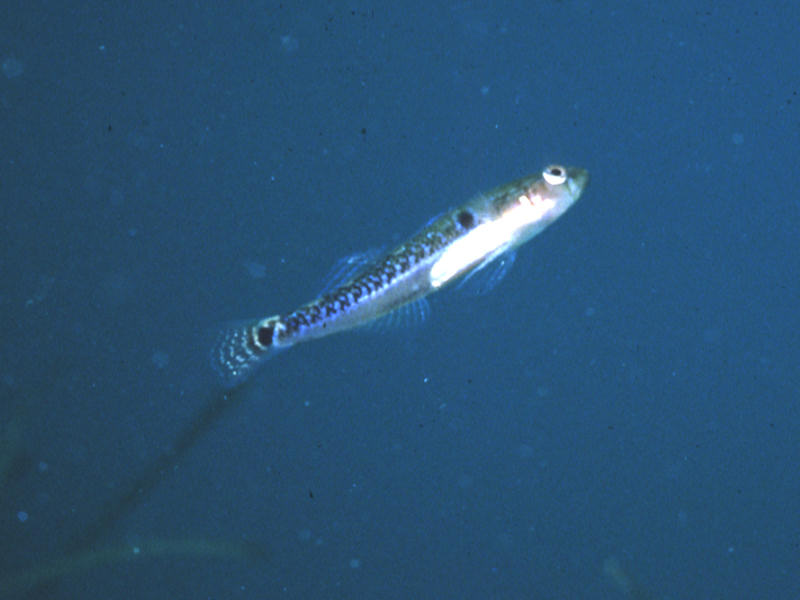 Researched by
Susie Ballerstedt
Refereed by
Admin
Authority
(Fabricius, 1779)
Other common names
-
Synonyms
Gobius ruthensparri (Fabricius, 1779)
Summary
Description
Gobiusculus flavescens are small, slender gobies, reaching up to 6 cm in length. They are distinct from other gobies in that their eyes are on the side of the head (lateral) rather than on top (dorsal). There is a black spot at the base of the tail fin, and in the males, there is a second, smaller black spot beneath the pectoral fins. They are reddish to greenish brown in colour, paler on the undersides with dark reticulations dorsally. There are four light 'saddle' marks dorsally from the head to the end of the second dorsal fin. The two dorsal fins are banded red, with the first dorsal fin bearing 7 rays (instead of the more usual 6 in other gobies). Along the midline of the sides are a series of bluish markings. During the breeding season these markings become extremely bright in the males. The caudal fin is transversely banded.
Recorded distribution in Britain and Ireland
Common on all coasts of Britain and Ireland.
Global distribution
Found in the eastern Atlantic from Faeroes, Vesteralen (Norway), and western Baltic to north west Spain excluding south east North Sea. Rarely reported in the Mediterranean.
Habitat
Distinct from other goby species, Gobiusculus flavescens are frequently found hovering in small, loose shoals in the water column amongst Laminaria plants and Zostera beds and over seaweed covered rocks. They are found in intertidal pools and shallow water to a depth of 20 m.
Identifying features
A black spot at the base of the tail fin.
Males exhibit a second black spot beneath pectoral fins.
Small and slender, up to 6 cm in length.
Eyes on side of head (lateral).
Characteristically found in loose shoals above or amongst Laminaria and Zostera beds.
Reddish to greenish brown with pale undersides.
Light coloured 'saddle' marks along the back.
First dorsal fin bears 7 rays.
Additional information
Wheeler (1969) remarks that breeding males become so brilliantly coloured that they are almost unrecognizable
Bibliography
Dipper, F., 2001. British sea fishes (2nd edn). Teddington: Underwater World Publications Ltd.

Fish, J.D. & Fish, S., 1996. A student's guide to the seashore. Cambridge: Cambridge University Press.

Hayward, P., Nelson-Smith, T. & Shields, C. 1996. Collins pocket guide. Sea shore of Britain and northern Europe. London: HarperCollins.

Hayward, P.J. & Ryland, J.S. (ed.) 1995b. Handbook of the marine fauna of North-West Europe. Oxford: Oxford University Press.

Howson, C.M. & Picton, B.E., 1997. The species directory of the marine fauna and flora of the British Isles and surrounding seas. Belfast: Ulster Museum. [Ulster Museum publication, no. 276.]

JNCC (Joint Nature Conservation Committee), 1999. Marine Environment Resource Mapping And Information Database (MERMAID): Marine Nature Conservation Review Survey Database. [on-line] http://www.jncc.gov.uk/mermaid

Picton, B.E., & Costello, M.J., 2001. BioMar biotope viewer: a guide to marine habitats and fauna of Britain and Ireland. http://www.itsligo.ie/biomar/echinode/ECHSEP.HTM, 2001-06-01

Wheeler, A., 1969. The fishes of the British Isles and north-west Europe. London: Macmillan.

Whitehead, P.J.P., Bauchot, M.-L., Hureau, J.-C., Nielson, J. & Tortonese, E. 1986. Fishes of the North-eastern Atlantic and the Mediterranean. Vol. I, II & III. Paris: United Nations Educational, Scientific and Cultural Organisation (UNESCO).
Datasets
Citation
This review can be cited as:
Ballerstedt, S. 2008. Gobiusculus flavescens Two spotted goby. In Tyler-Walters H. and Hiscock K. Marine Life Information Network: Biology and Sensitivity Key Information Reviews, [on-line]. Plymouth: Marine Biological Association of the United Kingdom. [cited 11-12-2023]. Available from: https://www.marlin.ac.uk/species/detail/1871
---
Last Updated: 03/06/2008