Transparent razor shell (Phaxas pellucidus)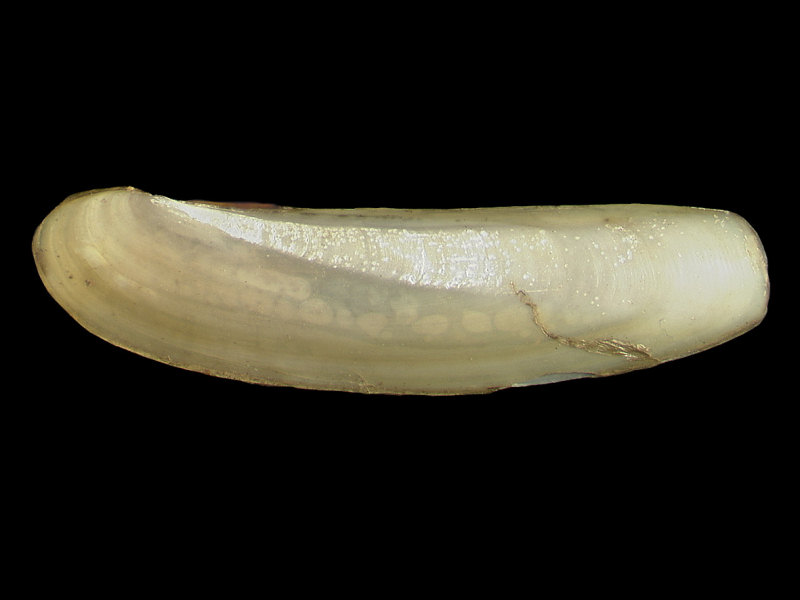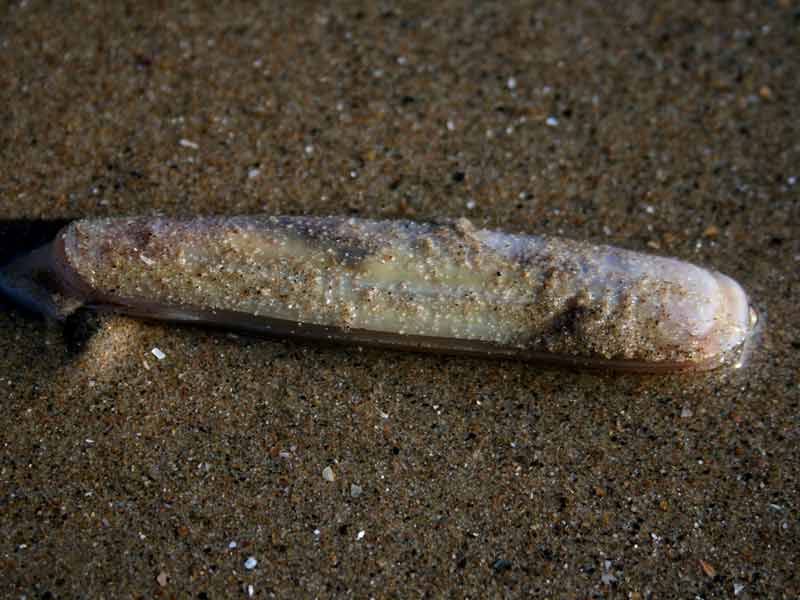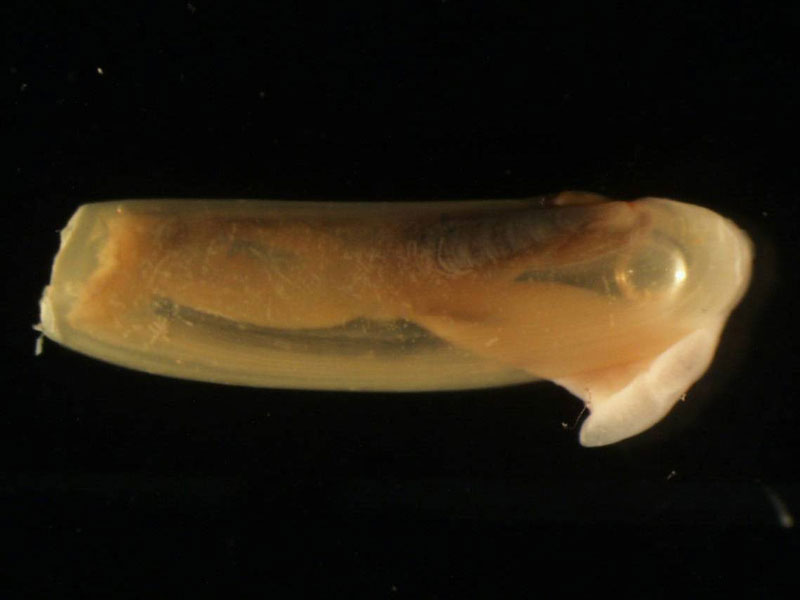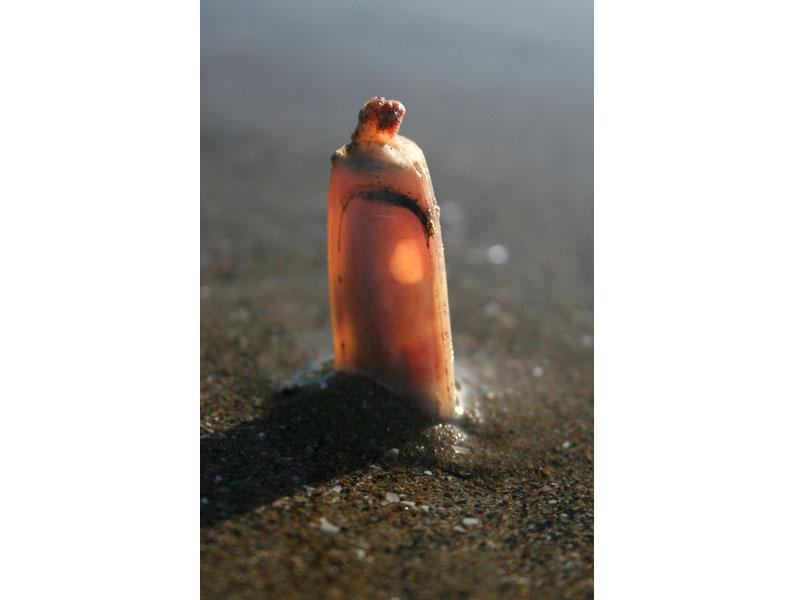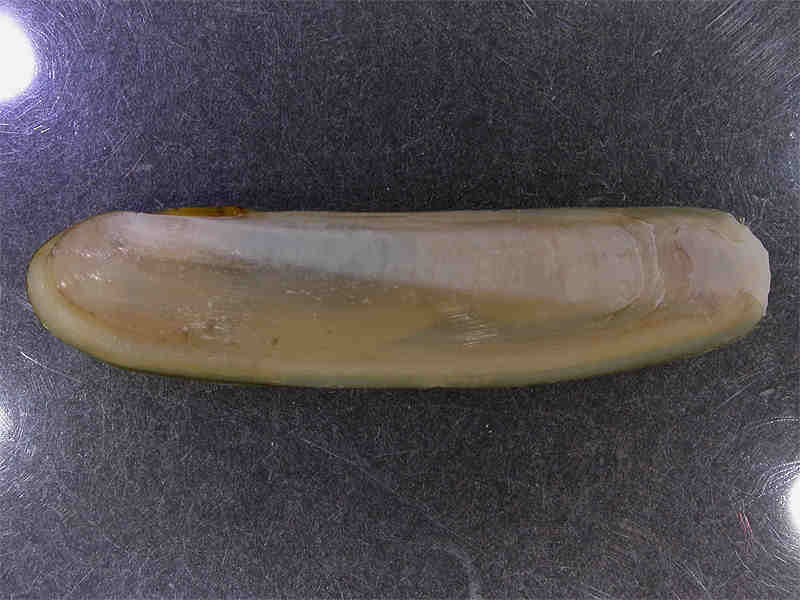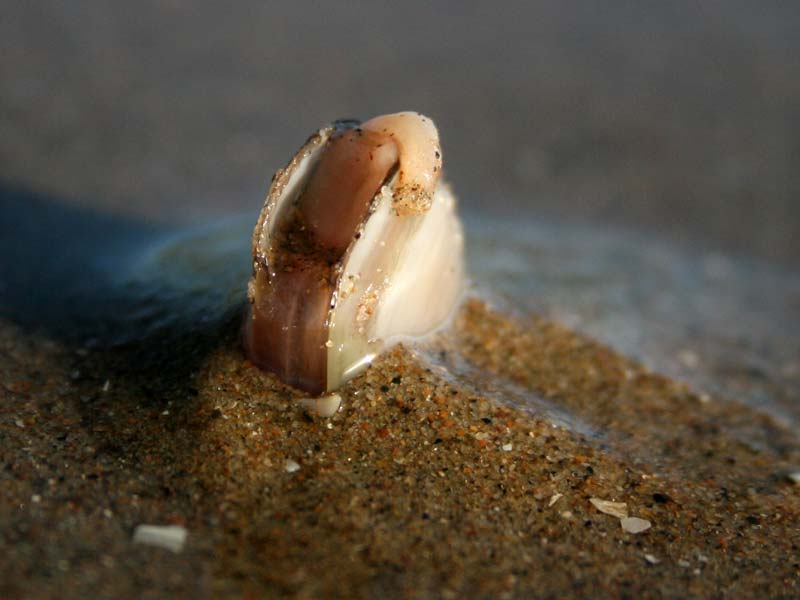 Researched by
Anna Neish
Refereed by
Admin
Authority
(Pennant, 1777)
Other common names
-
Synonyms
Cultellus pellucidus (Pennant, 1777)
Summary
Description
A slender razor shell up to 4 cm long. The shell can be thin and brittle and coloured white or cream, sometimes with dark markings. The outermost, relatively thin layer of shell (periostracum), if present is a glossy light yellow-brown or olive layer. Where the shell is joined the margin is almost straight, whereas the other edge is curved giving the shell a pod shape. The anterior end is rounded and the posterior end slightly truncate.
Recorded distribution in Britain and Ireland
Common off all British coasts
Global distribution
From Norway south to north west Africa and the Mediterranean.
Habitat
Phaxas pellucidus is found in fine mixed sands offshore to depths of around 100 m.
Identifying features
Pod shaped razor shell up to 4cm long.
Dorsal margin almost straight.
Curved ventral margin.
Anterior end rounded and upturned.
White or cream in colour.
Glossy, light yellow-brown to olive periostracum.
Distinguished from other razor shells by the hinge teeth.
Additional information
Phaxas pellucidus can be distinguished from other razor shells by the hinge teeth.
Bibliography
Hayward, P., Nelson-Smith, T. & Shields, C. 1996. Collins pocket guide. Sea shore of Britain and northern Europe. London: HarperCollins.

Hayward, P.J. & Ryland, J.S. (ed.) 1995b. Handbook of the marine fauna of North-West Europe. Oxford: Oxford University Press.

Howson, C.M. & Picton, B.E., 1997. The species directory of the marine fauna and flora of the British Isles and surrounding seas. Belfast: Ulster Museum. [Ulster Museum publication, no. 276.]

Picton, B.E. & Costello, M.J., 1998. BioMar biotope viewer: a guide to marine habitats, fauna and flora of Britain and Ireland. [CD-ROM] Environmental Sciences Unit, Trinity College, Dublin.
Datasets
Citation
This review can be cited as:
Neish, A.H. 2008. Phaxas pellucidus Transparent razor shell. In Tyler-Walters H. and Hiscock K. Marine Life Information Network: Biology and Sensitivity Key Information Reviews, [on-line]. Plymouth: Marine Biological Association of the United Kingdom. [cited 29-09-2023]. Available from: https://www.marlin.ac.uk/species/detail/1892
---
Last Updated: 17/04/2008