A sea slug (Palio nothus)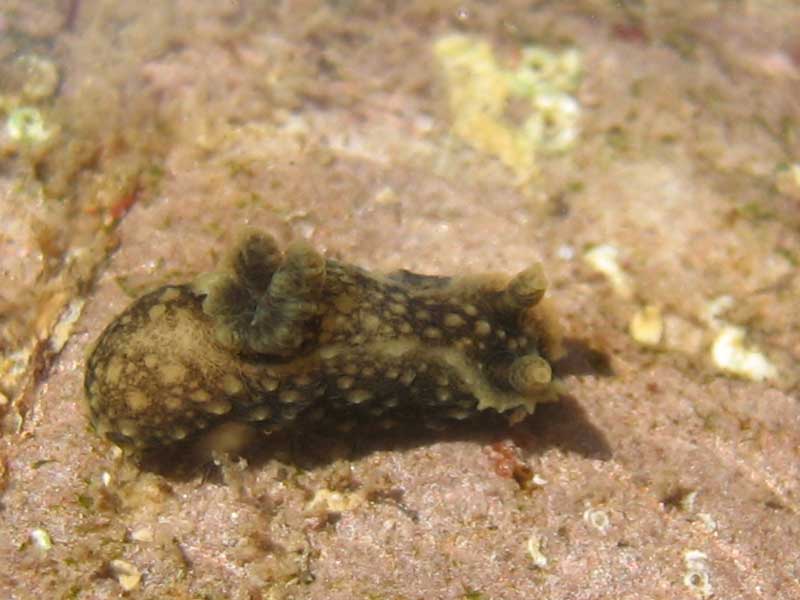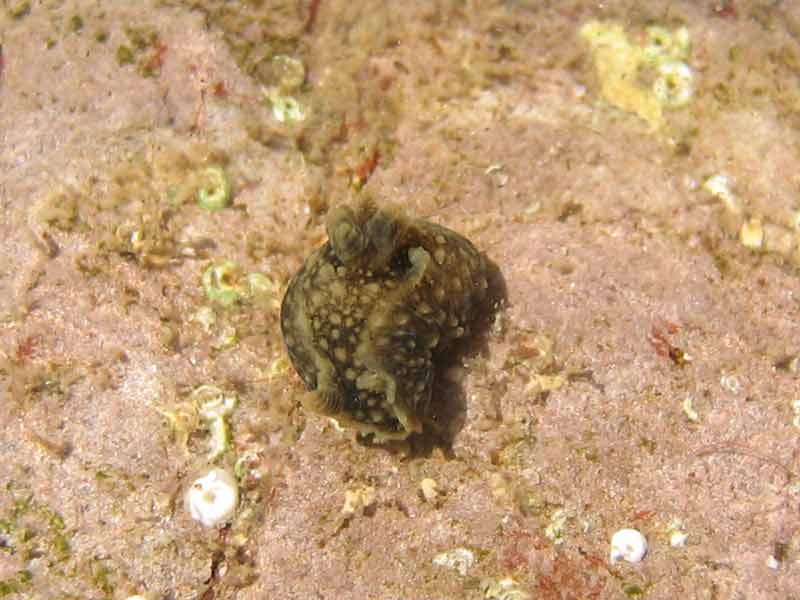 Researched by
Rose Edwards
Refereed by
Admin
Authority
(Johnston, 1838)
Other common names
-
Synonyms
Polycera nothus (Johnston, 1838), Thecacera virescens Forbes & Hanley, 1851
Summary
Description
Palio nothus grows up to 2 cm in length and is blackish-green in colour with pale patches. It has cone-like (conical) projections on its back and also short club shaped pimple-like projections (papillae) on either side of the gills. The eggs spawn to forms a coiled ribbon which is white or pale pink in colour. Sensory organs (rhinophores) have long shafts and few lamellae (gill like structures).
Recorded distribution in Britain and Ireland
Common throughout the British Isles.
Global distribution
Recorded all around the British Isles and north to the Arctic circle and to America.
Habitat
Palio nothus occurs under rocks on the low shore and in the shallow subtidal.
Identifying features
Grows up to 2 cm in length.
Blackish-green colour with pale patches.
Transparent cone shaped projections on its body.
Additional information
Palio dubia has been confused with this species in the past, however Palio nothus has a more oval shape head, and club-like dorsal projections, where Palio dubia has rounded processes on its body.
Bibliography
Hayward, P.J. & Ryland, J.S. (ed.), 1995. The marine fauna of the British Isles and north-west Europe. Volume 2. Molluscs to Chordates. Oxford Science Publications. Oxford: Clarendon Press.

Howson, C.M. & Picton, B.E., 1997. The species directory of the marine fauna and flora of the British Isles and surrounding seas. Belfast: Ulster Museum. [Ulster Museum publication, no. 276.]

JNCC (Joint Nature Conservation Committee), 1999. Marine Environment Resource Mapping And Information Database (MERMAID): Marine Nature Conservation Review Survey Database. [on-line] http://www.jncc.gov.uk/mermaid

Picton, B. E. & Morrow, C.C., 1994. A Field Guide to the Nudibranchs of the British Isles. London: Immel Publishing Ltd.

Picton, B.E., 2000. Nudibranchs of the British Isles. http://www.pictonb.freeserve.co.uk/nudibranchs/index.html, 2003-09-11
Datasets
Citation
This review can be cited as:
Edwards, R.V. 2008. Palio nothus A sea slug. In Tyler-Walters H. and Hiscock K. Marine Life Information Network: Biology and Sensitivity Key Information Reviews, [on-line]. Plymouth: Marine Biological Association of the United Kingdom. [cited 28-11-2023]. Available from: https://www.marlin.ac.uk/species/detail/1980
---
Last Updated: 24/04/2008