Leach's squat lobster (Galathea squamifera)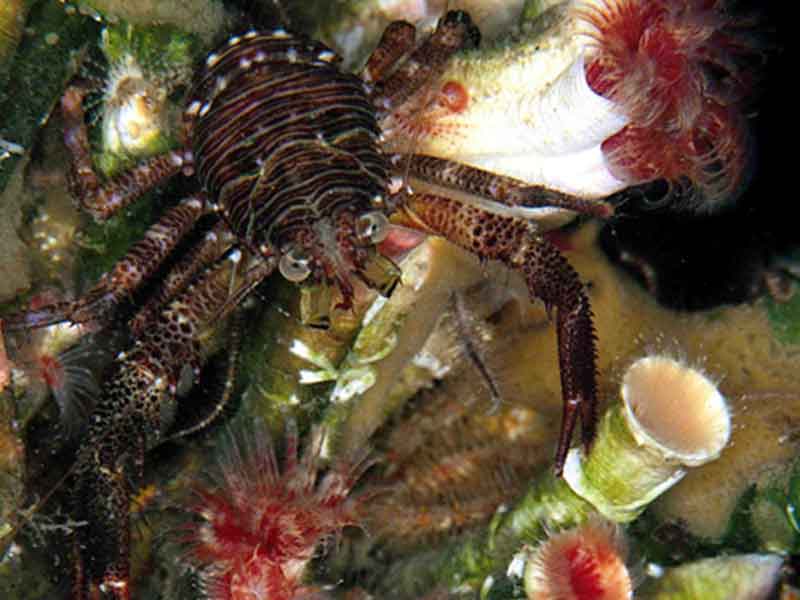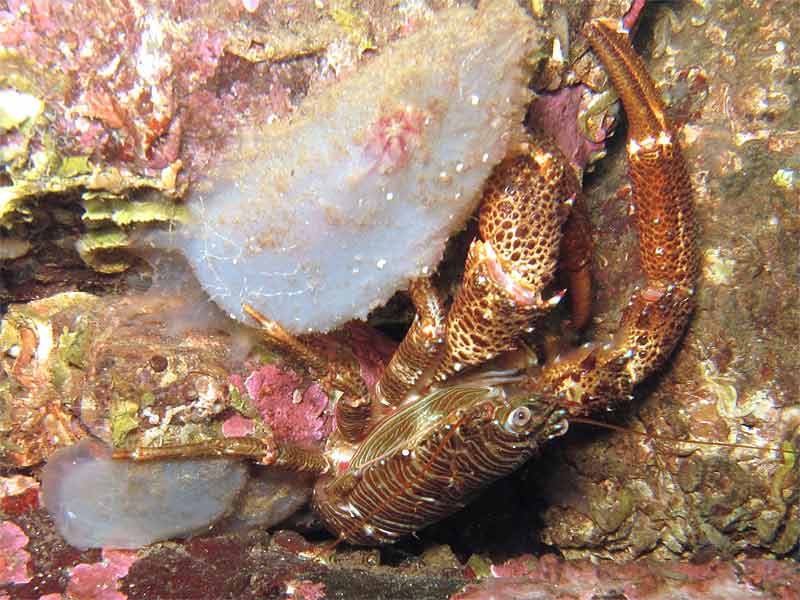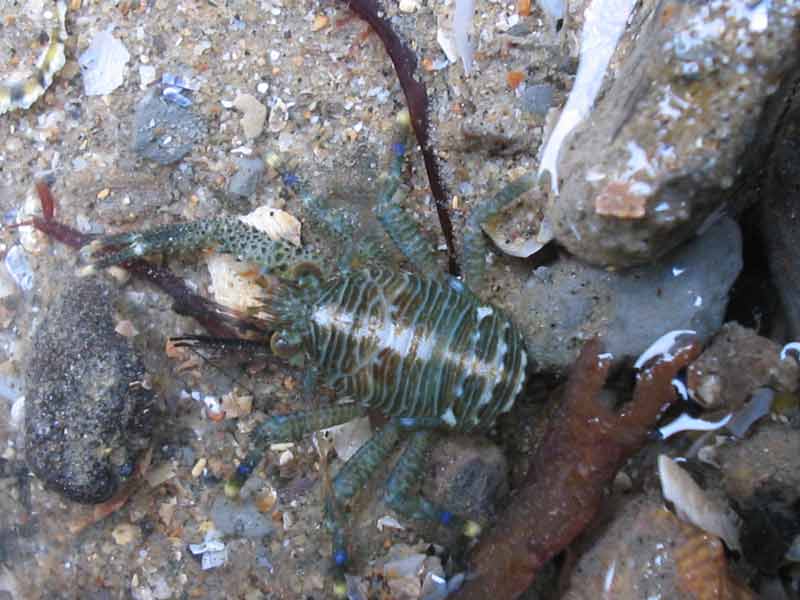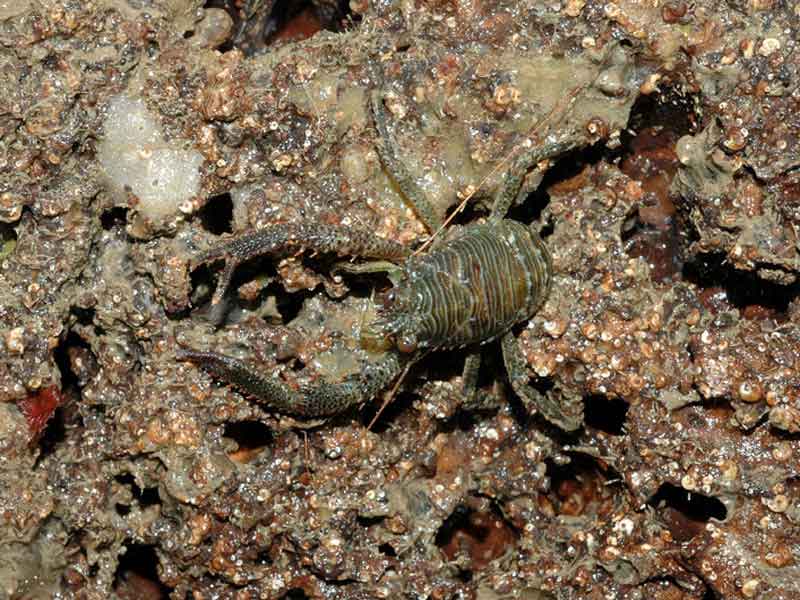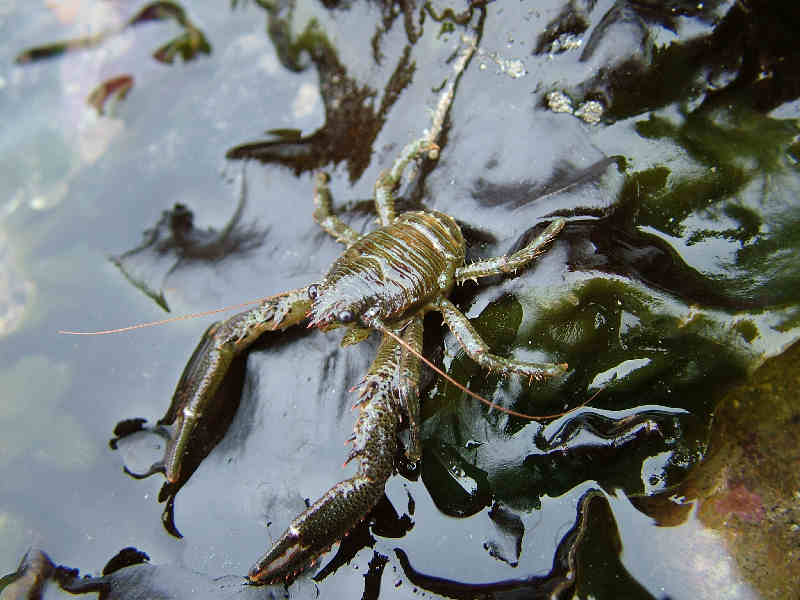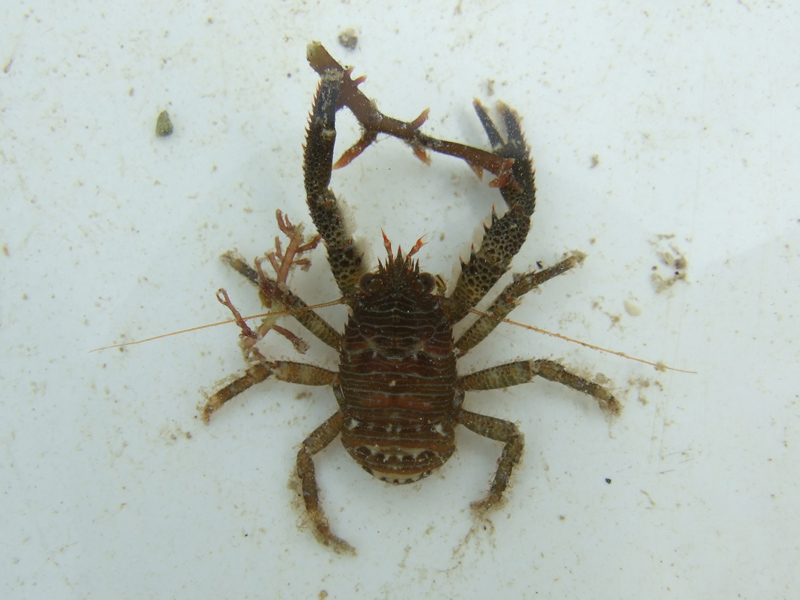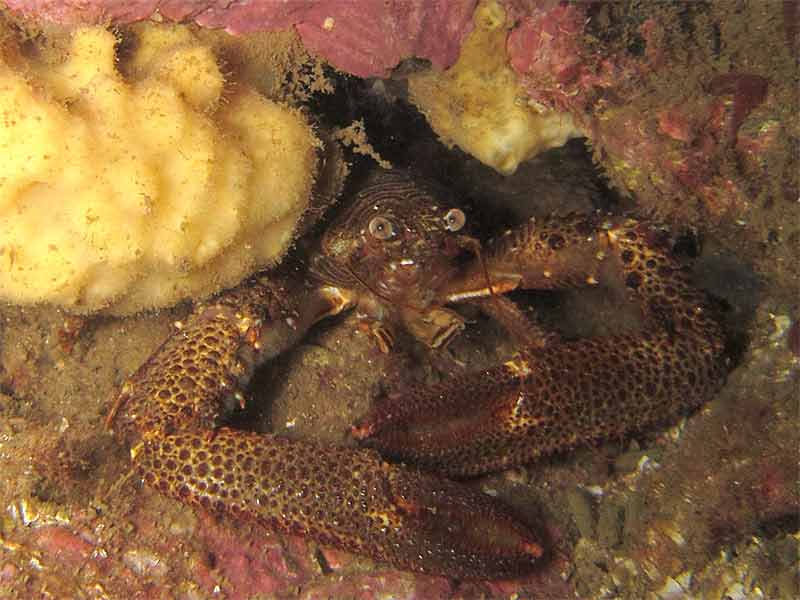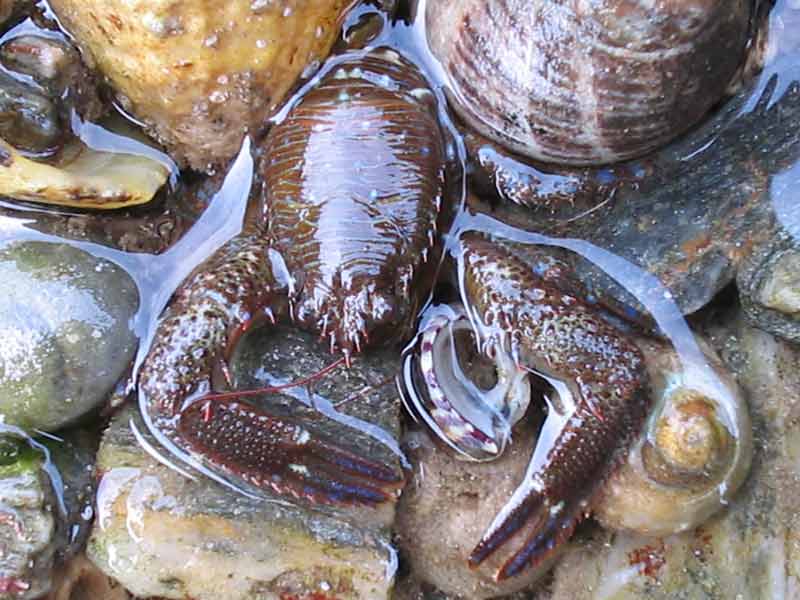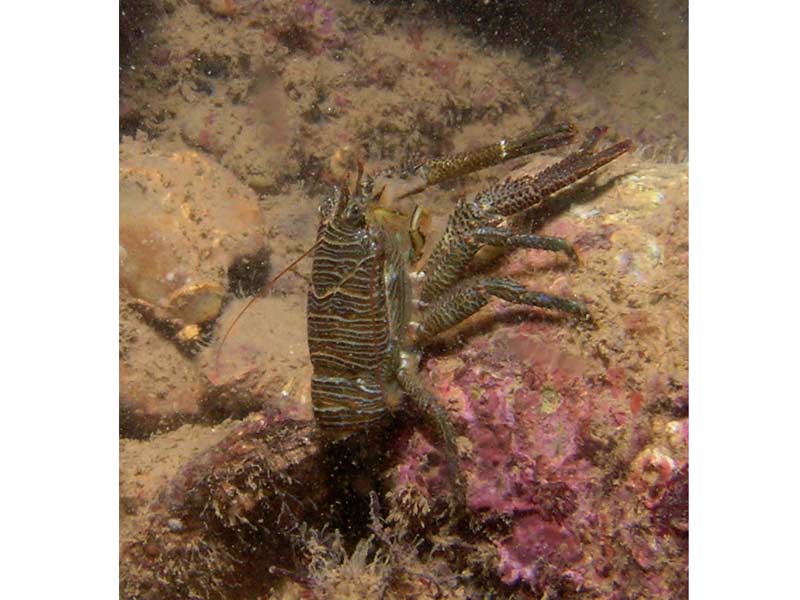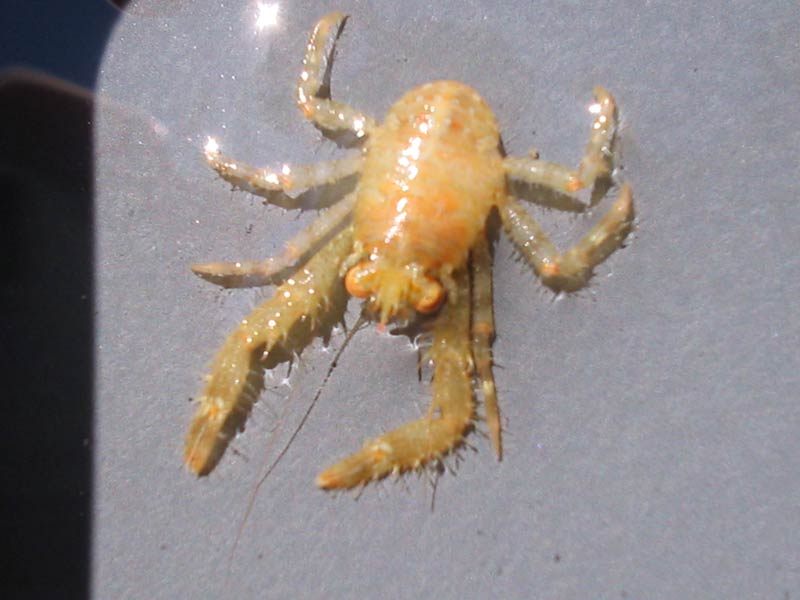 Researched by
Sonia Rowley
Refereed by
This information is not refereed
Authority
Leach, 1814
Other common names
-
Synonyms
-
Summary
Description
Galathea squamifera is the most commonly found squat lobster on north European shores. It can reach lengths of up to 65 mm, having a carapace length of up to 35 mm. There is a pointed, triangular rostrum with 4 spines on either side. The first pair of pereopods are 1.5 times longer than the body. The chelae are well developed and are covered in scales without spines on the outer margin. Galathea squamifera is chestnut brown in colour with a greenish hint and red tipped spines. The carapace is shiny between grooves and has scattered short hairs.
Recorded distribution in Britain and Ireland
Galathea squamifera is abundant throughout Britain and Ireland, except northeast coasts of Scotland and England, and the eastern coast of Ireland where, however, it is probably under-recorded.
Global distribution
Recorded from northern Norway and around the British Isles south to the Bay of Biscay, the Azores, Canary and Cape Verde Islands, the southern North Sea and the Kattegat, and into the Mediterranean.
Habitat
Galathea squamifera live under stones and rocks on the lower shore and in crevices and fissures in the subtidal zone to depths of about 180 m.
Identifying features
Up to 65 mm in length; carapace up to 35 mm long.
Chestnut brown in colour with a green tint and red tipped spines.
Broad and dorso-ventrally flattened.
Short and broad triangular rostrum, with 4 spines on each side.
The first pair of pereopods are 1.5 times longer than the body.
Chelae well developed and covered in scales on the outer margin.
Additional information
This species is a filter feeder and a scavenger. Juveniles often have a reddish colour. Females carry eggs during late winter and early spring.
Bibliography
Bruce, J.R., Colman, J.S. & Jones, N.S., 1963. Marine fauna of the Isle of Man. Liverpool: Liverpool University Press.

Crothers, J.H. (ed.), 1966. Dale Fort Marine Fauna. London: Field Studies Council.

Gibson, R., Hextall, B. & Rogers, A., 2001. Photographic guide to the sea and seashore life of Britain and north-west Europe. Oxford: Oxford University Press.

Hayward, P., Nelson-Smith, T. & Shields, C. 1996. Collins pocket guide. Sea shore of Britain and northern Europe. London: HarperCollins.

Hayward, P.J. & Ryland, J.S. (ed.) 1995b. Handbook of the marine fauna of North-West Europe. Oxford: Oxford University Press.

Howson, C.M. & Picton, B.E., 1997. The species directory of the marine fauna and flora of the British Isles and surrounding seas. Belfast: Ulster Museum. [Ulster Museum publication, no. 276.]

Ingle, R., 1997. Crayfishes, lobsters and crabs of Europe. An illustrated guide to common and traded species. London: Chapman and Hall.

Ingle, R.W. & Christiansen, M.E., 2004. Lobsters, Mud Shrimps and Anomuran Crabs: Keys and Notes for the Identification of the Species. Shrewsbury: Fields Studies Council for the Linnean Society of London and the Estuarine and Coastal Sciences Association. [Synopses of the British Fauna (New Series) No. 55].

JNCC (Joint Nature Conservation Committee), 1999. Marine Environment Resource Mapping And Information Database (MERMAID): Marine Nature Conservation Review Survey Database. [on-line] http://www.jncc.gov.uk/mermaid

Naylor, P., 2003. Great British Marine Animals. Plymouth: Sound Diving Publications.

Picton, B.E. & Costello, M.J., 1998. BioMar biotope viewer: a guide to marine habitats, fauna and flora of Britain and Ireland. [CD-ROM] Environmental Sciences Unit, Trinity College, Dublin.
Datasets
Citation
This review can be cited as:
Rowley, S.J. 2008. Galathea squamifera Leach's squat lobster. In Tyler-Walters H. and Hiscock K. Marine Life Information Network: Biology and Sensitivity Key Information Reviews, [on-line]. Plymouth: Marine Biological Association of the United Kingdom. [cited 11-12-2023]. Available from: https://www.marlin.ac.uk/species/detail/2010
---
Last Updated: 08/05/2008