Bushy-backed sea slug (Dendronotus frondosus)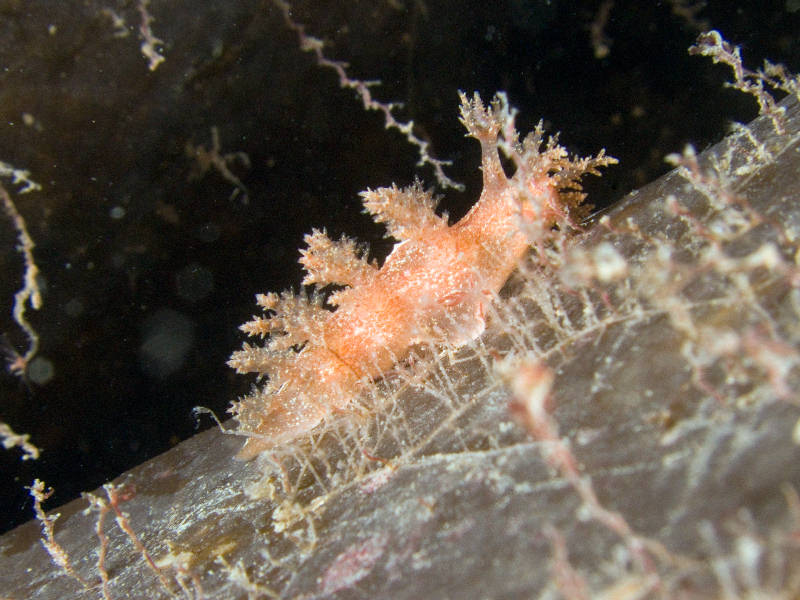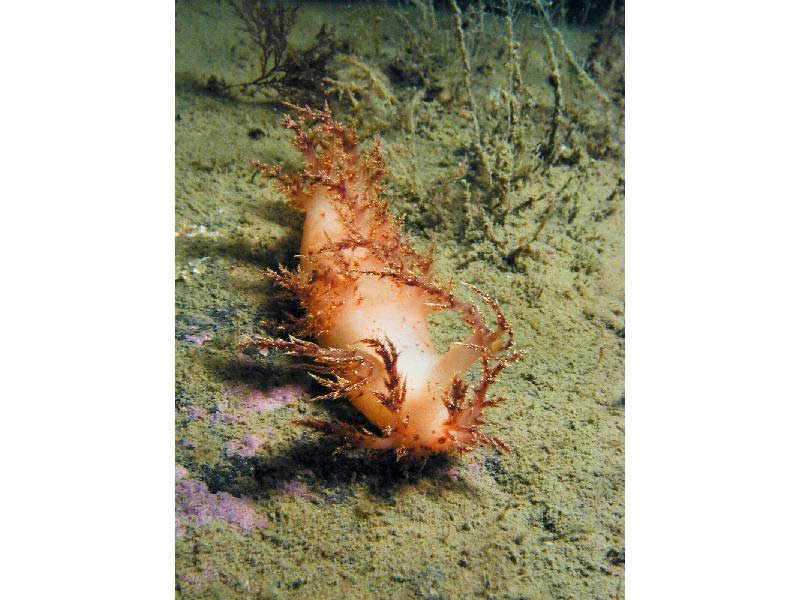 Researched by
Ken Neal
Refereed by
Admin
Authority
(Ascanius, 1774)
Other common names
Frond aeolis, Bushy-backed nudibranch
Synonyms
-
Summary
Description
Dendronotus frondosus is a large, up to 10 cm long, laterally compressed sea slug with variable colouring. It can be white or pink with mottled brown, red or yellow pigment. Along the back there are paired, branched processes called cerata that act as gills. In between the cerata there are smaller processes that are also branched. On the front edge of many sea slugs is a flap of tissue called the oral veil, which bears branched processes in Dendronotus frondosus. The antenna-like rhinophores are sheathed in tissue and these sheaths terminate in branched processes. Between the branches at the end of the rhinophore sheaths are the ends of the rhinophores themselves, which resemble ribbed pine cones in texture and shape.
Recorded distribution in Britain and Ireland
Common on all British and Irish coasts.
Habitat
Adult
Dendronotus frondosus
are found in the shallow sublittoral on the hydroids
Tubularia larynx
and
Tubularia indivisa
. Juveniles can be found on the hydroids
Obelia
sp.,
Sertularia
sp.,
Halecium
sp., and
Hydrallmania falcata
Identifying features
White or pale pink mottled with brown, red or yellow pigment.
Nine pairs of highly branched cerata on dorsal surface.
Oral veil with highly branched processes.
Rhinophores are sheathed, terminating in arborescent (tree-like) processes and a lamellate, corkscrew-like appendage.
Additional information
No text entered
Bibliography
Hayward, P., Nelson-Smith, T. & Shields, C. 1996. Collins pocket guide. Sea shore of Britain and northern Europe. London: HarperCollins.

Howson, C.M. & Picton, B.E., 1997. The species directory of the marine fauna and flora of the British Isles and surrounding seas. Belfast: Ulster Museum. [Ulster Museum publication, no. 276.]

Picton, B. E. & Morrow, C.C., 1994. A Field Guide to the Nudibranchs of the British Isles. London: Immel Publishing Ltd.

Picton, B.E. & Costello, M.J., 1998. BioMar biotope viewer: a guide to marine habitats, fauna and flora of Britain and Ireland. [CD-ROM] Environmental Sciences Unit, Trinity College, Dublin.

Thompson, T. E. & Brown, G. H., 1976. British Opisthobranch Molluscs. London: Academic Press. [Synopses of the British Fauna, no. 8.]
Datasets
Citation
This review can be cited as:
Neal, K.J. 2007. Dendronotus frondosus Bushy-backed sea slug. In Tyler-Walters H. and Hiscock K. Marine Life Information Network: Biology and Sensitivity Key Information Reviews, [on-line]. Plymouth: Marine Biological Association of the United Kingdom. [cited 04-10-2023]. Available from: https://www.marlin.ac.uk/species/detail/2046
---
Last Updated: 31/05/2007