Candy striped flatworm (Prostheceraeus vittatus)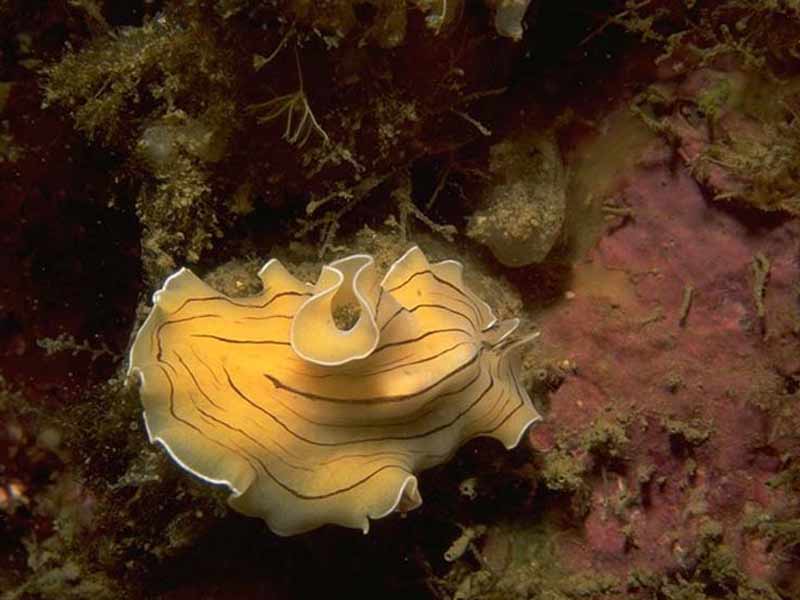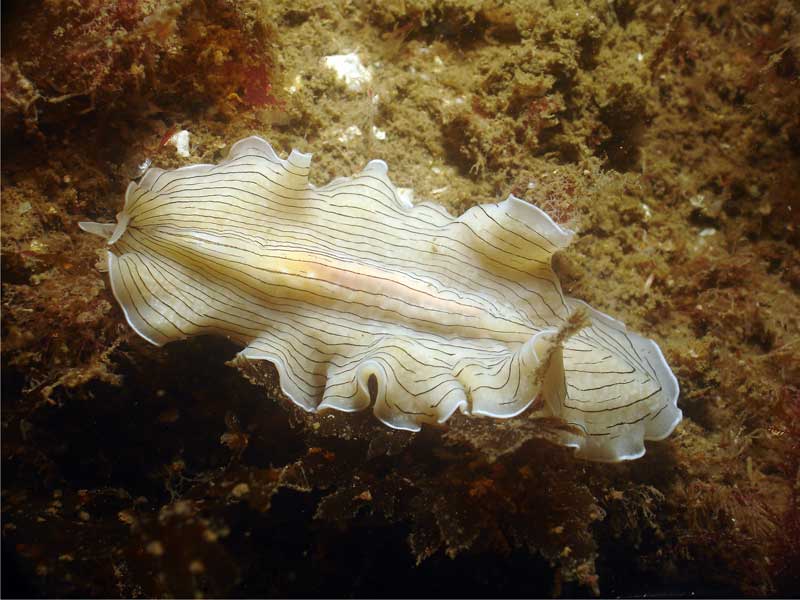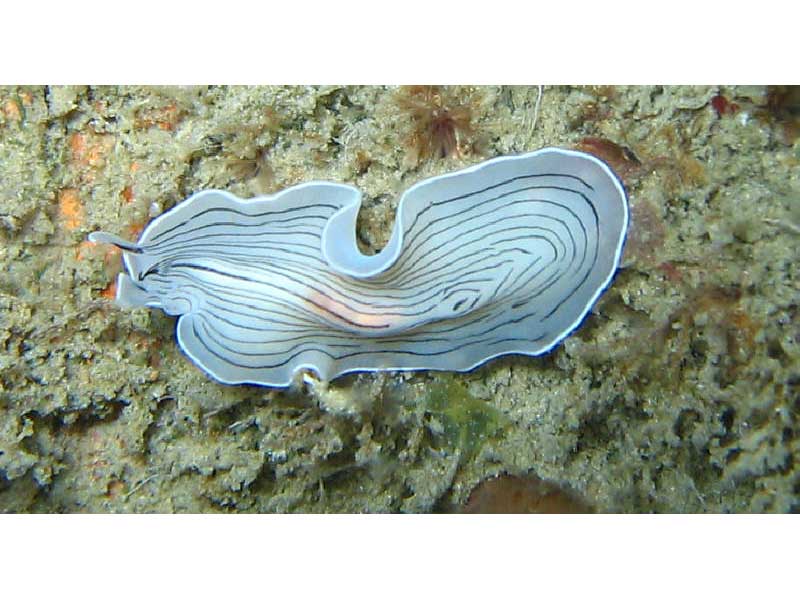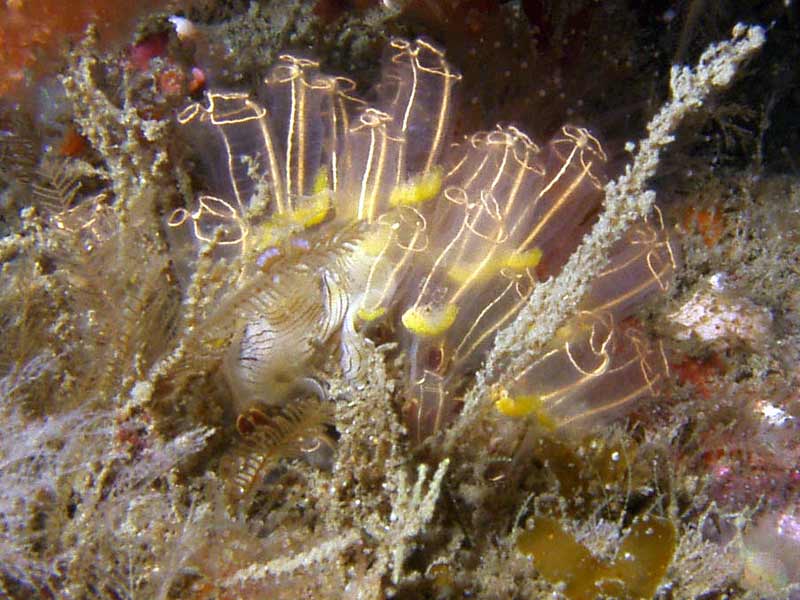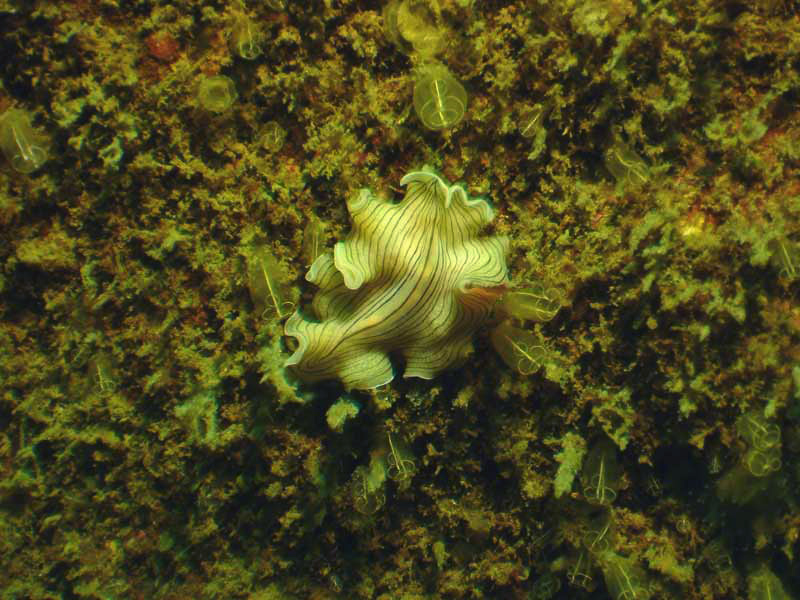 Researched by
Ken Neal
Refereed by
Admin
Authority
(Montagu, 1815)
Other common names
-
Synonyms
-
Summary
Description
Prostheceraeus vittatus is such a striking flatworm that it cannot be confused with any other. It may be mistakenly be identified as a sea slug due to the anterior tentacles and bright colouration. However, Prostheceraeus vittatus has none of the dorsal processes of the sea slugs, it is extremely thin (dorso-ventrally flattened) and the tentacles are formed by folds of tissue at the margin of the body. These features distinguish it from sea slugs. Prostheceraeus vittatus has a yellow-white or cream body with numerous dark longitudinal stripes. It crawls along the seabed using cilia and may swim by sinuous movements of the body.
Recorded distribution in Britain and Ireland
Found in the North Sea, English Channel and Atlantic coasts of Britain and Ireland.
Habitat
Under stones on mud in the low intertidal and shallow subtidal. Has been observed by SCUBA crawling on sand in Plymouth Sound and off Dinas Head, Pembrokeshire (pers. obs.).
Identifying features
A worm with clear cephalization.
Body dorso-ventrally flattened and lacks segmentation.
Yellow-white body with many dark longitudinal stripes.
Anterior end bears marginal tentacles.
Additional information
No text entered
Bibliography
Gibson, R., Hextall, B. & Rogers, A., 2001. Photographic guide to the sea and seashore life of Britain and north-west Europe. Oxford: Oxford University Press.

Hayward, P., Nelson-Smith, T. & Shields, C. 1996. Collins pocket guide. Sea shore of Britain and northern Europe. London: HarperCollins.

Howson, C.M. & Picton, B.E., 1997. The species directory of the marine fauna and flora of the British Isles and surrounding seas. Belfast: Ulster Museum. [Ulster Museum publication, no. 276.]

Naylor, P., 2000. Marine Animals of the South West. Plymouth: Sound Diving Publications

Picton, B.E. & Costello, M.J., 1998. BioMar biotope viewer: a guide to marine habitats, fauna and flora of Britain and Ireland. [CD-ROM] Environmental Sciences Unit, Trinity College, Dublin.
Datasets
Citation
This review can be cited as:
Neal, K.J. 2008. Prostheceraeus vittatus Candy striped flatworm. In Tyler-Walters H. and Hiscock K. Marine Life Information Network: Biology and Sensitivity Key Information Reviews, [on-line]. Plymouth: Marine Biological Association of the United Kingdom. [cited 11-12-2023]. Available from: https://www.marlin.ac.uk/species/detail/2049
---
Last Updated: 24/04/2008