Sea gooseberry (Pleurobrachia pileus)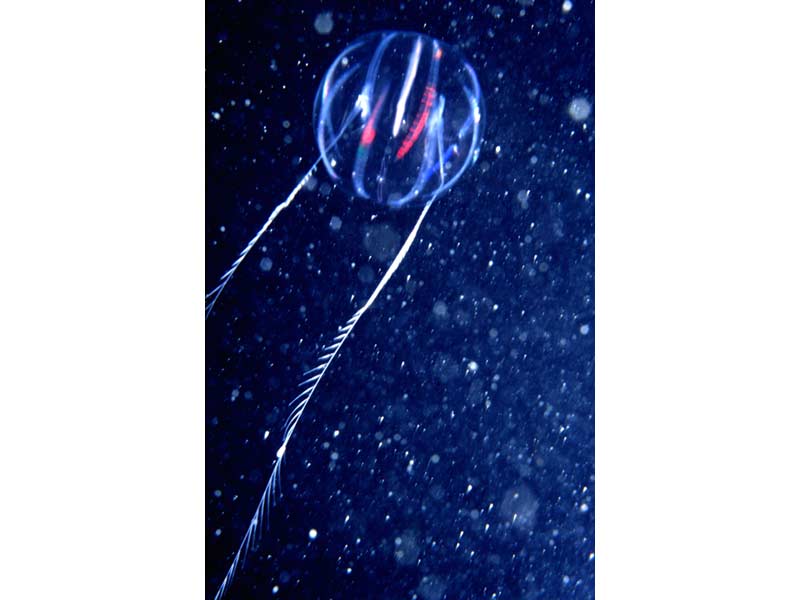 Researched by
Ken Neal
Refereed by
Admin
Authority
(O. F. Müller, 1776)
Other common names
-
Synonyms
-
Summary
Description
Pleurobrachia pileus is a small, oval to spherical comb jelly, up to 1-2.5 cm high with two long fishing tentacles. The fishing tentacles are up to 15-20 times the length of the body (up to 50 cm long), bear lateral filaments, and can be completely retracted into the body. It swims with eight longitudinal combs, arranged in four paired rows, that give the comb jellies (ctenophores) their characteristic shimmering appearance. These combs consist of plates of transverse rows of hairs that beat in waves downwards, which produces the shimmering effect. These plates are phosphorescent at night. The gut may bear some colour. Newly hatched specimens are pear-shaped and bear only short rows of combs.
Recorded distribution in Britain and Ireland
Common in open water all around Britain and Ireland, especially in the summer.
Habitat
Pelagic in coastal waters but may sometimes become trapped in intertidal pools.
Identifying features
Transparent ovoid to spherical body 1-2.5 cm high.
Radially symmetrical with secondary bilateral symmetry.
Eight longitudinal rows of combs, arranged in four paired rows.
Two fishing tentacles up to 50 cm long. Lateral filaments of fishing tentacles similar.
Additional information
Pleurobrachia pileus is a carnivore, preying on zooplankton, especially copepods. In British waters it is most abundant in summer and late autumn (Fish & Fish, 1996).
Bibliography
Fish, J.D. & Fish, S., 1996. A student's guide to the seashore. Cambridge: Cambridge University Press.

Gibson, R., Hextall, B. & Rogers, A., 2001. Photographic guide to the sea and seashore life of Britain and north-west Europe. Oxford: Oxford University Press.

Greve, W., 1975. Ctenophora. ICES Plankton Identification Leaflets, 146.

Hayward, P., Nelson-Smith, T. & Shields, C. 1996. Collins pocket guide. Sea shore of Britain and northern Europe. London: HarperCollins.
Datasets
Citation
This review can be cited as:
Neal, K.J. 2005. Pleurobrachia pileus Sea gooseberry. In Tyler-Walters H. and Hiscock K. Marine Life Information Network: Biology and Sensitivity Key Information Reviews, [on-line]. Plymouth: Marine Biological Association of the United Kingdom. [cited 21-09-2023]. Available from: https://www.marlin.ac.uk/species/detail/2050
---
Last Updated: 23/05/2005