Slit limpet (Emarginula fissura)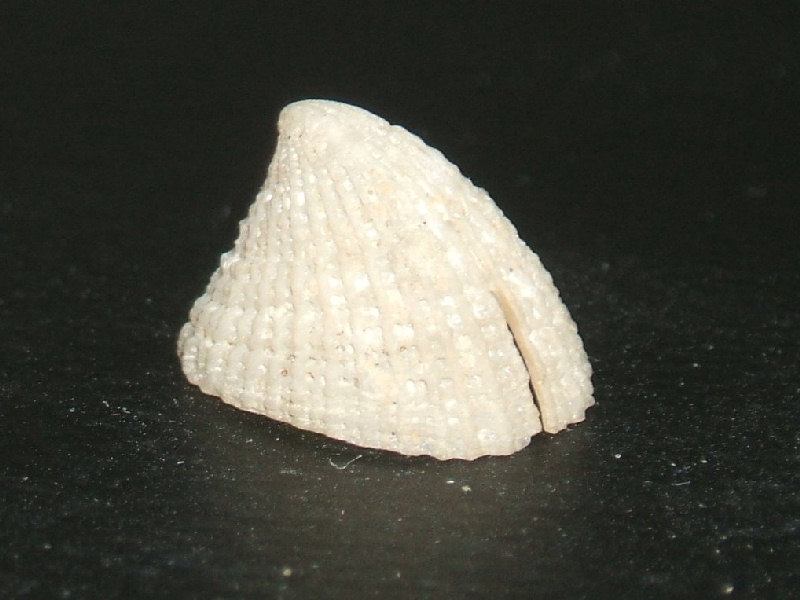 Researched by
Ken Neal
Refereed by
Admin
Authority
(Linnaeus, 1758)
Other common names
-
Synonyms
Emarginula reticulata (Linnaeus, 1758)
Summary
Description
Emarginula fissura is a typical conical limpet shape with a white shell. The shell is up to 10 mm long and 8 mm high. The foot is shield shaped, broader towards the front. The apex of the shell curves over to the rear of the animal and there is a slit in the front edge that continues to the apex as a groove.
Recorded distribution in Britain and Ireland
On all suitable British and Irish coasts but absent fron the eastern English Channel and southern North Sea.
Habitat
On rocks and boulders amongst sponges from the low intertidal to 265 m depth. Emarginula fissura is found amongst sponges on which it feeds.
Identifying features
Conical shell with apex curved posteriorly.
Anterior end of shell has a slit from the margin continuing to the apex as a groove.
Shell sculpted into ridges.
Shell white.
Feeds on sponges.
Additional information
No text entered
Bibliography
Graham, A., 1988. Molluscs: prosobranchs and pyramellid gastropods (2nd ed.). Leiden: E.J. Brill/Dr W. Backhuys. [Synopses of the British Fauna No. 2]

Hayward, P.J. & Ryland, J.S. 1990. The marine fauna of the British Isles and north-west Europe. Oxford: Oxford University Press.

Howson, C.M. & Picton, B.E., 1997. The species directory of the marine fauna and flora of the British Isles and surrounding seas. Belfast: Ulster Museum. [Ulster Museum publication, no. 276.]
Datasets
Citation
This review can be cited as:
Neal, K.J. 2004. Emarginula fissura Slit limpet. In Tyler-Walters H. and Hiscock K. Marine Life Information Network: Biology and Sensitivity Key Information Reviews, [on-line]. Plymouth: Marine Biological Association of the United Kingdom. [cited 30-09-2023]. Available from: https://www.marlin.ac.uk/species/detail/2059
---
Last Updated: 14/06/2004