Celtic sea slug (Onchidella celtica)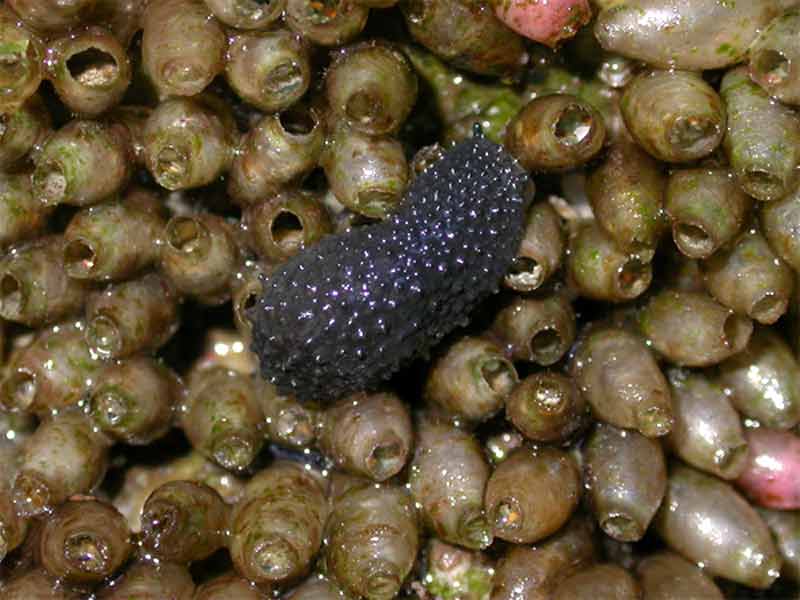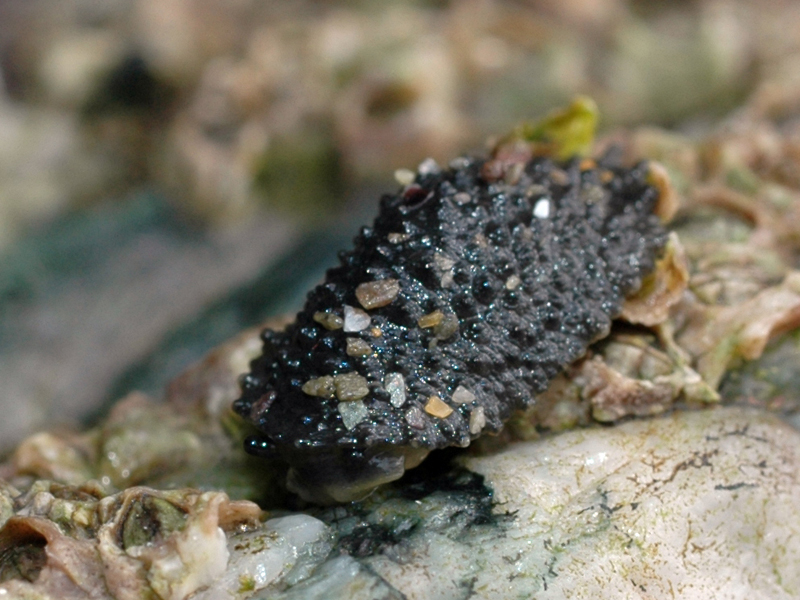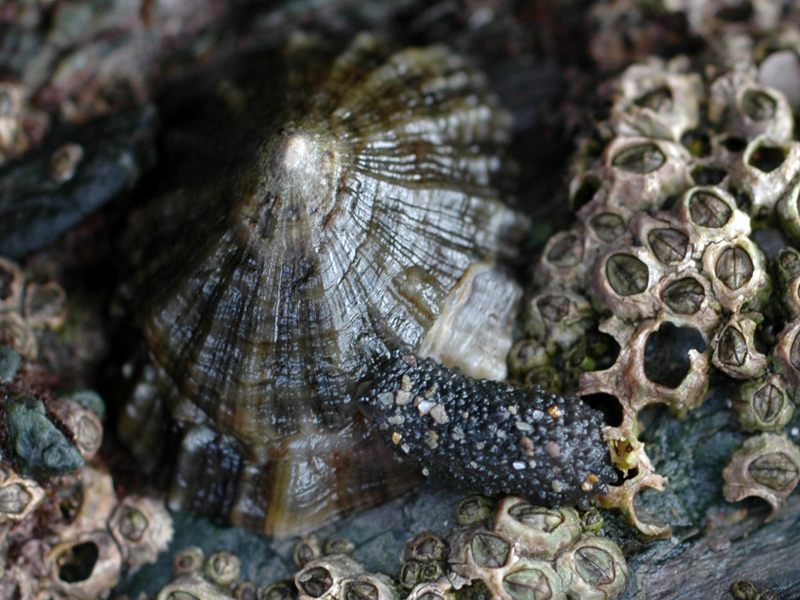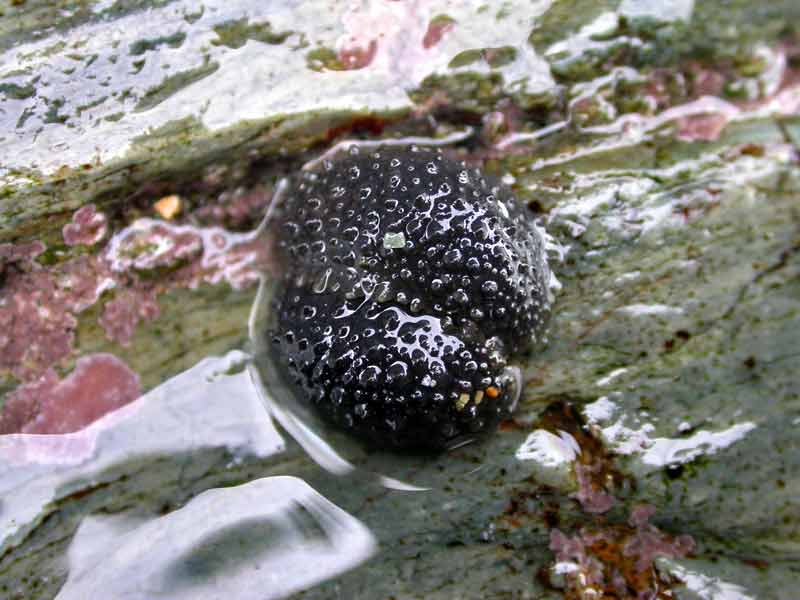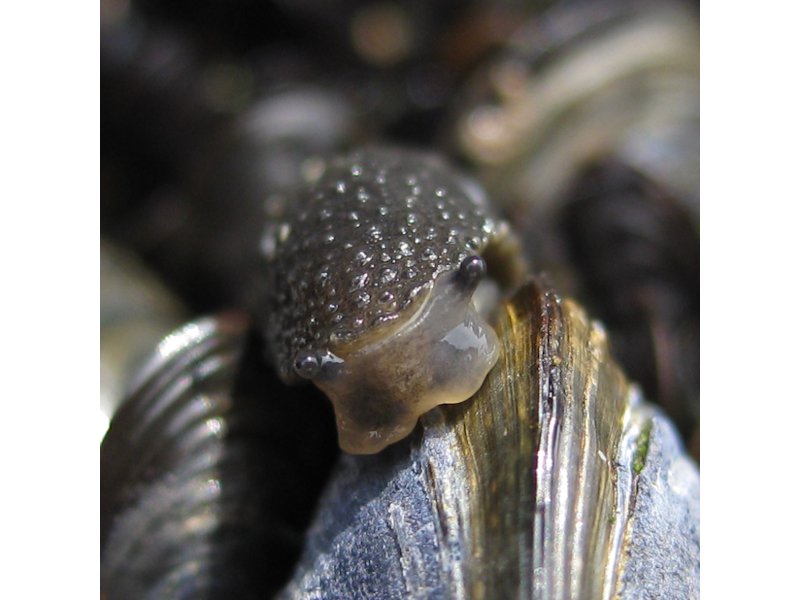 Researched by
Sonia Rowley
Refereed by
Admin
Authority
(Cuvier, 1817)
Other common names
-
Synonyms
-
Summary
Description
The Celtic sea slug has a solid, oval and fleshy body up to 13 mm in length and 6 mm in width. It is a dark green-black inconspicuous slug with a mantle that is covered in large, coarse, evenly spaced tubercles, to which sand grains often adhere. When Onchidella celtica is motionless, the mantle completely obscures the head and pale grey foot. The head bears two short, thick, cylindrical tentacles with eyes at the tips. The head is only visible when the Celtic sea slug is mobile.
Recorded distribution in Britain and Ireland
The Celtic sea slug is abundant on the north and south coasts of Devon and Cornwall. Also recorded from Croyde Bay, Bristol Channel; Upper Loch Fyne, Scotland, the Farne Islands and Jersey, the Channel Isles.
Habitat
The Celtic sea slug can be found on exposed rock, usually on sandy shores amongst mussels, barnacles and hiding in crevices. It forages down the shore as the tide goes out, crawling on small algae and returning up the shore as the tide rises. Mainly observed between April and November.
Identifying features
Up to 13 mm long and 6 mm wide.
Dark green-black in colour.
Mantle covered with large, coarse, evenly spaced tubercles.
Head and grey foot obscured by tuberculate mantle when stationary.
Additional information
This species is not an opisthobranch sea slug. It is a pulmonate slug more adapted to terrestrial and freshwater habitats, and related to most land snails. Being a pulmonate gastropod means that it has no gills. Therefore the mantle cavity acts as a lung and is closed by a sphinctered opening called the pneumostome, situated close to the anus. Pulmonate sea slugs also have no shell. It has a veliger larval stage which is completed within the egg capsule.
Bibliography
Barfield, P., 2003. Notes on the history of the celtic sea slug; Onchidella celtica (Cuvier, 1817). Porcupine Newsletter, 13, 10-12.

Crothers, J. A., 1997. A key to the major groups of British marine invertebrates. Field Studies, 9, 1-177.

Hayward, P., Nelson-Smith, T. & Shields, C. 1996. Collins pocket guide. Sea shore of Britain and northern Europe. London: HarperCollins.

Hayward, P.J. & Ryland, J.S. (ed.) 1995b. Handbook of the marine fauna of North-West Europe. Oxford: Oxford University Press.

Howson, C.M. & Picton, B.E., 1997. The species directory of the marine fauna and flora of the British Isles and surrounding seas. Belfast: Ulster Museum. [Ulster Museum publication, no. 276.]

Rudman, B., 2002. Sea slug forum [on-line]. http://www.seaslugforum.net/, 2004-06-23

Sanderson, W.G., 1996. Rare benthic marine flora and fauna in Great Britain: the development of criteria for assessment. Joint Nature Conservation Committee, Peterborough. JNCC Report, no. 240.

Smith, S., 1987. Onchidella celtica (Forbes and Hanley, 1852) and other mollusca occasionally visiting western Scottish seas. Porcupine Newsletter, 3, 274-280.

Stachowitsch, M., 1992. The invertebrates: an illustrated glossary. USA: Wiley-Liss.

Tween, T.C., 1987. Onchidella and the sublittoral. Porcupine Newsletter, 4, 19-22.
Datasets
Citation
This review can be cited as:
Rowley, S.J. 2005. Onchidella celtica Celtic sea slug. In Tyler-Walters H. and Hiscock K. Marine Life Information Network: Biology and Sensitivity Key Information Reviews, [on-line]. Plymouth: Marine Biological Association of the United Kingdom. [cited 09-12-2023]. Available from: https://www.marlin.ac.uk/species/detail/2076
---
Last Updated: 01/11/2005